Vishnu Vishal Poses Naked After Ranveer Singh; Says, "Well… Joining The Trend!"
Actor Vishnu Vishal recently participated in a nude photoshoot and took inspiration from Ranveer Singh. As he lay in bed, Vishnu Vishal posted multiple naked images of himself on Twitter, joking that he was following the trend. He revealed that his wife, Jwala Gutta, took the photos. In the caption of the post, he said, "Well, adopting the trend! P.S. when @Guttajwala's wife starts taking pictures too…" Vishnu was seen in the photos posing in various positions while lying in a bed that was only entirely covered by a bedsheet.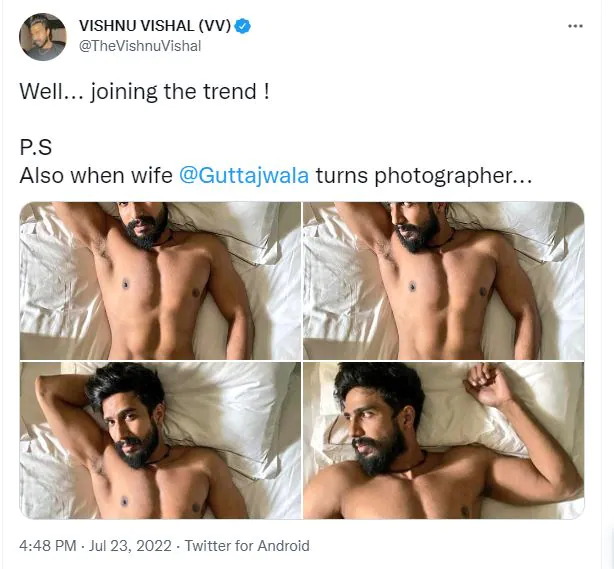 Ranveer was stripped off last week for a cover shoot with Paper magazine. During the shoot, Ranveer posed on a Turkish mat. The images were posted on Ranveer's Twitter account a day later. "Major (fire emoji)" is what Priyanka Chopra wrote in response to the images. Added Parineeti Chopra. "F I R E".
"Never before have we seen cover images as great as this. Unapologetic and courageous, "Masaba Gupta made a remark. Written by Anurag Kashyap, "What's with this heat? (fire emojis). Matlab, huh? Khamkhah ka pressure: What does that mean? Unneeded stress)" Fire emojis were used by actor Manish Malhotra and filmmaker Zoya Akhtar. A lion emoji was used by Dia Mirza, and "Major WIN" was written by YouTube personality Lilly Singh. Huma Qureshi's comment was "Adonis."
Prior to his injury, Vishnu played a few Tamil Nadu Cricket Association (TNCA) matches. His acting and production activities included Ratsasan, Silukkuvarupatti Singam, and Velainu Vandhutta Vellaikaaran. Last time we saw Vishnu was in a Tamil movie called FIR ready. His next film will be Mohandas, a thriller in which he will appear.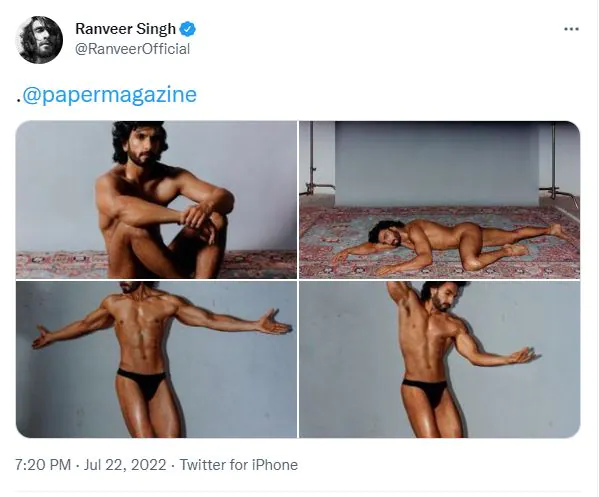 Sherlyn Chopra questioned society's double standards after Bengali actors and politicians Mimi Chakraborty and Swara Bhasker responded to responses to Ranveer's nude photos. Additionally, she made fun of Deepika Padukone. She said that the actor, who is wed to Ranveer, had criticized her for dressing skimpily for an occasion. Sherlyn recently discussed Ranveer Singh's nude photo shoot and how the public is still debating it. The performer claimed that while working on a related picture session for a global publication, she encountered derogatory and sexist remarks. "I was called characterless and other disparaging things by the public after I took part in a risky photo shoot for a foreign journal. Why is bias present? Why the double standards, Ye Doglapan Kyu? When I had a similar photo shoot, Jab maine shoot kiya tha, mere badan pe keere padey the, was there anything wrong with my body? Sherlyn stated in a conversation with India Today.