Will Smith Climbs To The Top Of Burj Khalifa For Fitness Series- Pictures Inside
The actor completed a cardio exercise on the tower's 2,909 stairs, culminating in a climb to the pinnacle of the renowned building's spire. Will Smith, a Hollywood actor, ascended to the top of the Burj Khalifa, the world's tallest structure, as part of his new YouTube series 'Best Shape of My Life,' which chronicles his weight loss quest.
The actor is said to have completed a cardio workout on the tower's 2,909 stairs, culminating in a climb to the pinnacle of the renowned building's spire.  The artist takes 51 minutes to walk up the 160 levels of the Burj Khalifa.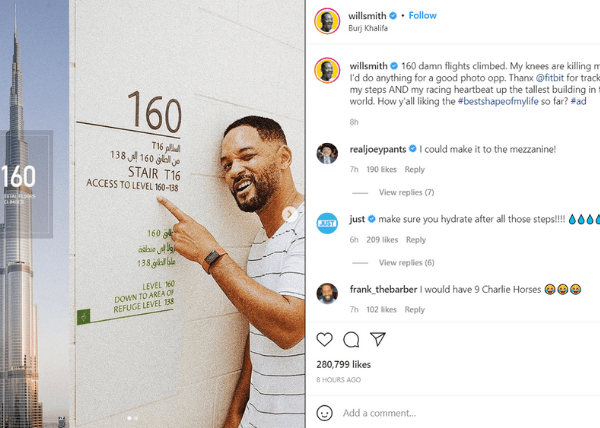 Will appeared to be sweating and fatigued as he pushed forward in the footage. He realized there was more he could accomplish once he reached the 160th floor.
The 'I Am Legend' star climbed a ladder into the spire, which is the 'the highest place that a human being may be in a man-made building on Earth,' while wearing a harness and helmet. Meanwhile, the Grammy Award-winning actor's fitness and health journey is the subject of a YouTube docuseries. On November 8, the first two episodes of 'Best Shape of My Life' were released.
Drone footage showed the Hollywood hunk emerging triumphantly from the building's cap. When he was fully out of the edifice he stretched out both his arms and took in the view with a big smile on his face.
On Will Smith's official YouTube page, the remaining four episodes will be released regularly. The actor previously confessed in the teaser for the docuseries that there was a point when he wanted to end his life.
He opened up about his battle against suicidal thoughts and how he overcame the particular phase. "…Exposing my life and so many things that people don't know about me….the only time in my life that I ever considered suicide," Smith said in the trailer.
Willard Carroll Smith Jr. is an actor, rapper, and film producer from the United States. Smith has won four Grammy Awards and has been nominated for five Golden Globe Awards and two Academy Awards. Smith was rated the most bankable celebrity in the world by Forbes in 2013.