Puneeth Rajkumar's Last Movie, James Teaser Is A Web Sensation- Watch!
The death of Puneet Rajkumar shocked the entire country, and his followers still miss their "Appu." The teaser for Appu's next film James has brightened the gloomy hearts at this terrible time. The teaser for the Kannada film 'James,' the most anticipated final project of late Kannada cinema power star Puneeth Rajkumar, has received a resounding thumbs up from audiences.
The action trailer for 'James' has lived up to the expectations of Puneeth Rajkumar's ardent fans. The fans can't wait to watch their idol on the big screen one last time. Many celebrities including Prabhas praises Puneeth Rajkumar's most recent film, James, as a "masterpiece."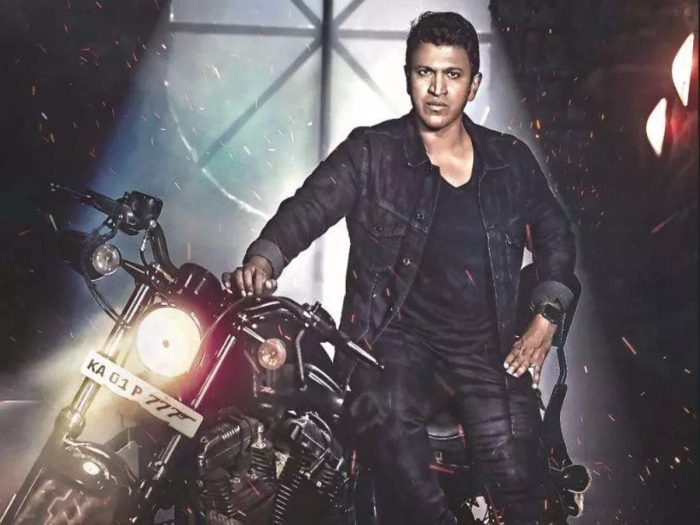 The action-packed segments showcasing their favorite late actor, whose image has grown even larger-than-life since his tragic departure, are loved by everybody who has seen the preview.
Actor Shivarajkumar tweeted the first look poster of James, which features his younger brother, Puneeth Rajkumar, on the 73rd Republic Day. Puneeth is seen in the armed forces outfit against a battleground on the poster. Puneeth appears to be playing the part of a soldier in the film.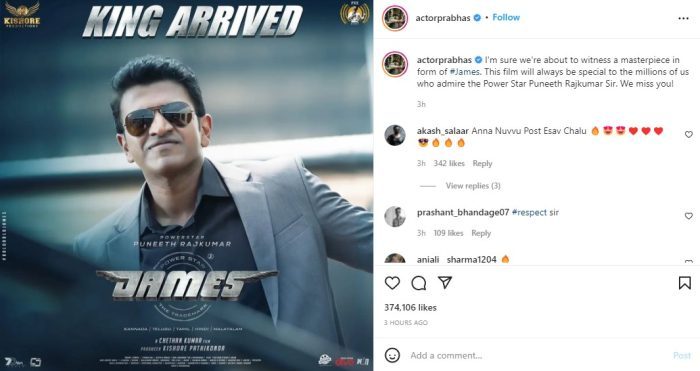 The 1.28-minute teaser received more than 10 million views only a few hours after its release. Puneeth had finished filming his role before passing away. Puneeth's brother, the prominent actor, Shivarajkumar, handled the dubbing.
Priya Anand plays the female protagonist opposite Puneeth in the Chetan Kumar-directed film. The film's soundtrack was composed by Charan Raj. March 17, the late superstar's birthday, will mark the movie's release.
The Teaser
With the words "Emotions are larger than business" – James, the teaser begins off on a sensitive note. The preview revealed that this is going to be a high-octane action film. Shivarajkumar does Appu's voiceover. He has a robust dialogue in the teaser.
Puneet Rajkumar exits a vehicle in his trademark way during the teaser. Indirectly, the film implies that this is how James' character will be. There's also a suggestion that the movie focus on the black market and the mafia.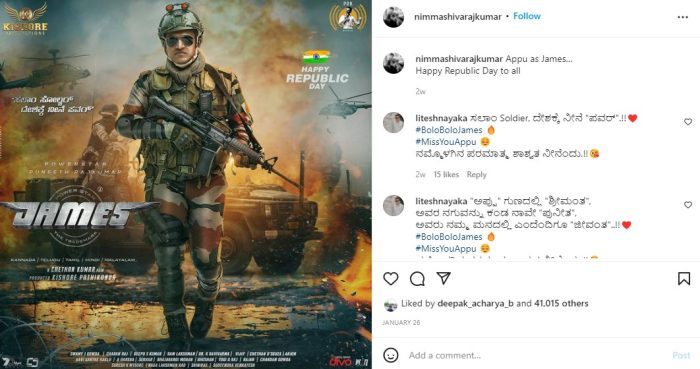 Puneet Rajkumar, Shivraj Kumar, and Raghavendra Rajkumar, Dr. Rajkumar's kids, are also scheduled to appear on screen together. Sadly, Puneet Raj Kumar passed away from a heart attack on March 29, last year, before he attempted to fulfill his dream.
The movie 'James' has fans who want to witness Anna's (Rajkumar's) family on the same screen. Shivraj Kumar and Raghavendra Raj Kumar completed their acting for the film a few days ago.
The Final Word
James will be released Pan-India in Kannada, Telugu, Tamil, Malayalam, and Hindi. March 17, the late powerstar's birthday, will mark the movie's release.
Are you prepared to witness "Appu" for the final time on screen? Let me know what you think in the comment box below.