Aasif Sheikh Honoured By World Of Records, London For Playing 300 Characters In "Bhabhi Ji Ghar Par Hai" Show
Aasif Sheikh has always been praised for his performance as Vibhuti Narayan Mishra in Bhabi Ji Ghar Par Hai! For playing 300 personalities in Bhabi Ji Ghar Par Hai!, the versatile and gifted actor recently won a special certificate from World of Records, London.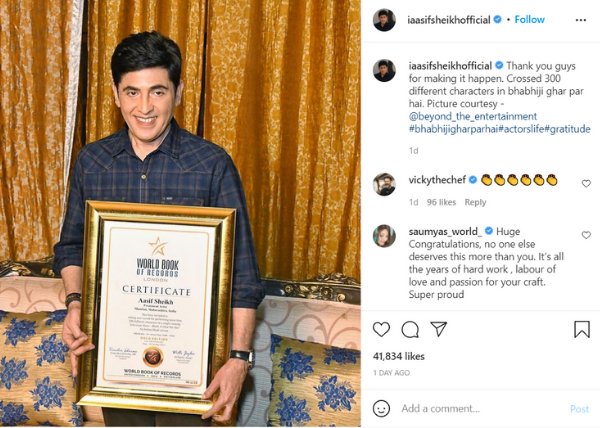 Aasif Sheikh shared his joy with his fans by posting a photo of himself holding the certificate on Instagram. He wrote in the caption, "Thank you guys for making it happen. Crossed 300 different characters in bhabhiji ghar par hai. Picture courtesy – @beyond_the_entertainment #bhabhijigharparhai#actorslife#gratitude".
Saumya Tandon, who previously played Anita Bhabi in the show, congratulated Aasif Sheikh and commented, "Huge Congratulations, no one else deserves this more than you. It's all the years of hard work, labour of love, and passion for your craft. Super proud (sic)."
In an interview with ETimes TV, Aasif shared, "I am feeling very elated that World Book of Records, London has acknowledged me. It's like setting a record, so, I am feeling very happy. I never told anyone that I played so many characters on the show. Now on, they'll get to know that I've done 300 plus characters in Bhabi Ji Ghar Par Hai! I feel more responsible because people have showered me with love, showed their faith in me, and as an actor, it's my duty to not disappoint them."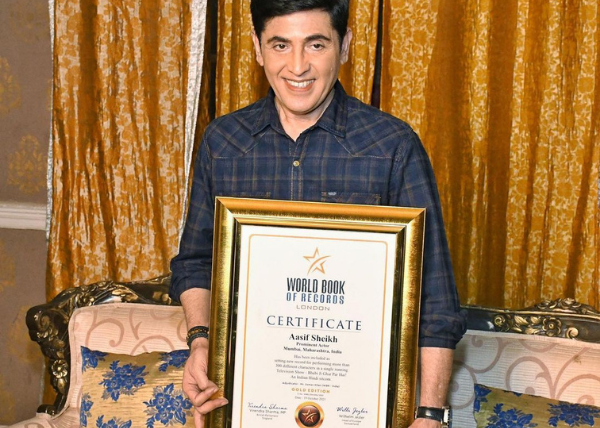 Aasif Sheikh, when asked about his favourite character, replied, "I have played several characters but out of all, the 'kabbadiwala' character is my favourite. There was a lot of humour in it and we enjoyed it also."
Aasif expressed gratitude to World of Book Records for recognizing his talent, stating that he had played practically every type of character in the serial. Aasif's acting abilities and humorous timing were also praised by Yogesh Tripathi and Himani Shivpuri.
In 1984, Aasif began his career with India's first television series, Hum Log. He went on to star in several TV episodes and Bollywood films after that. The actor featured in popular shows such as Yug, Champion, Tanha, Muskaan, Gul Sanobar, Chandrakanta, Yes Boss, Dill Mill Gayye, CID, and Chidiya Ghar to name a few.