Fashion Goals: Malaika Arora Rocks Sexiest Christmas Party Style With A Crop Blazer And Mini Skirt!
Malaika Arora glams up for Christmas lunch in a cropped blazer and a little skirt. Malaika is a stunning beauty.
Malaika Arora and her family went to her mother's house for Christmas meal yesterday. She served the best Christmas party look in a check pattern cropped jacket and tiny skirt combination.
Malaika Arora is always on point with her attire, whether she's out for a family gathering, a night out with her best pals, or a red-carpet event. Malaika spent Christmas with her family yesterday, like did many other celebrities. The actress, along with her sons Arhaan Khan and Amrita Arora, paid a visit to their mother, Joyce Arora, in Mumbai. The family celebrated Christmas with a delicious feast, laughing, and gorgeous photos.
Malaika's beautiful ensemble, on the other hand, stole the show at the private celebration and set the Mumbai streets on fire.
Malaika Arora, Arhaan Khan, Amrita Arora, and her family paid a visit to her mother's home in Mumbai on Sunday.
The 49-year-old also shared a series of photos on Instagram with the comment, "Merry Christmas #xmasphotodump (we missed u @arjunkapoor)." She dressed up the event with a co-ord check patterned attire that glammed up Christmas celebrations.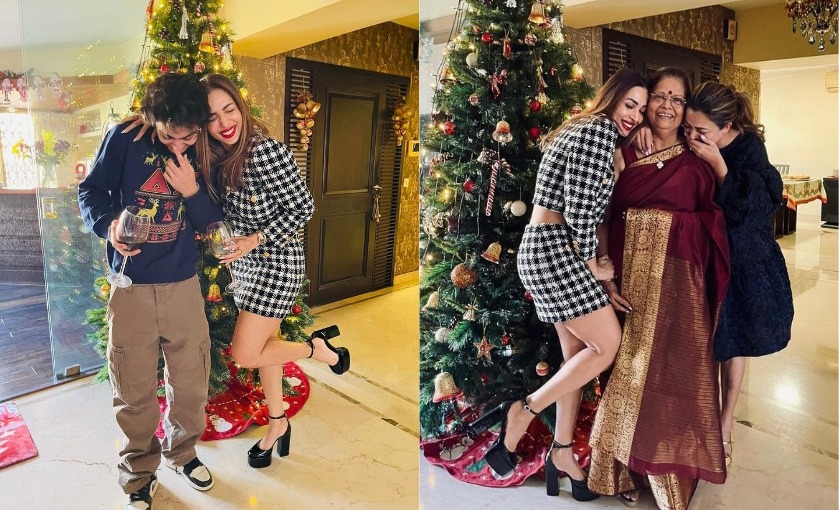 The paparazzi also photographed Malaika in the seductive ensemble and uploaded photos online. Continue scrolling to see Malaika wear the outfit and get some ideas for upgrading your clothing for New Year's Eve events if you live in Mumbai.
Malaika's tweed blazer features a black-and-white check pattern in Alessandra rich. It has intricate gold button front closures, padded shoulders, full-length sleeves, a cropped midriff-baring hem, patch pockets, and a tailored shape.
Malaika paired it with a mini-length skirt in a similar black and white check fabric with gold button closures and a high-rise waist. Malaika chose a patterned black leather micro tote Balenciaga bag, bold gold jewellery, a sleek watch, black tinted sunglasses, and black high heels from Paris Texas for her accessories.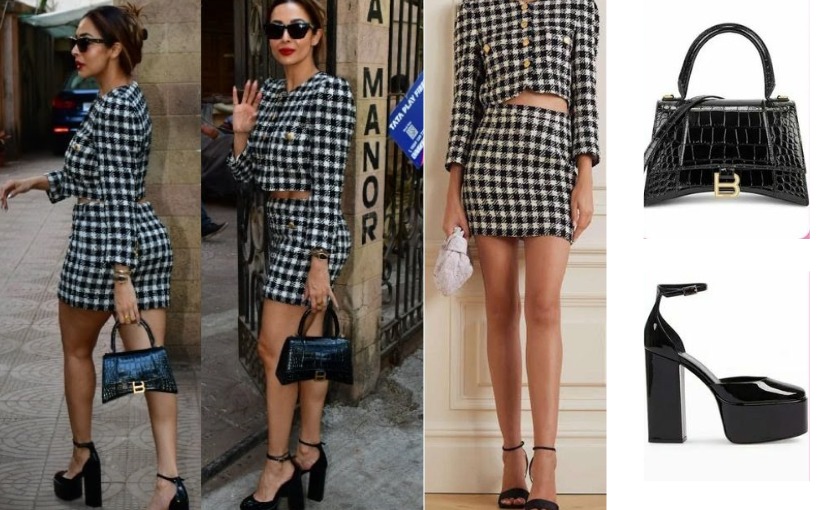 Malaika's glam picks were a strong red glossy lip tint, silver nail paint, darker brows, glowing complexion, reddened cheeks, subtle eye shadow, winged eyeliner, dazzling highlighter, and mascara-adorned lashes.
On Professional Front: Malaika Arora currently seen on the show Moving In With Malaika. With the Disney + Hotstar special, she made her OTT debut.