Follow Pineapple Diet Plan For 5 Days And Get Your Desired Figure
During the lockdown period, multiple people faced problems related to weight gain. But these days, it's quite difficult to lose that accumulated weight. So, if you are one of those people who have been lurking on the internet to find a solution, you have landed at your destination now. With this exotic Pineapple Diet, you can lose weight within weeks. The Pineapple Diet is considered one of the easiest ways to try to lose weight. This diet was created in 1970 by Danish psychologist Stan Hegler. For this, you have to eat 2 kg of pineapple along with other healthy foods for 5 days. This will not only help you lose water weight fast, but will also help in flushing out toxins from the body and you will lose 5 kg in just 5 days. So let us tell you here how the pineapple diet reduces weight, about its advantages and disadvantages.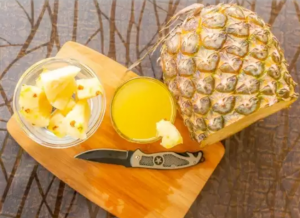 Pineapple
The pineapple diet has emerged as a new trend for those who want to lose weight and also in reducing digestive problems. According to a study published in PubMed Central, the enzymes and phytonutrients present in pineapple are known for proper digestion. This in turn helps in reducing weight and curing bloating. Eating two kilos of pineapple in five days reduces appetite. Pineapple contains water, dietary fibre and bromelain. Not only does it help in absorbing all the nutrients but it is also good for slowing down bowel movements. Pineapple is low in calories, but it is quite nutritious. One cup of pineapple contains 82 calories. Being juicy, you do not feel hungry for a long time after consuming it. After eating pineapple, you feel more energetic and active than before. When you are active, fewer toxins will accumulate in the body and metabolism will be active. In return, your weight will start decreasing rapidly.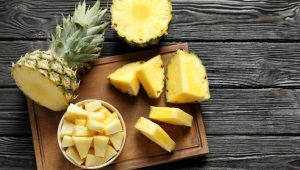 Pineapple
If you want to reduce your weight gradually and in a healthy way, then this diet plan is for you. You can also include other foods in this diet plan. Before starting the diet, keep in mind that you have breakfast regularly every day. Eat pineapple for breakfast, drink lots of water and do not eat dinner 3 hours before sleeping.
Breakfast- a slice of whole bread, a bowl of fat-free yoghurt and 100 grams of pineapple.
Lunch- 100 grams of pineapple, 100 grams of grilled chicken and vegetable soup.
Dinner- Pineapple salad, 100 grams of chicken or pineapple and 100 grams whole rice.
Here we are telling you the exercise routine, which you can follow during the days of the Pineapple Diet.
Neck Rotation – Rotate the neck 10 times in 1 set. Rotate clockwise and then anticlockwise.
Shoulder rotation – one set of 10 reps
Arm rotation – one set of 10 reps
Spot jogging – 5-10 minutes
Jumping jacks – two sets of 20 reps
Crunches – two sets of 10 reps
Pushups – two sets of 5 reps
If you feel hungry or tired immediately after exercising, you can drink pineapple juice. In a few weeks after following this routine, you may observe noticeable changes in your body.