Bollywood is no stranger to family feuds, and one such estranged relationship is that of the iconic actor Govinda and his nephew, comedian-actor Krushna Abhishek. Their tumultuous relationship has been the talk of the town for several years. However, a recent Instagram post by Krushna Abhishek has sparked renewed hope among fans for a possible reconciliation between the two family members.
A Glimpse of the Past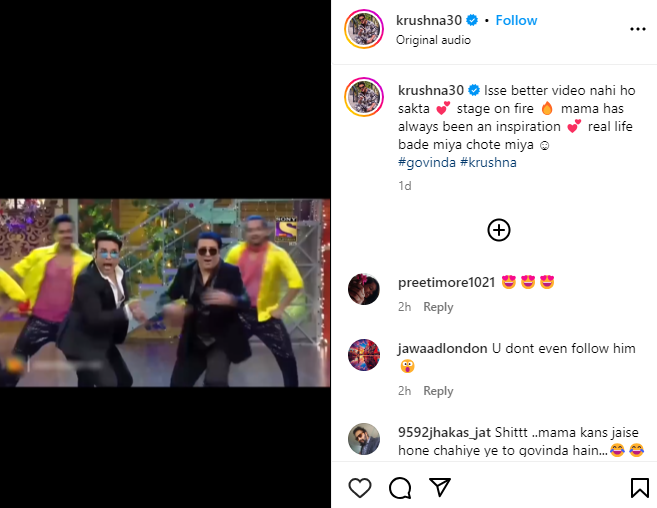 In a heartwarming Instagram post, Krushna Abhishek shared a throwback dancing video featuring himself and Govinda. The video showcased their spirited performance to the hit song "Bade Miya Chote Miya" from the 1998 film. Dressed in stylish blazers, the duo displayed their extraordinary energy and enthusiasm on stage. The audience was in for a treat, with Govinda's daughter Tina Ahuja and actor Rajiv Adatia reveling in the captivating performance.
Krushna's caption for the post read, "Isse better video nahi ho sakta stage on fire mama has always been an inspiration real life bade miya chote miya #govinda #krushna." This post, laden with nostalgia, struck a chord with fans and celebrities, reigniting hope for a reconciliation.
A Shower of Love and Support
Krushna Abhishek's post received an outpouring of affection from fans and celebrities. Bhakhtyar M Irani, expressing his admiration for Govinda, recalled a memorable moment when he named Govinda his hero number. Gajraj Rao, Aniruddh Dave, and others also showed love and appreciation for the uncle-nephew duo.
A Strained Relationship Over the Years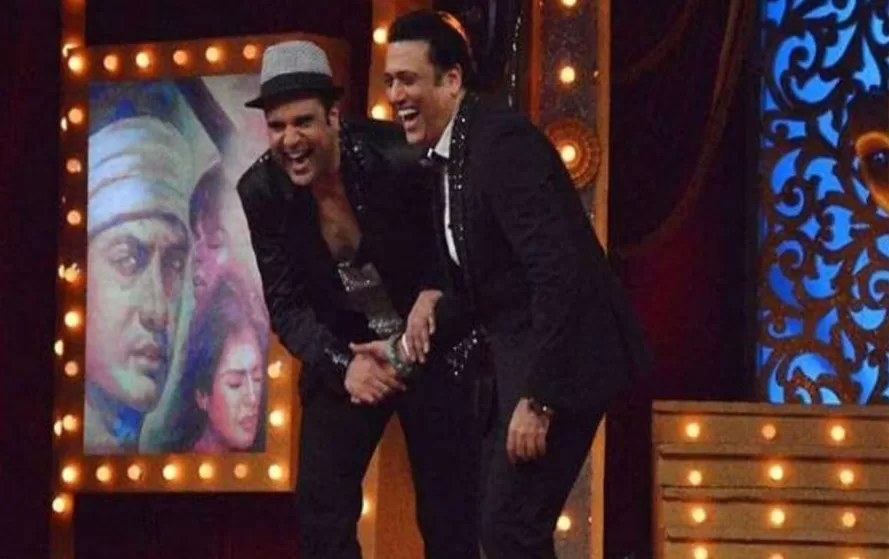 The estrangement between Krushna Abhishek and Govinda dates back to 2016, marked by misunderstandings and public spats. Despite the friction, both parties have repeatedly expressed their eagerness to reconcile and mend their broken ties. In a recent interview, Krushna mentioned his hopes for a happy reunion with his uncle, emphasizing his profound love and respect for Govinda.
In a gesture of forgiveness, Govinda has acknowledged Krushna and his family. However, he remains haunted by the past events that strained their relationship.
A Glimpse of Hope
While it may be too soon to predict a complete reconciliation, the throwback dance video serves as a beacon of hope. It showcases the enduring affection and respect that Krushna Abhishek and Govinda hold for each other. It appears that they are both willing to leave their contentious history behind.
The Anticipated Reconciliation
For the fervent followers of this talented duo, the throwback dance video represents a glimmer of hope, a sign that perhaps a complete reconciliation is on the horizon. The possibility of Krushna and Govinda mending their fences and reuniting as a family is a heartwarming notion that fans are eager to witness.
Ups and downs have marked the relationship between Bollywood star Govinda and his nephew Krushna Abhishek. While their past disagreements have cast a shadow over their bond, a recent Instagram post featuring a throwback dance video has rekindled hope for a reconciliation. As fans eagerly anticipate a reunion, whether this heartwarming video represents the first step toward healing the rift between these two talented family members remains to be seen.