Kangana Ranaut's Grandfather Passes Away In Manali, Actress Says, "He Wasn't Keeping Well For Last Few Months"
On December 14, Kangana Ranaut took to her Twitter handle to share that her grandfather passed away on Monday evening. The actress penned down a heartfelt note remembering her grandfather Shri Braham Chand Ranaut and shared that he wasn't keeping well for the past few months. Kangana also mentioned that her grandfather has already passed when she reached home.
Sharing a picture of her Shri Braham Singh, Kangana Ranaut also recalls his sense of humor. The actress tweeted, "This evening I drove to my parents house as my grandfather Shri Braham Chand Ranaut wasn't keeping well for past few months, just when I reached home he had already passed away. He was 90 years old still had an impeccable sense of humour and we all called him Daddy. OM Shanti." Kangana. Kangana had been staying with her family in her hometown ever since the lockdown was announced, and she had shared amazing videos and pictures as she basked in the beauty of nature in Himachal Pradesh.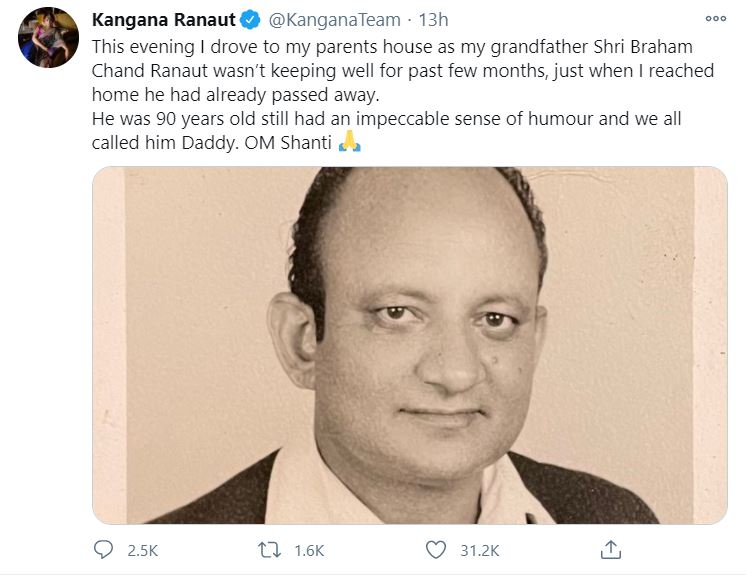 Meanwhile, on the work front, Kangana Ranaut will next be seen in Tejas. The actress recently had a meeting with Defence Minister Rajnath Singh in Delhi, head of her film Tejas. Sharing pictures of the  meeting, Kangana Ranaut wrote, "Today team #Tejas met honourable defence minister Shri @rajnathsingh ji for his blessings, we shared the script of our film Tejas with @IAF_MCC as well and seeked few permissions, Jai Hind."
Click Here To Get Your Woman's Era Magazine Subscription