Malaika Arora Captures Arjun Kapoor Having Ice Cream, Actress Helps Him Wipe Out Some From His Nose; WATCH VIDEO
Arjun Kapoor is one of the most dashing actors in the Bollywood industry. The actor is always in news for his unique script choices and his relationship with the love of his life Malaika Arora. The star couple has always been quite open about their strong bond and love which they share with each other. The two love birds often share their pictures and videos capturing each other on social media platforms.
If you're a fan of both then you would already be aware of the two are painting the town red in the Maldives. The duo is spending some quality time in the Maldives is sharing some adorable videos and photos on social media platforms.
In a recent adorable post, Arjun Kapoor took to his Instagram handle and shared a cute video of him having Ice Cream. The video of the actor has been captured by Malaika Arora, the actor captioned the post and wrote, "Ice Cream, You Scream!!! I've seen ice cream trucks in many films but never actually had ice cream from one… guess I can mark that off my list thanks to @patinamaldives!!! (Yes, I did eventually drop some on my tee) 36 going on 6 & half…"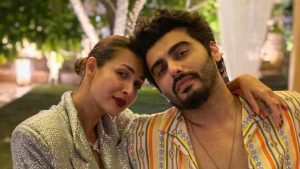 In the video, Arjun Kapoor could be seen enjoying his ice cream which he mistakenly puts on his mustache. Later in the video, the actor deliberately dabs some ice cream on his nose and Malaika wipes it off with her finger. Reacting to the video, a lot of fans started showering the video with love and started commenting on the video. "You look so cute like a child," wrote one user. "Keep the child inside you alive," wrote another user.
View this post on Instagram
Earlier on Tuesday, Arjun shared a video that proved how romantic he is. The video shared by Arjun shows Malaika in a yellow gown, walking barefoot towards the beach. As she reaches a spot, she finds a big heart made with fairy lights on the sand. It has a table and two chairs placed at the center of it. It then shows Malaika enjoying a drink. He captioned the video as, "She is a vibe… and it's on fleek!"