Priyanka Chopra's Sister Meera Chopra Filed An FIR Against Her Interior Designer: Exclusive!
Bollywood actress Meera Chopra has filed an FIR against her interior designer. He has accused the interior designer of criminal intimidation, among other charges. Meera Chopra is the cousin of actress Priyanka Chopra. She has appeared in the films 1920 and Section 375. Meera Chopra told in her FIR that the interior designer treated her badly in front of her workers.
According to the news of the English website Bollywood Hungama, Meera Chopra recently hired an interior designer named Rajendra Dewan for her house. An agreement of Rs 17 lakh was also signed between these two. Meera Chopra had given 50 percent of the amount to Rajendra Dewan as an advance. She then went to Banaras for her shoot, but when she returned home from her shoot, she accused Rajendra Dewan of using substandard material.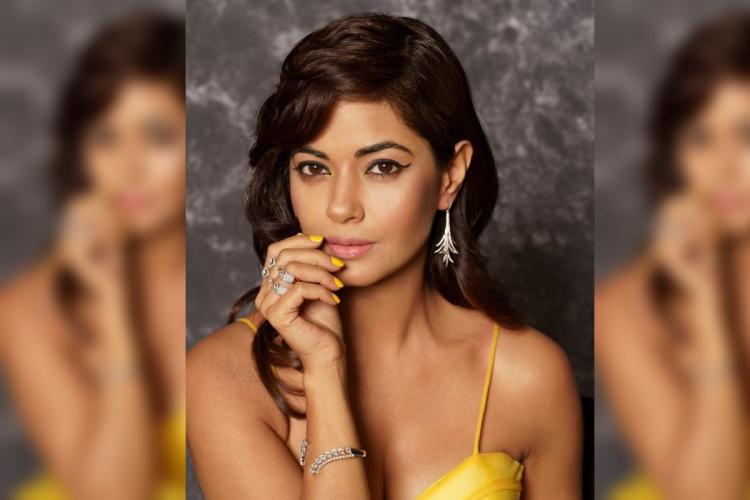 Meera Chopra has claimed in the FIR that when she tried to talk to Rajendra Dewan about this, he started shouting at her in front of his workers and started abusing the actress. Meera Chopra has also claimed that Rajendra Diwan himself tried to throw her out of her own house by pushing her. Due to which Meera Chopra has filed a complaint against interior designer Rajendra Dewan at Oshiwara Police Station under sections 354 (degradation of a woman), 504 (intentional insult with intent to provoke breach of the peace), 506(2) (criminal intimidation) and 509 (of a woman). FIR was lodged under insult).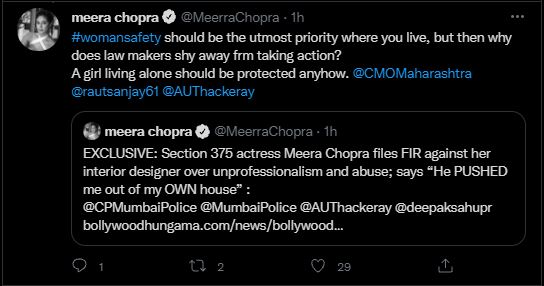 At the same time, Meera Chopra herself has also given her reaction in this whole matter. Reacting to this news on his official Twitter account, he has mentioned the safety of women. Meera Chopra wrote in her tweet, 'Women's safety is the top priority where they live, but despite this, the lawmakers shy away from taking any action.' In this tweet, Meera Chopra has tagged the office of the Maharashtra government and Chief Minister Uddhav Thackeray. This tweet of Meera Chopra is becoming increasingly viral. Many fans of the actress are liking this tweet of her. Also, give your feedback by commenting.