Rajkummar-Bhumi's Secret Is Out: Badhaai Do Trailer
The first trailer for Rajkummar Rao and Bhumi Pednekar's quirky comedy Badhaai Do was released online on Tuesday, making it an excellent day for Rajkummar Rao and Bhumi Pednekar's fans.
This ensemble cast of Badhaai Do includes excellent performers like Seema Pahwa, Sheeba Chadha, Chum Darang, Lovleen Mishra, Nitish Pandey, and Shashi Bhushan.
"Badhaai Do" is the spiritual follow-up to "Badhaai Ho," which won a National Award. Just like the previous film, it takes a lighthearted approach to tell the story of Rajkummar and Bhumi's convenient marriage.
Badhaai Do, which Junglee Pictures produce, will be released in theatres on February 11th. As far as the release date of this film is concerned, it will clash with Deepika Padukone's Gehraiyaan, which will air on Amazon Prime Video on the same day as this film.
The filmmakers have made it evident that they want to see this film on the big screen. This family drama is not only full of laughs and emotions, but it also tackles a socially important topic: homosexuality, the  glimpse of which we get in the trailer.
What is in the trailer?
Rajkummar plays the role of Shardul Thakur, a Delhi male cop in a Mahila thana. On the other side, Bhumi's character is Suman, a Physical Education (PE) instructor, a woman surviving in a man's world.
The three-minute video begins with a simple introduction of the main characters, and we quickly learn that Shardul has been courting Suman for four years to marry her. They are brought together by a desire to escape the pressures of their families, not by love.
Suman and Shardul had agreed to live together as 'roommates,' but turmoil erupts when her girlfriend (Chum Darang) visits. Things get more problematic when their relatives pressure them to have a baby.
The trailer's final scene reveals Rajkummar's secret: that he, too is homosexual. Despite few plot details, the film's theme quietly emphasizes the concept of "lavender marriage." A marriage between a man and a woman to conceal homosexuality is a lavender marriage.
Rajkummar Rao and Bhumi Pednekar posted the film's poster before the trailer's release.
In another amusing poster, Pednekar and Rao appeared struggling to keep a secret from one other while dressed in their wedding finery over the professional clothes of a cop and a PT teacher, respectively.
"Arre yaar, ab toh ye secret kal out ho jayega ! Kyuki kal aa raha hai hamara trailer aur hum aa rahe hai theatres main. Hey bhagwan, I am very excited," Bhumi tweeted with the photo.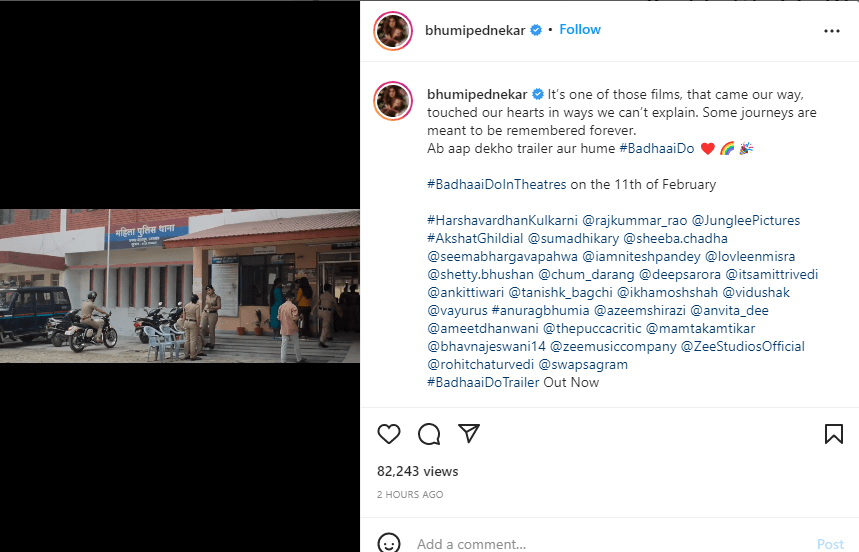 After watching the trailer, we're excited to see what Bhumi and Rajkummar can do on the big screen.
Badhaai Do is a film directed by Harshavardhan Kulkarni and written by Akshat Ghildial and Suman Adhikary.
A sequel to Harshavardhan Kulkarni's Badhaai Ho franchise, Badhaai Do promises to tickle our funny bone like the first.