Raqesh Bapat's Sister, Shamita Shetty Pose For Family Pictures; Is There Marriage In Works?
Raqesh Bapat made news lately as he purportedly denied dating Shamita Shetty. He referred to Shamita as his 'dear friend' in an interview. He said that his connection with the actress is not a relationship' but a 'bond'.
Indeed, Raqesh and Shamita have dominated the headlines due to their reported split over the last two weeks. A fresh batch of images has emerged online showing Shamita posing with Bapat's family in Pune during this period.
The post has gotten viral on social media and has undoubtedly brought all ShaRa followers joy. According to reports, the actress travelled to Pune with Raqesh to spend quality time with his family.
https://twitter.com/sheetal_bapat/status/1508256711664181248?cxt=HHwWgIC9jZ_fs-4pAAAA
Sheetal Bapat, the actor's sister, uploaded two images from their gathering on her Instagram account, captioned with loving emojis. In the photograph, Shamita may be seen posing with Raqesh and his niece Isha. Shamita and Raqesh are also seen cuddling Isha, holding a puppy.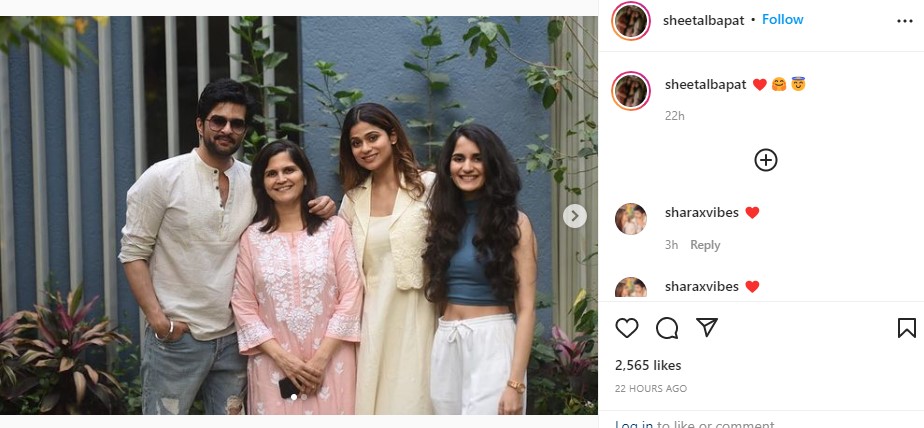 As soon as the photos went viral, admirers couldn't stop gushing over the duo. Notably, a fan questioned Shamita and Raqesh whether the phrase "toh rishta pakka?" was legitimate. "Is marriage on the horizon?" inquired another.
Meanwhile, the Maryada actor had said in an interview with Hindustan Times, "We are in a good place; she is a wonderful friend." Friendship must be so strong that it is unaffected by anything else. She has a pure spirit. I admire those who are truthful. We have a plethora of interests. It's fascinating to be surrounded by like-minded individuals. "I would not characterize this as a relationship. It is a contract. We give things names. It's as though two individuals share space and care for one another. If you want to call it anything, it's a game of names. She is a lady whom I admire."