TV Actor Nupur Joshi Becomes Victim Of Online Fraud, Demands Blue Badge For Her Instagram!
Many people get cheated for money in real life. But with the ascend of social media, this has become quite common in the virtual world too. Many TV stars are also becoming a victim of fraud online. And the latest one to trouble herself due to this is Yeh Rishta Kya Kehlata Hai actor Nupur Joshi.
Taking to her Instagram, Nupur posted details on how she has been fooled around. In the heartfelt note, she revealed that she has mistakenly shared her official ID proof on a fraud email and now she is quite worried about it.
Disclosing the reason behind her submitting all such crucial documents to an unknown email, Nupur said that she has been part of the entertainment industry for over a decade now but was never interested in getting her Instagram account verified until today. She stated that her fans made her realise the importance of bluetick on Instagram, soon after which she requested for the same from Instagram team. But instead got into a trap of hackers who posed themselves as officials from the photo-sharing app.
Joshi further expressed her disappointment over social media authorities not taking an appropriate action on it. She is scared of the consequences of sharing information with fraudsters. She asked fro help through her social media post.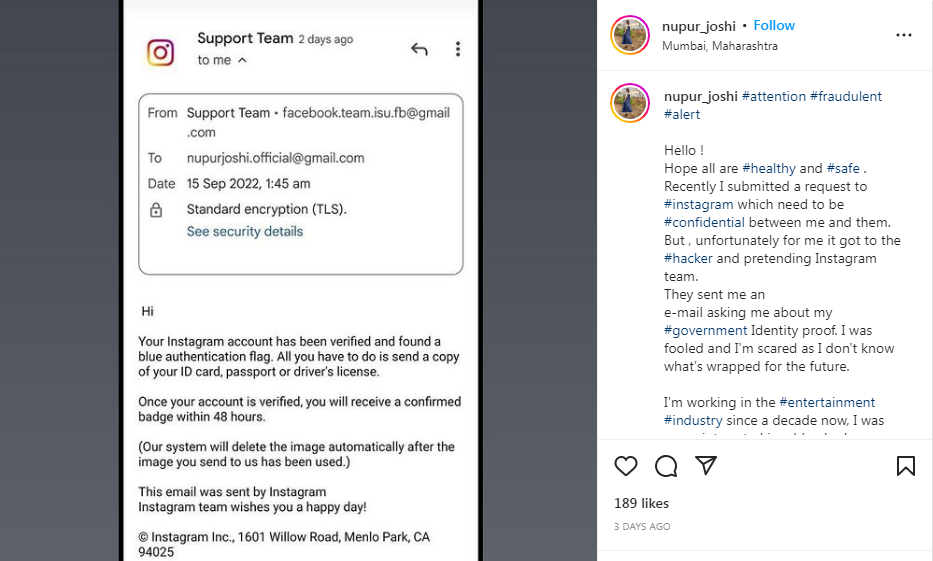 Professionally, Nupur Joshi gained fame by playing Mohsin Khan aka Kartik's mother in Yeh Rishta Kya Kehlata Hai. She has also done TV shows like Kumkum: Ek Pyara Sa Bandhan, Jasoos Vijay, Rakhi, Do Hanson Ka Joda, etc.