Ishaan's Rumored Girlfriend Ananya Pandey Sends In Gift to His Sister-In-law Mira Rajput;Check Out Here
Shahid Kapoor has always won audiences' hearts with his extraordinary performances in movies like Haider, Kabir Singh. His younger brother, Ishaan Khatter seems to be no less. He has proved his mettle in the film industry with his acting skills. He is extremely talented just like his elder brother. Ishaan's performances in movies like Beyond The Clouds and Dhadak speak volumes. Such films have established him in the industry.
Ishaan stays in buzz not only for his chopped acting skills but also for his reported relationships with co-stars. When the actor was shooting for Dhadak, the rumors started floating that Ishaan is dating his co-star Janhvi Kapoor. But that didn't go very far and the two took separate paths soon after. After this alleged breakup, Ishaan's closeness with Ananya Pandey, who shared screen space with him in the movie ' Khali Peeli' came into the limelight.
Ananya and Ishaan's love affair is quite evident from their social media handles. Earlier, Ananya posted a picture on Instagram where she could be seen lying on her couch, with a homemade mask applied on her face. But what attracted the netizens was her rumored boyfriend Ishaan Khatter's comment on the post. Ishaan wrote in the comment section, "What's in the mask, honey?" to which Ananya replies, "Yes honey… Dahi and Haldi."
Now, seems like Ananya Pandey is taking it to a next level. She has recently sent a delicious and beautiful gift to Ishaan Khatter's sister-in-law, Mira Rajput Kapoor. On June 30, 2021, Mira Rajput shared a picture on her Instagram story where she thanked Ananya for the sweet surprise. Mira wrote, "Thanks @ananyapanday Nothing like midnight cinnamon rolls."
Ishaan is close to his sister-in-law and they both post stuff related to each other on their respective social media account. On June 28, 2021, Ishaan hosted an AMA session on his Insta handle and Mira had asked him a question. Mira asked, "Who's your favorite?" To which Ishaan replied, "Sorry guys have to deviate to reply to the family for a minute. @mira.kapoor the answer is 'Vivaan' (& Vibba di)." Mira reposted his answer on her story with the caption, "Haldi wohtaaaah".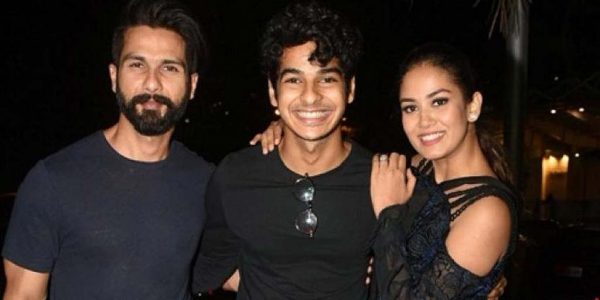 When Ishaan Khatter had won the Filmfare Award for best debut in 2019 for his film, Beyond the Clouds, Shahid and Mira were equally happy as his fans for him. Ishaan's elder brother and his wife had taken to their Instagram handle to post a note congratulating the Beyond The Clouds star.
Ishaan was also seen showering heaps of praises to Sister-in-Law Mira Rajput when he appeared on the show Voot's Feet Up with the Stars Season 2. He stated, "Mira is just one year older than me and she is a hands-on mother. She has taken over family responsibilities perfectly."
With Ananya's sweet gesture, it becomes quite clear that she is fond of both Ishaan and her family.