Akshay And Emraan's Dance Video With Air Hostess Went Viral, Check The Video Inside!!
Bollywood action hero Akshay Kumar and Bollywood's famous romantic kisser Emraan Hashmi are going to be seen together soon on the big screen. Both the actors will be seen in the film named "Selfie". Recently, a video of the actor with Tiger Shroff went viral, in which he was seen dancing. After this, now another video is going viral on social media and this dance video Akshay Kumar is seen dancing with Emraan Hashmi.
Checkout The dance video of Akshay and Emraan here!!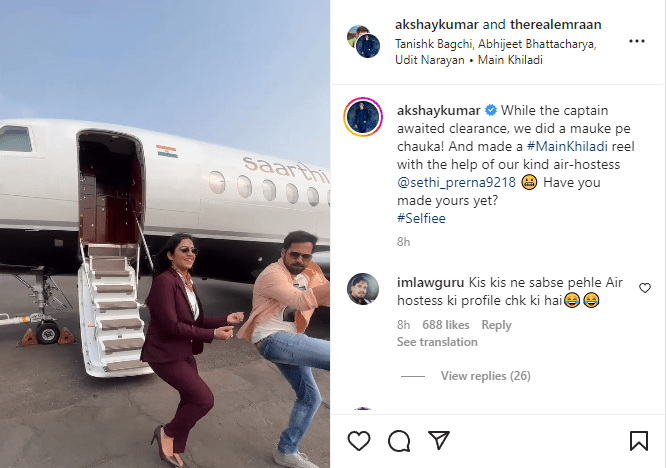 Emraan Hashmi With Airhostess
Actually, actor Akshay Kumar recently shared a video on his official Instagram handle, in which he is seen dancing fiercely with Emraan Hashmi. In the beginning of this video, Emraan Hashmi starts dancing with the air hostess, following which Khiladi of Bollywood, Akshay Kumar joins them both from behind. After that, the air hostess leaves and both the actors show off their dance moves in the video. In this video, the actors dance to the song "Main Khiladi Tu Anari" from their upcoming movie Selfie. With this video, the actor wrote in the caption, "While the captain waited for clearance, we hit the spot. And we made a reel on Khiladi with the help of our air hostess @sethi_prerna9218. Have you created your reel yet?"
Akshay Kumar And Emraan Hashmi
Main Khiladi Tu Anari song is the title song of Akshay Kumar and Saif Ali Khan starrer film Main Khiladi Tu Anari film. The song is the remake and can be seen once again in Akshay and Emraan's film Selfie. The song of the film is becoming quite viral since its release. Selfie will release in theaters on February 24.