Anushka Sharma Finds Cutest Boy In Virat Kohli Wants To Start A Band With, Shares Goofy Pictures!
Virat Kohli, an Indian cricketer and Anushka Sharma, the Bollywood actor and producer, remain one of the most popular celebrity couples. The two are constantly posting lovely photographs of or with each other on social media, and Anushka shared a goody pic of her hubby on Thursday.
They were twinning since they were both wearing the same colour jacket. Anushka posed with her eyes closed, her fangs bared, and the 'rock' symbol flashed in the first photo. Virat stood next to her, striking a pose. Anushka was dressed in a white T-shirt, cropped light blue denim, a bluish green jacket, and sneakers in the photo. Virat dressed down in a white T-shirt, dark blue denim, a bluish green jacket, and white shoes.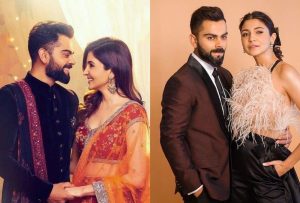 In the next image, Anushka smiled and flashed the victory symbol while holding Virat. The cricketer laughed as he posed alongside Anushka. The pair were standing in a room with a table, seats, and a mirror in the corner.
Anushka Sharma, the actress, claimed that she has always wanted to establish a "band with a cute boy," which she has finally found in her husband, cricketer Virat Kohli. Anushka Sharma shared photos of herself and Virat Kohli wearing identical costumes on Instagram.
https://www.instagram.com/p/Cg1JEDzMsAr/?utm_source=ig_web_copy_link
On the work front, Anushka is presently filming her next feature film, Chakda Xpress, a biography of Indian cricket legend Jhulan Goswami. Anushka has also been preparing for the role, undergoing strength and skill development to portray the part of the world's highest-wicket taker in women's ODIs.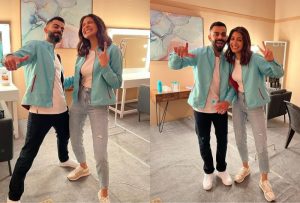 Virat Kohli, on the other hand, is currently on an international break at the moment. In certain ways, both Virat and Anushka are attempting comebacks. While Anushka's last release was years ago, she had a baby in the meanwhile. In that way, Chakda Xpress will be her return flick.
At the same time, despite playing nonstop cricket for the past six months, Virat has struggled to score runs. He had a dismal IPL 2022 season, scoring only two fifties, and his tour of England also did not go well. That is why he chose to take a vacation and will only return in the Asia Cup 2022, which will begin on August 28 in the UAE. Fans expect a comeback of Virat, where he is back to his former image.