"Asked Me To Strip, Pulled My Top," Here Are 9 Accusations On Bigg Boss 16 Contestant Sajid Khan!
The most controversial show on Indian Television Bigg Boss is back with the 16th season. And as soon as it premiered its opening episode, there started several trends on Twitter. The most eye-catching among them all was related to filmmaker Sajid Khan's participation in the show. Netizens are irked with makers for giving the alleged sexual molester such a big platform. Apart from this, social media users are also trolling Shehnaaz Gill and Kashmera Shah for showing support to Sajid.
As the Housefull director gears up to showcase his real side, here are 9 women who accused him of sexual misconduct.
Saloni Chopra: She was the first person to come forward and share her experience with Sajid Khan. She revealed that Sajid made her feel uncomfortable in a bad way and left her in tears when she went for an interview to be his assistant director in 2011.
Sherlyn Chopra: She opened up recently about getting sexually assaulted by Sajid. 'When I had met him in April 2005, a few days after my father's demise, he had taken his penis out of his pants and had asked me to feel it. I remember having told him that I know what a penis feels like & that the purpose of my meeting with him was not to feel or rate his penis', stated Sheryln.
Rachel White: The Ungli actor said that Sajid called her at his home for auditions and asked them to go directly to his bedroom where she was asked to strip for Sajid.
Mandana Karimi: The ex-Bigg Boss contestant appeared in Sajid's Humshakals. Disclosing her horrible conversation with Khan, she disclosed that Sajid took her to a room and told her that she needs to remove her clothes if he wants a better role.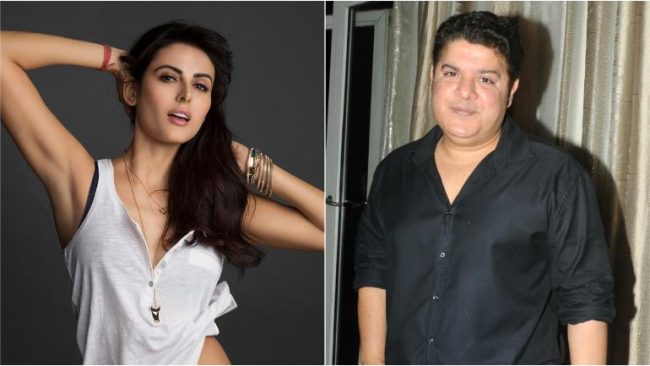 Karishma Upadhyay: Karishma, who is a journalist shared a social media post stating how Sajid flashed his private part to her during an interview.
Aahana Kumra: The Lipstick Under My Burkha actor Aahana Kumra accused Sajid of behaving weirdly when she went for an interview. He made her uneasy by asking, "Would you have sex with a dog if I gave you Rs 100 crore?"
Dimple Paul: The young girl was harassed by Sajid under the impression of being cast in Housefull.
Simran Suri: Simran came up with serious allegations about Sajid. She said that Sajid wanted to cast her for Himmatwala and he called her to his house where he asked her to strip. When she refused, he shouted, 'I am a director. I will have to see your body'. Simran also revealed that Sajid pulled down her top before she managed to leave his house.
Jiah Khan: The late actor's sister opened up on the sexual harassment that Jiah had to face when she was shooting for Housefull. According to her, Sajid asked Jiah to take off her top and her bra.
For the unknown, The Indian Film and Television Directors' Association (IFTDA) had barred Sajid Khan from directing films after molestation allegations against him came to the forefront in 2018. He is out of work for the last four years.