Ayushmann Khurrana Teases Shehnaaz Gill, "Aisi Baate Kabhi Nahi Ki Maine Kisi Se"
Shehnaaz Gill's first talk program, "Desi Vibes with Shehnaaz Gill," premiered not too long ago. After a lively interview with Rajkummar Rao, Ayushmann Khurrana, star of "An Action Hero," will be on her program. A preview of their adorable and humorous discussion was released by the Bigg Boss 13 star on Wednesday.
The Preview
In the first scene, Shehnaaz confronts the Bollywood star, demanding to know why he isn't advertising his latest film. Ayushmann expresses his inability to promote anything. The presenter of the talk program responds that if a movie is excellent, audiences will go see it. Word of mouth, the actor, interrupts her to remark, is how she knows this. The two had a good chuckle over her faux pas.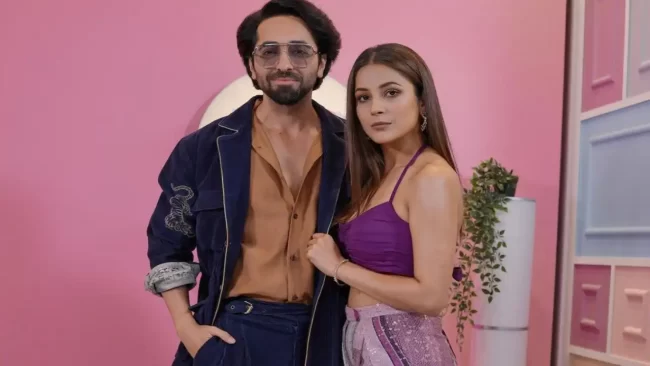 Ayushmann chuckles at Shehnaaz's clever use of the phrase, "the film will work because of his harkatein." When she compliments his naturalness, he responds by saying that she has also surprised him. Since he has never been interviewed in such an informal setting before.
Ayushmann Khurrana promises Shehnaaz Gill an invitation to the premiere of his film at another point in the clip. She is pressing him for the date, and he gives two options: November 30th or December 1st. Please complete it on January 1st since I have a shoot on December 30th," she says to Ayushmann, and he enthusiastically agrees.
But she leaves him red-faced when she inquires about what to dress for the premiere. She starts probing him for advice on what he thinks she should do with her hair while he attempts to deflect the subject. Ayushmann, chuckling, suggests that she curl her hair for the occasion since he has seen her with straight hair. Shehnaaz asks Ayushmann for a passionate embrace, and he gives it to her just before the director cuts the footage.
Shehnaaz captioned the teaser video, "An Action Hero meets Desi Vibes with Shehnaaz Gill…" to announce the next episode's release. Check it out:
And this is what happened when #AnActionHero met @ishehnaaz_gill.

Take a look at this fun conversation between @ayushmannk and #ShehnaazGiII as the former promotes his film #AnActionHero.#DesiVibesWithShehnaazGill #AyushmannKhurrana #jaideepahlawat pic.twitter.com/Pk690PVq0b

— GOODTIMES (@mygoodtimes) November 30, 2022
An Action Hero
The cinematic release of 'An Action Hero,' a film with sleek action and an odd, sarcastic sense of humour, is set for December 2nd. An Action Hero, a Colour Yellow Production directed by Anirudh Iyer, produced by Aanand L Rai, produced by Bhushan Kumar, and produced by Krishan Kumar, is presented by Gulshan Kumar, T-Series, and Aanand L Rai.