Vanitha Vijaykumar's recent revelation that she and Peter Paul were never legally married has aroused fresh discussion. After their private wedding ceremony in June 2020, allegations made by Peter's ex-wife, Elizabeth Helen, followed. There were rumors that Vanitha quit the marriage after four months when she learned that Peter had not divorced his first wife. This caused several disputes and speculations regarding their marital relationship.
Vanitha Vijaykumar's Clarification on Marriage
Vanitha and Peter persisted in posting photos and videos of themselves on social media despite the issues, giving the impression that they are a loving and happy couple. Peter Paul, however, passed dead on April 29, 2023, shocking Vanitha's followers. Following his passing, she made cryptic posts on social media that fueled speculation about their marriage.
In the end, Vanitha clarified through her Instagram account on May 2, 2023, that she was not legally married to Peter Paul and that their brief romance in 2020 had terminated the same year. She further urged her fans to refrain from spreading the lie that her spouse had gone away since she is content being single and has no need to grieve.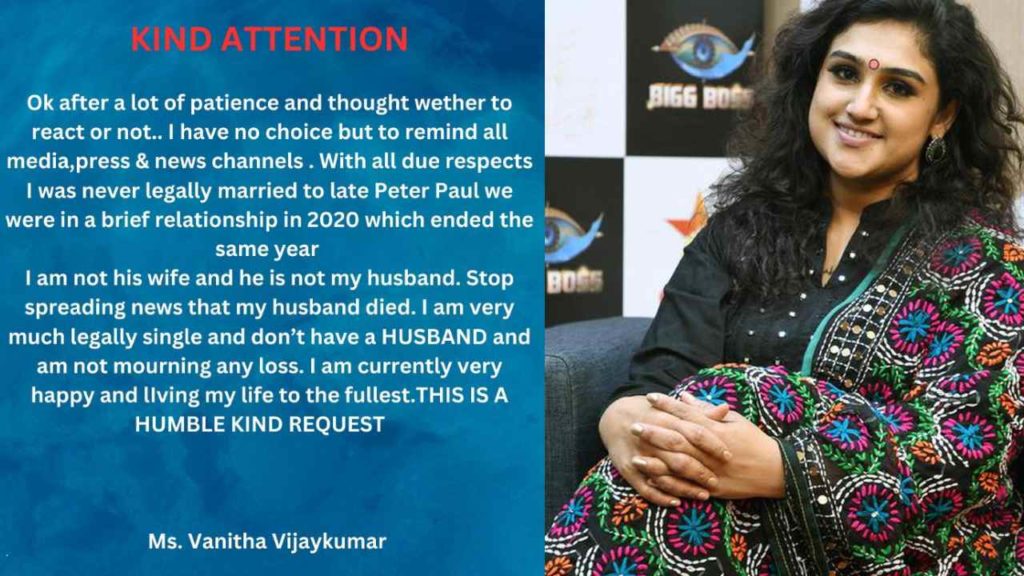 Vanitha Vijaykumar's Marital Life
Vanitha's admission has once more aroused debate and prompted inquiries regarding the validity of their marriage. Others think their connection could have been for publicity or other nefarious reasons.
Before her relationship with Peter Paul, Vanitha Vijaykumar had two unsuccessful marriages. Therefore, her marital life has always been turbulent. Her first and second marriages—to actor Aakash and businessman Anand Jay Rajan—ended in divorce. The drama and public scrutiny around her private life have increased due to the difficulties surrounding her third marriage to Peter Paul.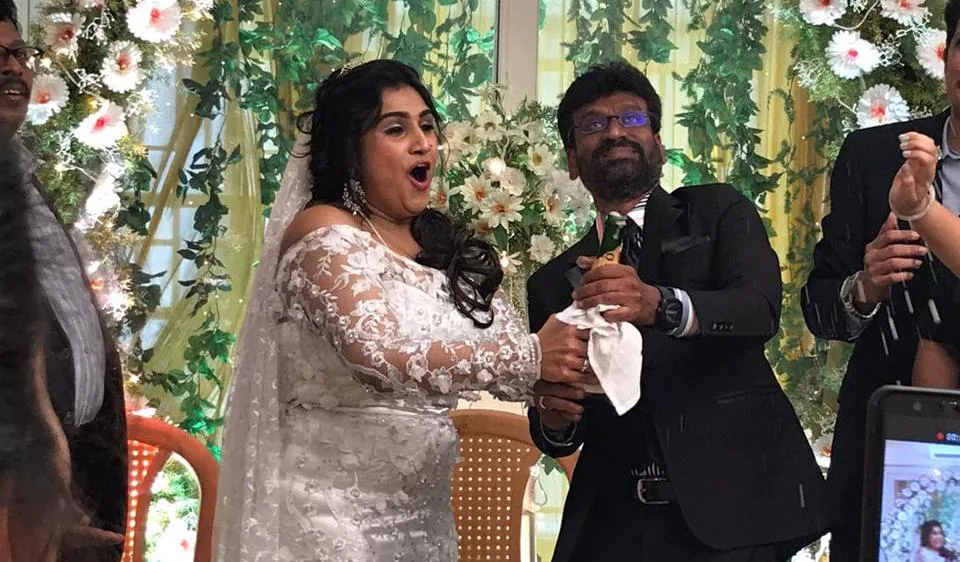 Vanitha Vijaykumar's Current Statement and Its Implications
The recent clarification made by Vanitha Vijaykumar regarding her connection with Peter Paul has aroused debate and prompted inquiries concerning the validity of their union. The drama and public scrutiny around Vanitha's private life have increased due to the disputes and claims surrounding their married life. The actress's future can only be predicted with time, but she appears satisfied and contented in her single status.