"Dur 'Hum' Saath Saath Hain" Is The Caption Of Anushka Sharma's New Starry Picture
It's a while now that our eyes are getting treated from cricketer's photos from their England tour. The cricket heroes are being accompanied by their partners as well. In the photo recently shared by actress Anushka Sharma, one can spot, Cricketer, Virat Kohli  Kl Rahul and rumoured girlfriend, Athiya Shetty, Ishant Sharma and wife Pratima Singh, Umesh Yadav and wife Tanya Wadhwa all together. The picture-perfect frame comes from England's beautiful city, Durham.
Cricket Team of India is in Durham, where they are training up together for the five-match Test series with England, which will start from August 4 at the Trent Bridge in Nottingham.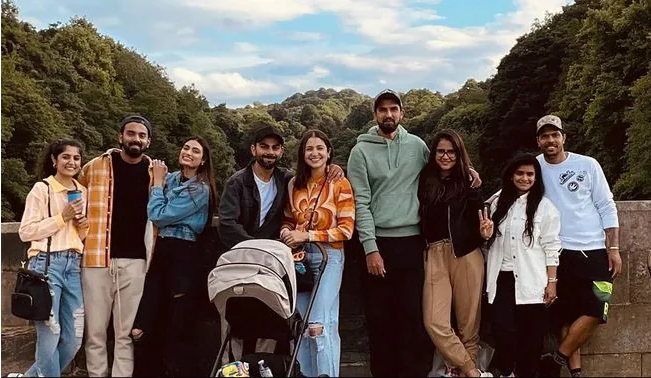 On Friday morning, Anushka Sharma had posted a snippet of their London group on her Instagram handle. Sharing a picture she didn't step back from adding a sweet filmy caption to it. The actress captioned the post as, "Dur'Hum' Saath Saath Hai." In the picture, we get to see the newly-become parents, Virat Kohli and Anushka Sharma with their little angel-daughter, Vamika in a stroller whom they welcomed at the start of this year, Umesh Yadav and Tanya Wadhwa among others. What caught our attention is the rumoured couple, Athiya Shetty and KL Rahul. Athiya and KL have been trying hard to keep their relationship undercover but we are getting proof of it one after the other.
Earlier on Friday, cricketer KL Rahul had taken to his Instagram handle and shared pictures of him with his on and off-field friends, Virat Kohli, Umesh Yadav, Ishant Sharma and Mayank Aggarwal. The photo was clicked by a fabulous group of photographers who made sure the cricketers looked dashing in the picture. Sharing the picture Rahul wrote, "Swipe Right," which revealed Athiya Shetty and Anushka Sharma were the ones who were taking their pictures.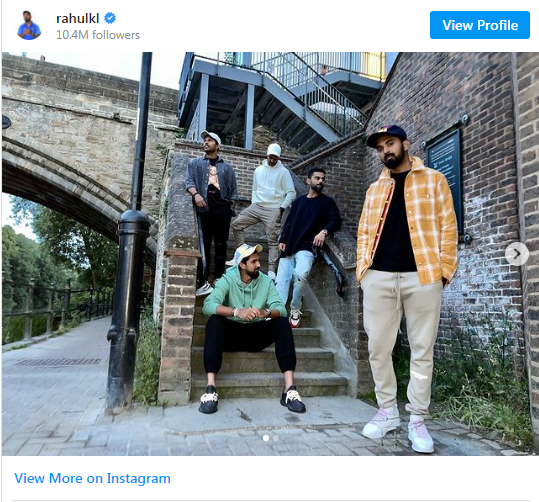 Anushka Sharma is also sharing glimpses of her England trip on her Instagram. The NH10 actress had specifically got trended for this LMAO set of photos with beau, Virat  Kohli. She wrote in the caption, "Was just casually prancing around town. Running a hand through my hair. A fan spotted me. I obliged for a picture. He seemed happy. Anything for my fans."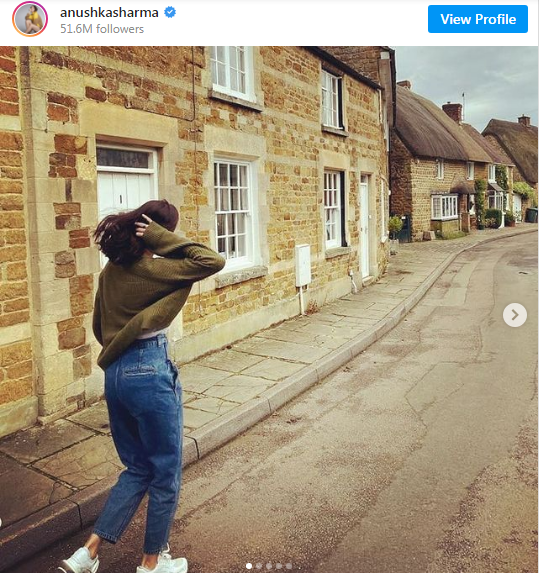 In one of her pictures, Anushka gave picture credits to Athiya Shetty which made it all the way more clear that the actress is also spending quality time with her friends and rumoured beau KL Rahul. When the media questioned Athiya's whereabouts from Athiya's father, Suniel Shetty, he smartly told them that she is on a vacation with her brother.