Bhumi Pednekar is reinventing power dressing in her own audacious way by wearing all black. Bhumi Pednekar's attractive ensembles and daring attire are our favourite fashion choices.
It is hard to not be inspired by the look of Bhumi Pednekar because she is both poised and captivating.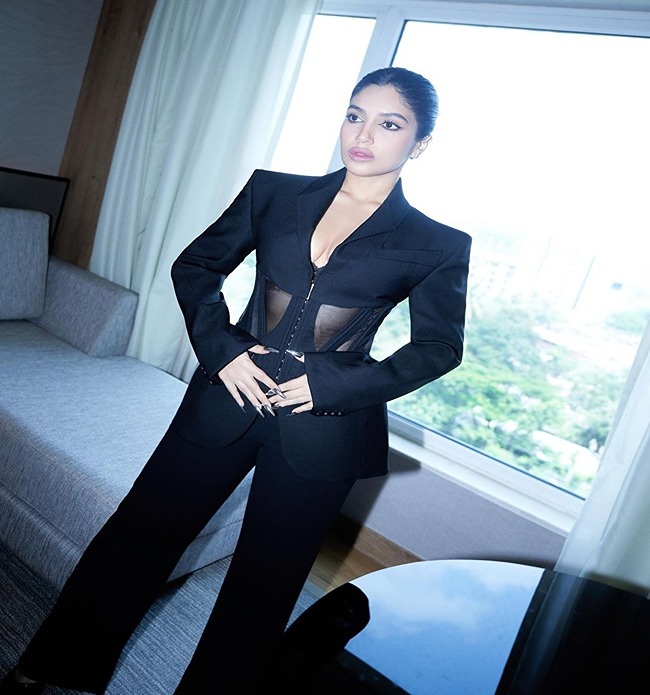 Bhumi Pednekar's fashion choices are nothing short of breath-taking. Her outfits are elegant and sophisticated, while also displaying her distinct sense of style.
Bollywood's leading ladies are always ready to rise to prominence as the times change. Even better when they dress up to embody their "Boss Lady" persona.
Fashion is one of the most expressive ways to express yourself. A power suit embodies both attractiveness and audacity.
A power suit is still a powerful fashion statement, even if blazers with trousers and classic three-piece suits are becoming more fashionable.
Bhumi Padnekar's fashion sense is undeniable, and she appears to slay every ensemble she puts on. The actress recently turned heads at an event in a stunning black ensemble, leaving her fans speechless with her glamorous look.
With her flawless fashion sense and grace, it's safe to say that Bhumi knows how to rock every ensemble.
Her superb style sense, combined with her poise and confidence, elevates her to the status of true fashion icon.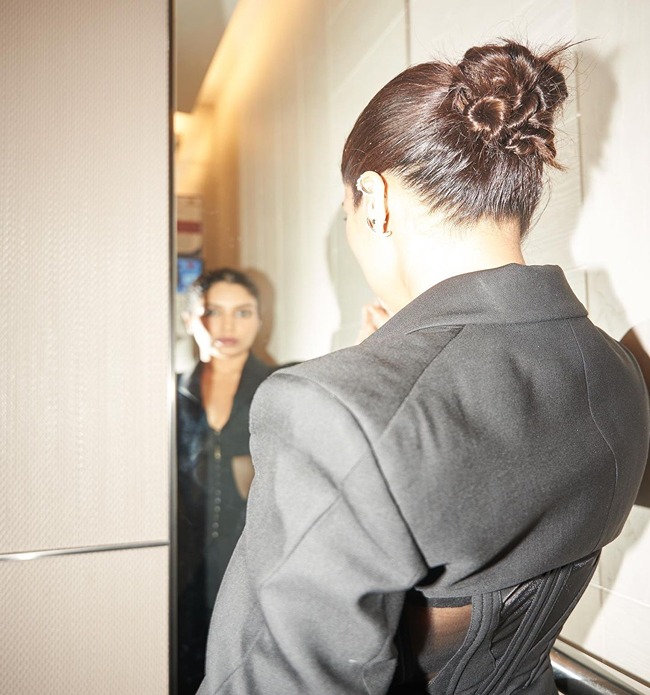 Bhumi never fails to impress with her stylish and chic ensembles, whether it's a red-carpet event or a casual outing. It doesn't matter whether it's extravagant gowns on the red carpet or sarees for celebrations, the actress always looks glamorous
Outfit Details
Bhumi looked stunning in an all-black power suit, styled by the very talented Mohit Rai, Shubhi Kumar, and Tarang Agarwal.
Bhumi chose to issue a formal call for FICCI Frames 2023 after careful consideration.
She wore a corseted Mugler x H&M jacket with a black ensemble. She wore the wide-leg trousers with a full-sleeved jacket with a sheer corset bodice.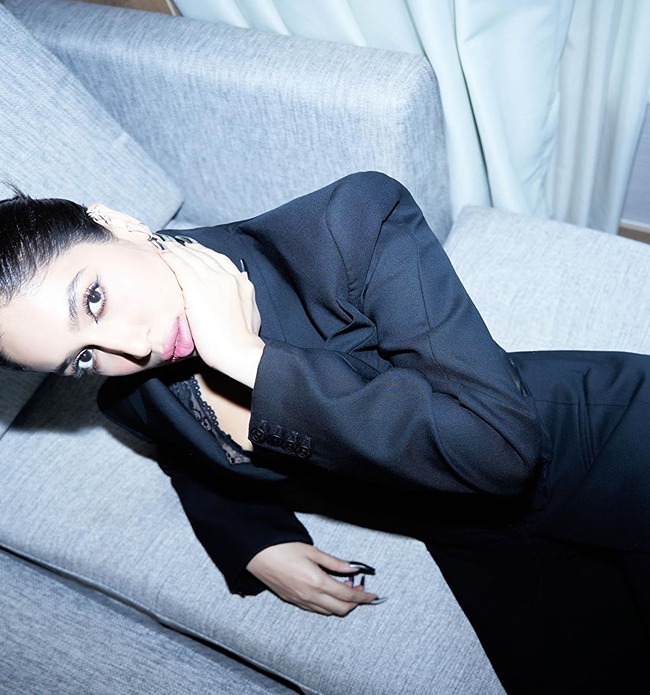 The actress wore a blazer-like jacket that was double-breasted and had corset-like detailing in the bodice with sheer net that accentuated her figure. The wide-leg trousers provided the ideal silhouette.
Accessories
Bhumi accessorised her look with classic rings that added just the right amount of bling, and her ear cuffs were a wise choice.
She finished the look with a sleek-tidy bun and pointed heels, which both highlighted the look and elevated it to an entirely new level.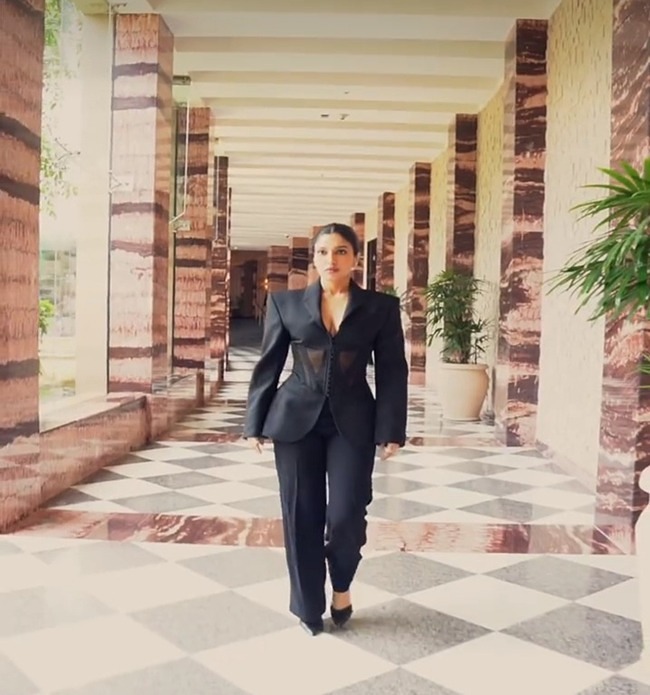 Glam Picks
Her makeup was as minimal as possible and focused on the bronzed look, which actually complemented the ensemble well is extremely subtle and will not draw attention away from one's get-up.
Glam makeup that included kohl-lined eyes, contoured cheeks, and a nude brown matte lip colour.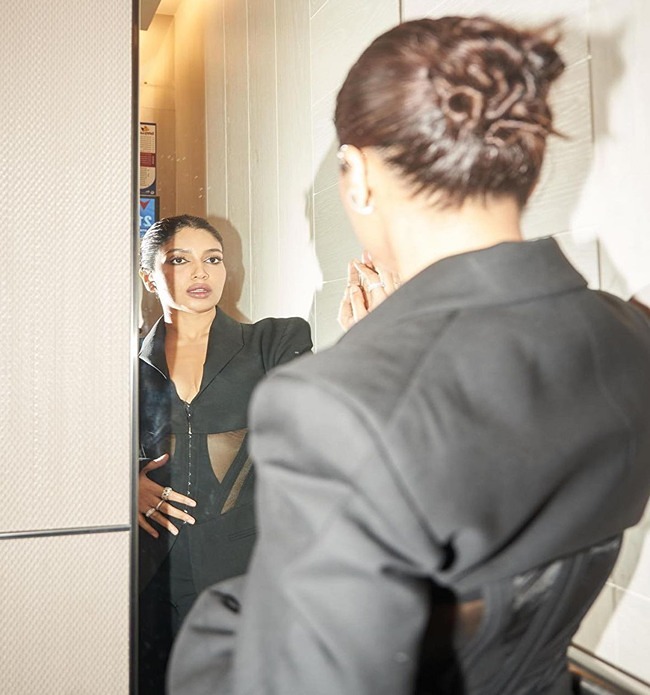 On Professional Front
Bhumi recently co-starred in the film Bheed with Rajkummar Rao. Her forthcoming filmography includes Bhakshak with Surya Sharma and Afwaah with Nawazuddin Siddiqui.
She is currently working on The Lady Killer and Meri Patni Ka Remake with Arjun Kapoor.