"Freedom Was Found In Gandhi's Begging Bowl," Kangana Ranaut's Reply To Varun Gandhi And Trolls
After a few days of peace, Kangana Ranaut is once again on the target of social media. Kangana, who was recently awarded the Padma Shri, one of the country's highest civilian honors, has come under fire for her controversial statement regarding the freedom struggle. Kangana had said in a program that the freedom she got in 1947 was begging, the real freedom came in 2014. The Narendra Modi government came to power in 2014 itself. Kangana is being trolled badly on social media regarding this. Kangana is not on Twitter but is replying through Instagram.
कभी महात्मा गांधी जी के त्याग और तपस्या का अपमान, कभी उनके हत्यारे का सम्मान, और अब शहीद मंगल पाण्डेय से लेकर रानी लक्ष्मीबाई, भगत सिंह, चंद्रशेखर आज़ाद, नेताजी सुभाष चंद्र बोस और लाखों स्वतंत्रता सेनानियों की कुर्बानियों का तिरस्कार।

इस सोच को मैं पागलपन कहूँ या फिर देशद्रोह? pic.twitter.com/Gxb3xXMi2Z

— Varun Gandhi (@varungandhi80) November 11, 2021
On Kangana's statement, BJP leader Varun Gandhi had tweeted – Sometimes an insult to Mahatma Gandhi's sacrifice and penance, sometimes honoring his killer, and now with Martyr Mangal Pandey, Rani Laxmibai, Bhagat Singh, Chandrashekhar Azad, Netaji Subhash Chandra Bose, and lakhs. Contempt for the sacrifices of freedom fighters. Should I call this thinking nuisance or treason?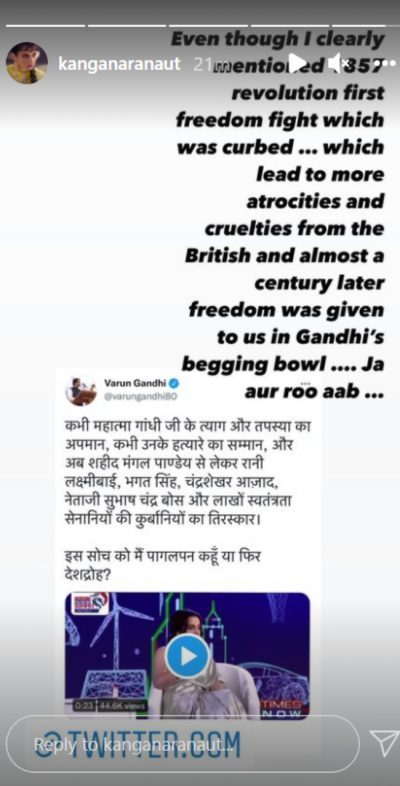 By including Varun's tweet in the Instagram story, Kangana replied, "However, I had clearly stated that the first war of independence took place in 1857, which was suppressed. After this, the tyranny and cruelty of British rule increased. Almost a century later, we were given freedom in Gandhi's begging bowl… go and cry now. Aam Aadmi Party's National Working President Preeti Menon has filed a complaint in Mumbai. In the program of Times Now channel, Kangana had said – it was not freedom. It was begging and the freedom that we have got in 2014. The actress further said on this – this is a very big topic. I have read a lot and made a film too.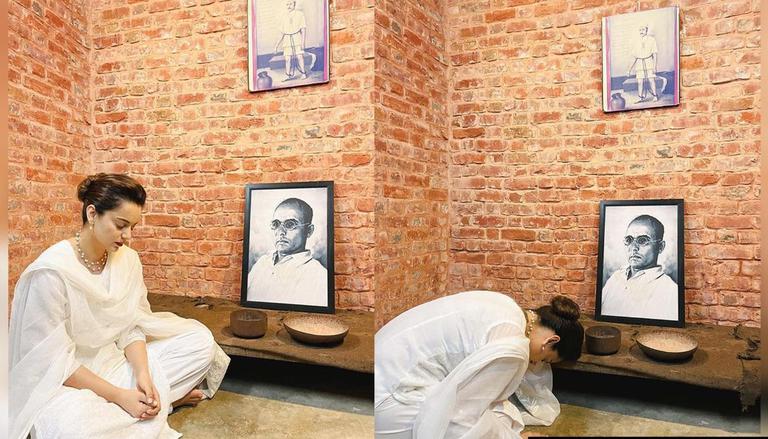 The British did not annex India democratically. There were some battles, but the battle of 1857 was decisive for independence. What happened after that is the most unfortunate part of our history. Even more unfortunate than what happened to the Jews. It was not written in the media. Jallianwala Bagh or Bengal famine. They went after the Indians because they could control this fight. They left us to starve. Let me tell you, a few days ago, Kangana had also visited the jail in Andaman in which Savarkar was kept captive.