TV actor Karan Patel has written a post on social media supporting Bollywood's 'King Khan' Shahrukh and his son Aryan Khan. The biggest cowardice. You wanted a black spot to hide the bigger issue, you're trying to stop a son from shining, but can't because it's in his jeans. Karan Patel wrote this with the hashtag #ImWithSRKAAlways.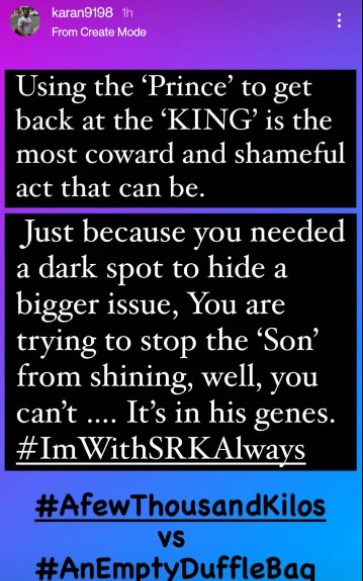 He wrote that it is embarrassing to use the Prince to take revenge on the King and completed his post saying #AfewThousandKilos vs #AnEmptyDuffleBag. Shahrukh Khan's son Aryan Khan is currently in judicial custody. Aryan Khan's bail plea will be heard on Wednesday today. Earlier, Aryan Khan was sent to judicial custody for 14 days. Earlier Aryan Khan was kept in the custody of NCB. Along with Aryan, the NCB had caught eight people in the rave party and drugs case on the cruise. So far 20 people have been arrested in this case, including two foreign nationals.
Apart from Karan Patel, other Bollywood celebrities have also supported Shahrukh Khan. Earlier, Hrithik Roshan also had to be a victim of trolling for supporting Shahrukh. At the same time, singer Mika Singh had said that only Aryan Khan could be seen by NCB on such a big ship. At the same time, Shahrukh Khan has removed lawyer Satish Manshinde from this case and now Shahrukh Khan has given Aryan Khan's case to new lawyer Amit Desai. Amit Desai has appeared in the court regarding Aryan Khan's bail application. After the notice for the bail plea was served, the counsel for the Narcotics Control Bureau (NCB) told the court that the agency needs at least one more week to file its reply as several bail applications are pending in the drugs case. Aryan's lawyer Amit Desai said in court that "Aryan is already in jail for the past one week. Hearing on bail is not based on an investigation. I am not pleading for bail, just hearing for bail." I'm asking for the date.