Inside looks at Kareena Kapoor's star-studded Diwali bash resurfaced on social media, Take a look inside the beautiful and blingy family gathering that took place on Saturday night, Take a look!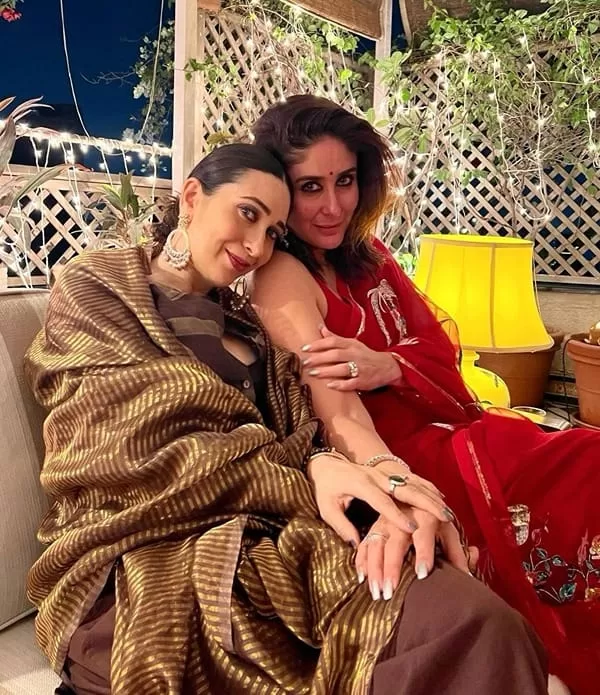 Diwali celebrations have taken over Bollywood, as a slew of celebrities have staged lavish Diwali parties in recent days. Kareena Kapoor Khan had a magnificent celebration at her home after Manish Malhotra, Ekta Kapoor, and Ramesh Taurani. Her entire family, including husband Saif Ali Khan, sister Karisma Kapoor, cousin Ranbir Kapoor and wife Alia Bhatt, and mother Neetu Kapoor, attended the star-studded family celebration.
Inside Kareena Kapoor's Star-Studded Diwali Celebrations
Kareena had posted a few glimpses of her attire for the occasion, along with Saif Ali Khan, on her Instagram. In a red saree and diamond earrings, the actor looked stunning. For the evening, Saif chose a stunning black kurta with a white dhoti. Kareena has previously shared photos of her Diwali celebrations at home, including one of Jeh mucking up the rangoli pattern.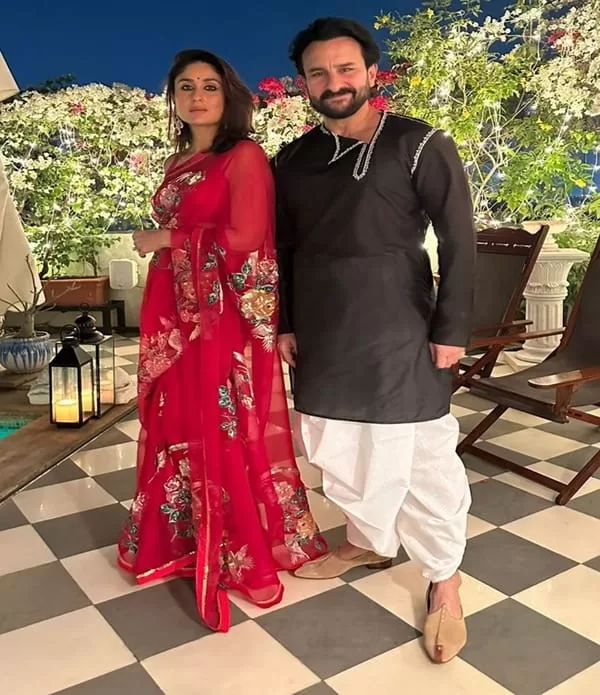 Karishma Kapoor Shares A Glimpse From Kareena's Diwali Bash 
Through a series of Instagram images, Karisma Kapoor gave fans a glimpse of Kareena Kapoor Khan's big Diwali feast. Kareena and Karisma have a tender moment with their parents, Randhir and Babita Kapoor, in one touching photo. Another shot shows the family celebration, which includes Kareena's husband, Saif Ali Khan.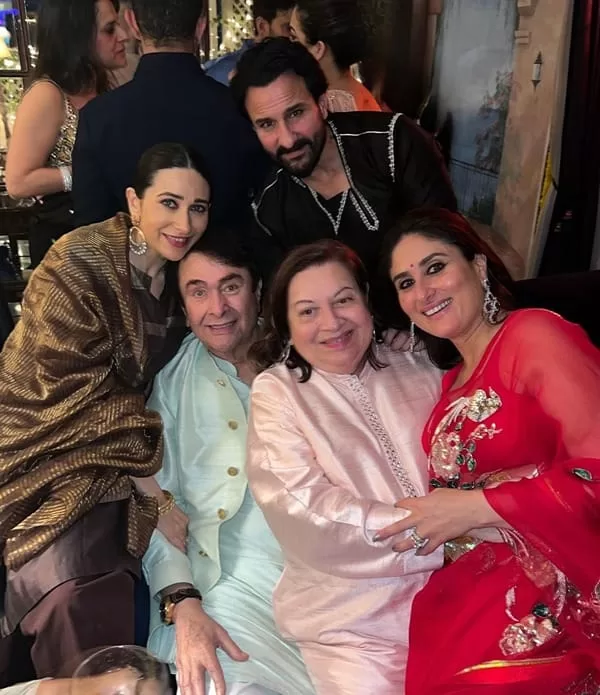 More family photos are included in the gallery, including ones with Neetu Kapoor, Ranbir Kapoor, Alia Bhatt, Aadar Jain, and Armaan Jain. Karisma also used the occasion to upload a gorgeous photo of herself indulging in some sweets.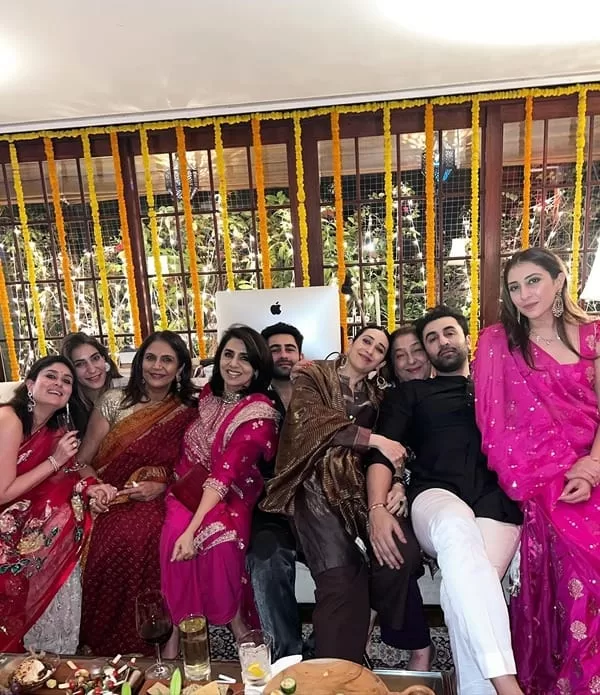 Soha Ali Khan, Saif Ali Khan's sister, took to Instagram to share a slew of photos from Kareena's Diwali celebration. Soha was seen posing with Saif, Kareena, and Kunal Kemmu in the first photo. Soha wore a bright red Banarasi saree to the event, while Kunal wore a white kurta. The second photo featured the complete Khan family, including Saif's mother Sharmila Tagore, Saba Ali Khan, Sara Ali Khan, and her brother Ibrahim Ali Khan.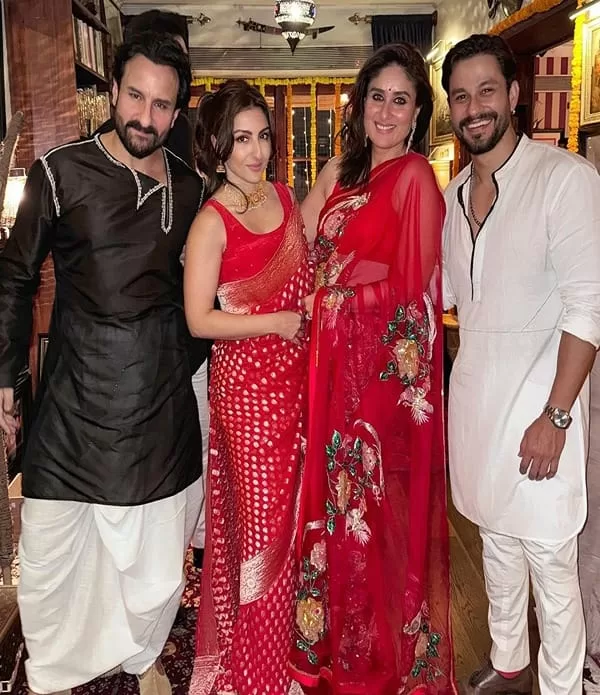 'Diwali Moments' With Alia Bhatt, Sara Ali Khan, And Others 
Manish Malhotra's social media posts from the Diwali feast provide an additional look inside the glitzy event. The acclaimed designer was photographed with several Bollywood stars in festive attire. He stood alongside Alia Bhatt, who looked stunning in a crimson lehenga he designed. Ibrahim Ali Khan led a group picture with Kareena Kapoor, Karisma Kapoor, Sara Ali Khan, and Soha Ali Khan.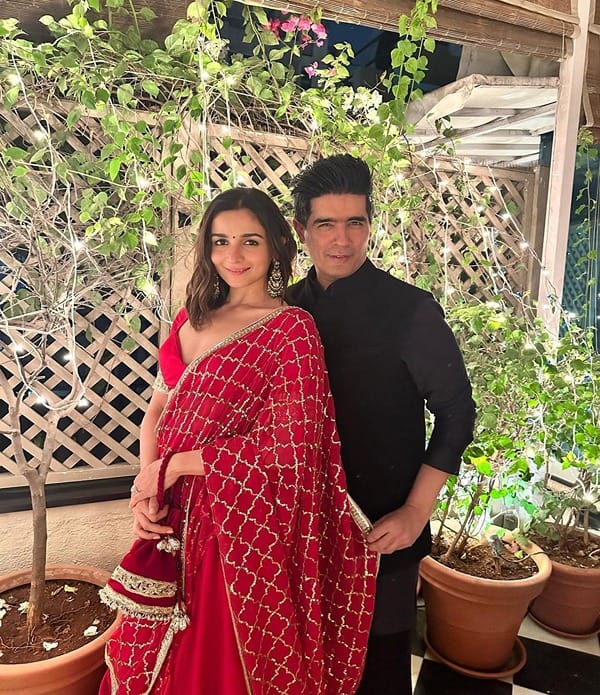 Manish also spent time with Sara, who was dressed in a lovely purple ethnic costume. In a mesmerizing selfie, he was joined by Alia and Sara.
Meanwhile, an Instagram photo of Alia Bhatt posing with her mother-in-law Neetu Kapoor from the same Diwali bash has surfaced. Neetu shared the photo on her Instagram Stories.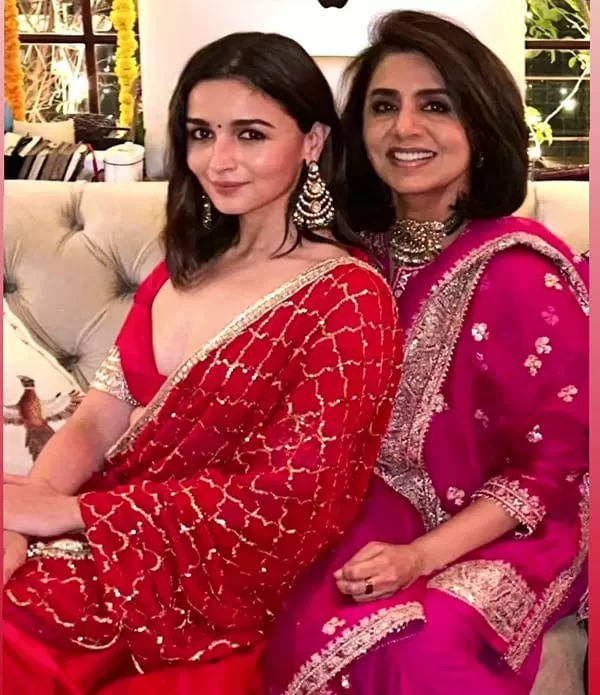 Alia can be seen in the photo sitting next to Neetu, smiling for the camera. Alia wore a vibrant red lehenga with a glittery dupatta draped over her arm. Meanwhile, Neetu dressed up for the occasion in a pink salwar kurta.