Karisma Kapoor Pays Tribute To Late Screenwriter JP Chowksey- Deets Inside
JP Chowksey, a veteran screenwriter who wrote the screenplays for films such as Shayd, Qatl, Bodyguard, and others, died on March 2nd at the age of 82. He died at his residence in Indore, Madhya Pradesh, of a heart arrest, leaving the country in mourning. On social media, several Bollywood celebs expressed their grief at his death. Actress Karisma Kapoor also conveyed her sympathies by posting a picture of the late scriptwriter on the photo-sharing app.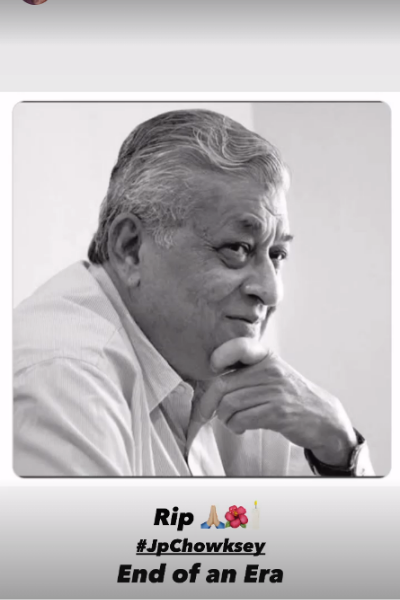 "RIP #JPChowksey End of an Era," Karisma wrote on Instagram's story section.
Rakesh Roshan took to Twitter to pay his condolences. "Saddened by the demise of a veteran film distributor, a renowned writer, and a dear friend JP Chowksi ji….. Heartfelt condolences and strength to the family members…RIP," he tweeted. Madhya Pradesh Chief Minister Shivraj Singh Chouhan too paid tribute to the late screenwriter.
Aditya Chowksey, a well-known filmmaker, was his son. JP Chowksey. He was stricken with cancer a few years ago and has since recovered. However, the cancer cells resurfaced, and his life would never be the same again. It took his life and left those close to him in a condition of sadness and acceptance. His wife and two boys are his only survivors.
JP Chowksey wrote screenplays for films such as Prem Rog, Qatl, Henna, Border, Kaho Naa…Pyaar Hai, Woh Tera Naam Tha, and others. Chowksey was a well-known columnist and author of multiple books in addition to being a film writer. He began his career as a professor of Hindi at a Gujarati College in Indore. He created the screenplays for several films and even released more than a hundred of them. He's also worked on films including Shayad, Harjaee, and Kanhaiya as a co-producer.
JP Chowksey was known in the business as Chowksey Sahab, and he also served as the President of the Central Circuit Cine Association (CCCA) for a few years. He was a columnist for the Dainik Bhaskar daily, where his regular column, Parde Ke Peechhe, ran for 27 years. Surprisingly, he penned his final column, wishing his readers farewell, on February 25, 2022, just five days before he died.