Leather Clothes: How To Combine And Be Stylish
It is hard to imagine modern life  without leather clothing. Bright, stylish leather outfits look daring and cool, but their main advantages are practicality and versatility. 
For example, a woman in a leather dress will look very spectacular. Only a very confident human who is not confused by the views of others will be able to wear such an outfit, because such a product completely denies the concept of an everyday restrained style.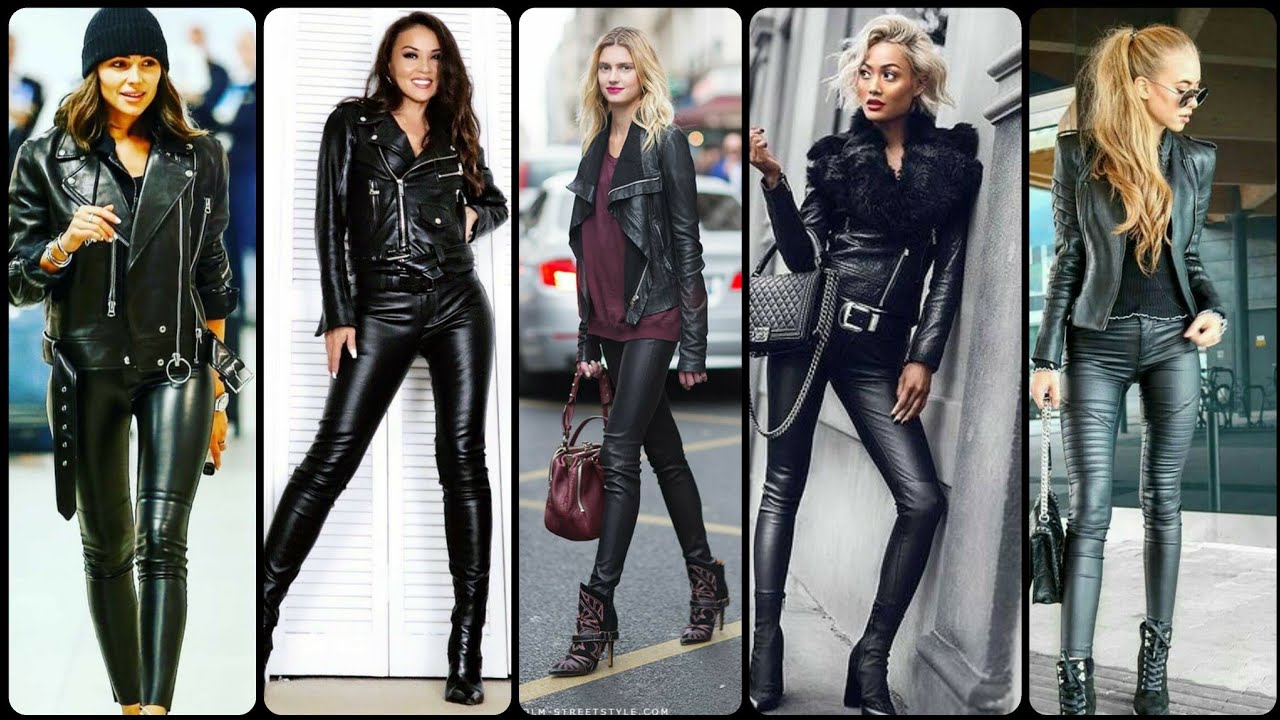 That is why designers have found a compromise option, and offer us to combine leather with traditional or modern types of fabric, such as knitwear, guipure, or jacquard. Dresses with inserts located on the waist area, or on the side seams, sleeves, shoulders are in fashion now. Decorative elements made of such material, such as pockets, peplum, sleeves, belts look great too.
Leggings is a very popular wardrobe item, but tight trousers with inserts are especially relevant today. They do not look so extravagant and go well with sweatshirts, shirts, tunics, mini dresses, cardigans, skirts, jackets,  and fur coats. In such leggings, every woman looks beautiful, feels confident and comfortable. The most important moment: take good care of the leather polish, and it will serve you for a long time. 
Where to wear
Leather outfits you can wear everywhere: they can be an excellent solution for creating a casual, evening, or business image. A mini dress can be worn to a nightclub: it will distinguish its owner from the crowd and provide freedom of movements. In such clothes, you can declare yourself as bold and confident.
If the dress has a middle length, then it can be worn to a semi-formal evening event or to work. All of it depends on the additional details, colors, cut features, and fabric combinations.
For example, an outfit made of soft guipure with vertical inserts on the front and horizontal along the waistline will create an unusual evening look. A stylish A-silhouette dress with details from crepe or guipure can be worn to walk, and a straight-cut model, combined with details from printed jeans, is perfect for the office. You can also choose beautiful leather dresses with details from guipure for a romantic date. It will look very original!
For everyday wear, we advise you to pay attention to a comfortable model of a straight or wide cut. A daring and somewhat aggressive leather dress, for example, with a snow-white printed star and long sleeves will perfectly protect you from the cold in the off-season. It can also be worn with high-heeled boots as a casual option for stylish outfits. A similar trapeze-model, made in a semi-sporty style, looks great with ankle boots or warm high sneakers.
Different elements of clothing made of leather are in fashion too. For example, sleeves on a dress, a flounce skirt, a mini skirt, a flared skirt, a long peplum. The inverse options, when the top is made of leather and the bottom is sewn from the other materials, for example, from printed jeans look even more unusual and impressive. Tight trousers from this material are very popular today. Comfortable leggings can be worn to work, for a walk, to a club, to a meeting with friends – anywhere.
In everyday life, it is better to prefer a more relaxed option, for example, beautiful stylish leggings with inserts. These materials seem to be specially created for each other, as the trousers look amazing and can be worn for a long time, so it will instantly become one of the favorite things in your wardrobe.
What to combine with
A leather dress, like a dress with leather inserts, does not need decor, it is quite self-sufficient. However, you can complement the image with bracelets, watches, or metal belts. Thin chains, restrained earrings made of silver or gold will also be good here. Leather products look good in combination with clutches or small bags, but if the model is sewn in a casual style, you can choose an original backpack for it. Models with short sleeves or sleeveless look great with fur jackets, vests, boleros, stoles, scarves or shawls. In the cold season, the outfit can be worn with a coat or a cardigan. Shoes can be any: ankle boots, shoes with heels or flat shoes with lacing are suitable. 
Leggings with inserts go very well with both thin and deliberately rough upper fabric. That is why they look perfect with shirts and tunics made of light fabric, with knit sweaters, with cashmere blouses, fur vests, cardigans or blazers made of dense knitted fabric.
Try to give preference to the plain products: in general, it is better to leave the top and bottom monochrome and refresh the image by placing colored accents with accessories.
By the way, you can layer clothes. For example, black trousers look stylish with a light long shirt, over which a cropped sweater is worn.
So, we hope that you have found some useful information from this article.