Renowned actor Nana Patekar, known for his roles in numerous films, including the 2007 comedy "Welcome," is currently preparing for his upcoming project, "Journey." A circulating video on the internet captures a moment where he slaps a fan on the back of his head. The incident occurred as the fan tried to disrupt Patekar's shoot in an attempt to take a selfie with the act.
As the seasoned actor prepares for his upcoming project, "Journey," being filmed in Varanasi, Nana Patekar was observed slapping a young boy on the back of his head.
The incident occurred when the boy interrupted the actor's shoot to take a picture with him. Despite the boy's attempt for a selfie while Patekar was engrossed in the shoot, the actor responded by delivering a slap to the back of his head. Additionally, a crew member standing nearby intervened, escorting the boy away from the actor.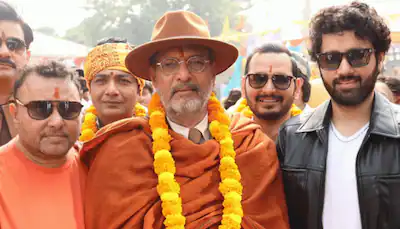 Following the circulation of the video on the internet, a wave of online reactions ensued. One comment emphasized the importance of seeking permission before taking a photo, stating, "It's necessary to ask first, and only take a photo if they agree." Another comment expressed disapproval, labeling the behavior as outrageous.
Nana Patekar's upcoming project features Utkarsh Sharma, known for his role in "Gadar 2." Directed by Anil Sharma, the film is currently being shot in the sacred city of Varanasi.
Utkarsh had previously shared his excitement about the project, expressing joy at the beginning of this "new journey." In a statement, Sharma conveyed that the film's narrative would strike a chord with every Indian and expressed confidence in its success.
Utkarsh had earlier shared his enthusiasm for the project, expressing delight at the commencement of this "new journey."