Ranvir Shorey's 10-Year-Old Son Tested Covid Positive: Checkout!!!
Corona virus is once again engulfing the world with its new variant. The danger of this variant is also looming over India. The number of people infected with the corona virus is increasing day by day and Bollywood is facing it's repercussions. Now actor Ranvir Shorey's son Haroon has come under the grip of Corona virus, henceforth Ranvir and his son have quarantined themselves.. The actor himself has given this information.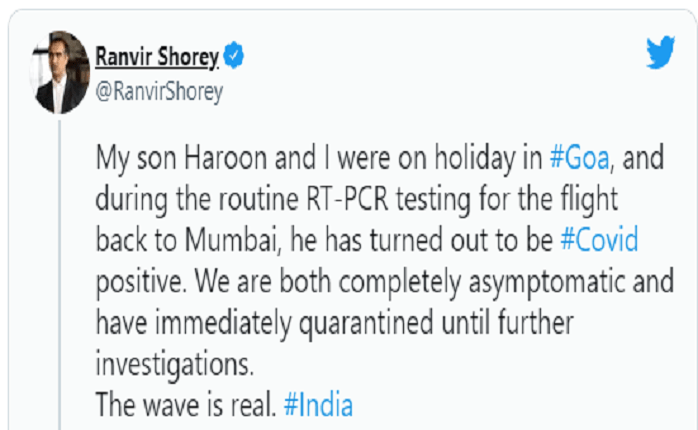 Actually, Ranvir Shorey went on Goa vacation with his son Haroon, but on his way back to Mumbai, Haaron tested positive. The actor has told about this in his tweet. He wrote, 'Me and my son Haroon went to Goa for a holiday and before catching the flight back to Mumbai, he has turned out to be corona positive. We are both completely asymptomatic and have immediately quarantined ourselves until further tests. The wave is real'.
Ranvir Shorey is going to get his son tested once again tomorrow i.e. on Wednesday. He told this in his next tweet. He wrote, 'We are planning to test him again tomorrow, to rule out a false positive, and I can be tested even though I have been vaccinated. Praying.' After these tweets of Ranvir Shorey, the fans are praying for the health of his son.
Even before this, many stars have come under the grip of corona virus. Recently, Kareena Kapoor, Amrita Arora, Seema Khan and Mahi Kapoor were found infected with corona virus. All these celebs had a fierce party the night before the quarantine, due to which the entire Bollywood came under target. However, now Kareena and Amrita Arora have defeated the corona virus and after that both of them appeared together in the party.