Sara Ali Khan Upset With Karan Johar For Talking About Her Relationship With Kartik Aaryan Publicly
Filmmaker Karan Johar is known for giving controversial statements. During one of his recent interviews, Johar promoted his talk show Koffee With Karan and called his coffee couch 'the couch of manifestation.' Furthermore, he said something which miffed actress Sara Ali Khan. Karan in his interaction confirmed that Sara Ali Khan and Kartik Aaryan were indeed a couple.
"I call this couch the couch of manifestation. Because Katrina on this couch said that she thought she would look good with Vicky, then Vicky collapsed, and then the next thing we know is that they are married. Sara mentioned Kartik and they started dating. Alia has mentioned Ranbir season after season and she is married to him today and is going to have his beautiful baby. So it's fantastic that this couch has manifested so many relationships!" Karan stated.
Though Kartik and Sara met on the sets of Imtiaz Ali's Love Aaj Kal, it was Johar's coffee couch that brought them closer. Sara and Kartik dated for a brief period before calling it quits. Also, they never acknowledged their relationship in public.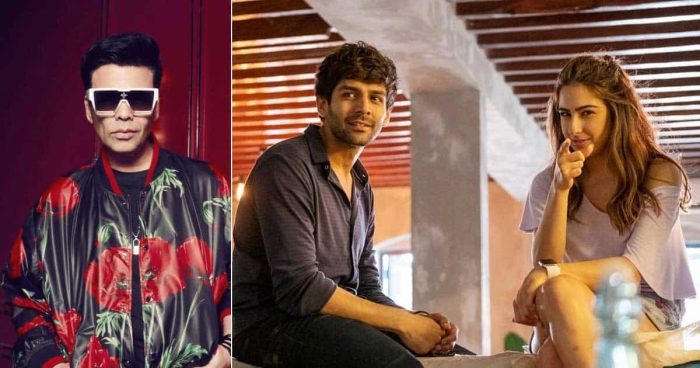 Now, as per the latest reports, actress Sara Ali Khan is not happy with the way Johar spilled beans about her hidden past relationship without her consent. She is upset with the filmmaker for talking about her personal life on a public platform. A source close to the Kedarnath actress quoted, "Sara is not very happy with Karan speaking about her personal life in public as she wants the audience to focus only on her career graph. She is trying extremely hard to make her mark and this personal information about her life might shift the focus of the fans which she doesn't want."
"It's not that Sara will never talk to Karan or something or she is very much upset but yes, she has the pinch of her personal life going out in public because she is a very dedicated actor and only wants people to talk about her films," added the source.
Meanwhile, the opening episode of Karan Johar's controversial talk show, Koffee With Karan 7 with Ranveer and Alia as the first guests is refusing to slow down in hitting headlines. It has become the most-watched premiere episode of Koffee With Karan.