In entertainment, Mona Singh is a well-known figure. Her first part in entertainment came from the renowned series "Jassi Jaisi Koi Nahi." Even though she played an unusual role, Mona quickly attracted a large fan base. Her transition from television to Bollywood has been amazing, and she will always have a lasting impact on the business. The internet has gone wild about Mona's recent fan moment with Shah Rukh Khan, one of the greatest stars in India.
A Star-Studded Birthday Bash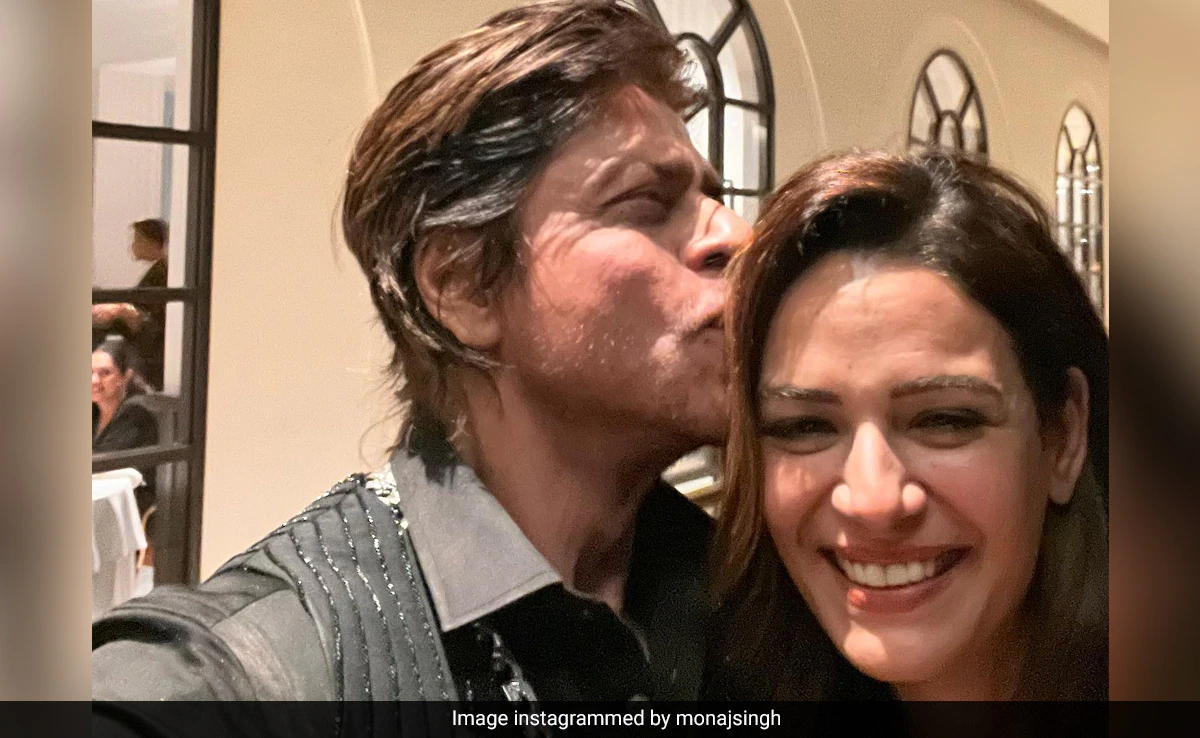 Mona Singh shared an incredible moment with the world on her Instagram handle on November 3, 2023. She revealed Shah Rukh Khan's first-ever photo from his 58th birthday party. This picture of King Khan during his birthday celebration went viral right away. Mona and SRK were spotted matching in black outfits in a charming turn of events.
Mona was dressed elegantly in black, while Shah Rukh wore an ornate black shirt. In one of the endearing photos, Shah Rukh Khan pecked Mona on the cheek. In addition to these priceless moments, Mona sent a passionate comment that conveyed her happiness and appreciation: "Overwhelmed with the LOVE u showered on me, I love u bas happpy birthday @iamsrk."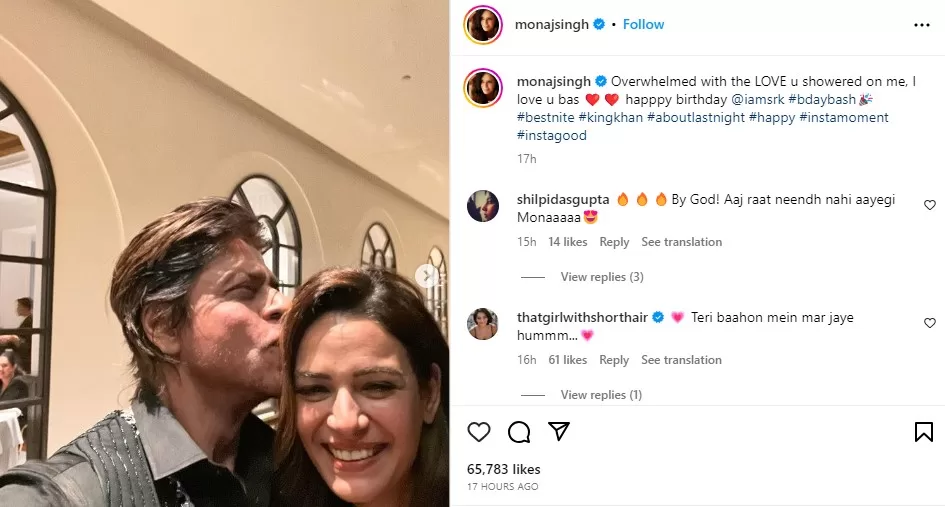 A Special Compliment from SRK
In a conversation with Radio Nasha, Mona Singh recalled a momentous occasion from filming her first serial, "Jassi Jaisi Koi Nahi." She described with great detail the day Shah Rukh Khan visited the set with his two small children, Aryan Khan and Suhana Khan. The celebrity himself greeted Mona with a kind compliment.
She remembered what Shah Rukh Khan had said:
"On the sets of Jassii Jaissi Koi Nahin, Shah Rukh Khan had arrived with his children. Shah Rukh sir humare saamne khade the, Suhana choti si godh mai thi, and Tab Aryan chotu sa tha. I halted. And I was wearing Jassii's outfit at that very moment. I regretfully kept thinking, "He doesn't know how I look; I wanted him to know." My kids love you, Shah Rukh sir informed me when he arrived. I thought, genuinely? He remarked that they don't even start eating until they've listened to your title tune. I was only observing him."
Mona Singh's career highlights the respect and adoration she has received in the entertainment world, from her debut part in "Jassi Jaisi Koi Nahi" to her meeting with the renowned Shah Rukh Khan. This latest exchange with the celebrity demonstrates her achievements and the significant influence she has had on celebrities and followers. There are still a ton of thrilling episodes in Mona's career, which is still shining brilliantly.