Explained: Why Young Indians Are Dying Of Heart Attacks?
The untimely and tragic death of celebrated TV personality Sidharth Shukla on September 2, 2021, has sent down shockwaves to the entire nation. Shukla's fans and the entire entertainment industry are unable to process this sad news. The talented actor has reportedly succumbed to a cardiac arrest, informally called a heart attack. Sidharth made a special place in the hearts of audiences across the globe with his stay inside the Bigg Boss house in season 13. Post this show, the actor had an interesting lineup of projects. He was at the peak of his career and was just 40 years old.
The phenomenon of heart attack has been witnessed at large in India these days. In recent years, the cases of heart attack in young Indians have been on a rise. Earlier, heart attacks were a danger sign mostly attached to older adults. But in the 21st century, it has taken the lives of people under 50 years, and that too particularly in India.
Several famous TV and film personalities have suffered cardiac arrests in their 30s and 40s and lost their lives due to the same. The list of such actors is long and includes Rituparno Ghosh (aged 49), Raj Kaushal (49), Vivek Shauq (47), Amit Mistry (47), Inder Kumar (44), Abir Goswami (37), and Aarthi Agarwal (31).
According to a  2005 study, young Indians falling in the age range of 35 to 45 years are more prone to premature Coronary Artery Disease (CAD) and can die 10 to 15 years earlier in comparison to similar-aged populations around the world. The research was conducted by Indian researchers Meenakshi Sharma and Nirmal Kumar Ganguly and was published in the Vascular Health journal.
Cardiologists believe that Indians suffer from cardiac arrests at least 20 years before their western counterparts on average.
Causes of a heart attack in Young Indians
According to cardiologists, the causes are many and include both genetic and lifestyle changes.
The metabolic syndrome seen in several Indian families is one of the major causes of heart diseases. This syndrome includes abdominal obesity, high fasting blood sugar, or diabetes, like low good cholesterol and high triglycerides, all of which affect heart health.
Several other Indians have a disrupted lipid proportion in their bodies. They carry low levels of High-Density Lipoprotein (HDL) or good cholesterol which leads to cholesterol issues and hence Coronary heart disease. In comparison to Indians, Caucasians tend to have a higher HDL. As per some cardiologists, the Indian morphology is slightly smaller and could be the reason for their susceptibility to Heart issues.
Other causes could be a sedentary lifestyle, consuming carbohydrate-rich food and energy drinks, high levels of mental stress, alcohol consumption, and sleep deprivation, irregular sleeping patterns, etc.
Signs of Heart attack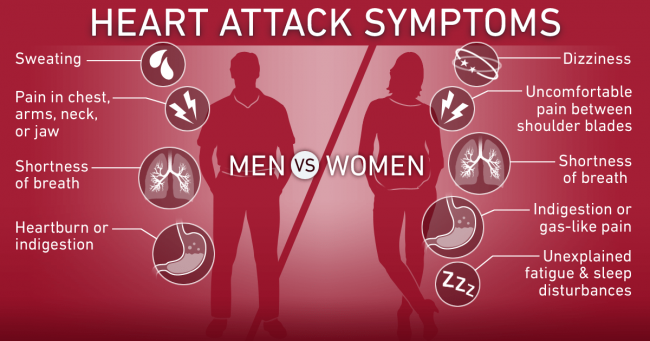 How can one minimize the risk of heart attacks?
Between the age of 20 and 40, one should have a complete lipid profile and fasting blood glucose tests conducted at an interval of every five years. After 40, one should undergo such tests annually. This will help in screening heart health.
In case of abnormal readings, dietary changes and changes in the lifestyle should be introduced. On a personal level, one should keep sugar, salt, and different types of fat in daily diets in check. An excessive amount of sugar and saturated fat in the diet can lead to obesity and increased bad cholesterol in the blood. On the other hand, excessive consumption of salt can lead to hypertension, increasing the stress on the heart. Managing the stress levels through meditation and Yoga are some other options that can prove to be beneficial.