Hasan Minaj Launches a Media Production Company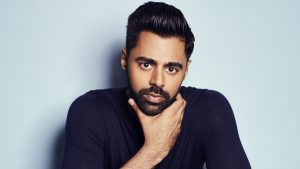 Indian American comedian Hasan Minaj launches his own media production company 186K.  He launches his company with his long-time associate and writer Prashanth Venkataramanujam.  The company's first produced show will be "For the Culture". Amazon Studios bought the show and will be premiering it.
Hasan Minaj is a comedian of Indian origin with his parents being U.P Muslim immigrants. His parents settled in Davis, California where he was born and raised. His compatriot Prashanth Venkataramanujam is too of Indian origin. Prashant's father is from Tamil Nadu and he settled in Illinois where he was born and spent his childhood.
Hasan started his career as a stand-up comedian in 2009. The first solo hit show was Hasan Minaj: Homecoming King for which he won the Peabody Awards.  Netflix's Patriot Act with Hasan Minaj made Hasan Minaj a worldwide sensation. He also won Peabody and Webby awards for that show too. In 2019 Times named Hasan in the 100 most influential people list.
The comedian, actor, and host will serve as the company's Chief Executive Officer, with Venkataramanujam serving as Chief Content Officer and Tyler Babin as Chief Digital Officer.
Amazon Studios bought the show "For the Culture" after a bidding war with 8 other studios. The show is said to be about a rowdy comedy set in the cutthroat world of Bollywood college dance competitions. A vibrant and joyful celebration of Indo-American culture that bridges the gap between Western audiences. And those who grew up watching Bollywood films in the United States and India.
"In launching our production company, we want to focus on researching and producing stories that have been deemed culturally irrelevant, but have universal and massive appeal," said the founders of 186k. Rideback's Dan Lin and Jonathan Eirich will also co-produce the show alongside 186k.