The latest episode of Koffee with Karan season 8 centers around Alia Bhatt and Kareena Kapoor Khan. Kareena takes charge by cleverly countering every question, putting Karan on the defensive.
Marking the return of Karan Johar to the limelight, a new season of his talk show, Koffee with Karan, is now underway. Following three amusing episodes, Karan warmly welcomes Alia Bhatt and Kareena Kapoor Khan to the show.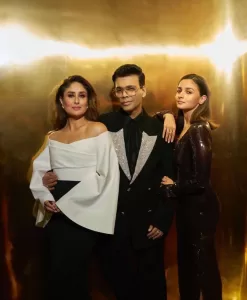 Initially…
As he introduced Kareena and Alia to the program, Karan remarked, "One feels like my firstborn, the other feels like my spirit soul." Kareena confidently declared, "I'm back," and Alia, with a wry smile, added, "On this very controversial couch." Transitioning into the conversation, Alia expressed her eagerness and delight about learning "new things" from the show.
Discussing Karan's role as a go-to person, Alia mentioned, "Karan is either receiving a call from Varun or Sid, and they don't even listen, they don't even say hello."


How did the situation unfold?

In typical lighthearted fashion, Kareena threw out derogatory terms like "envy" and "jealousy" throughout the rapid-fire round. However, when Karan Johar questioned her, "Do you consider Deepika Padukone as competition?" the conversation took an unexpected turn. Kareena said, looking surprised, "Me?" "Yes, you," clarified Karan. In a straightforward manner, Kareena explained, saying, "No, I believe this is Alia's question for her fast fire. For me, no. I have no idea why this question is being asked of me.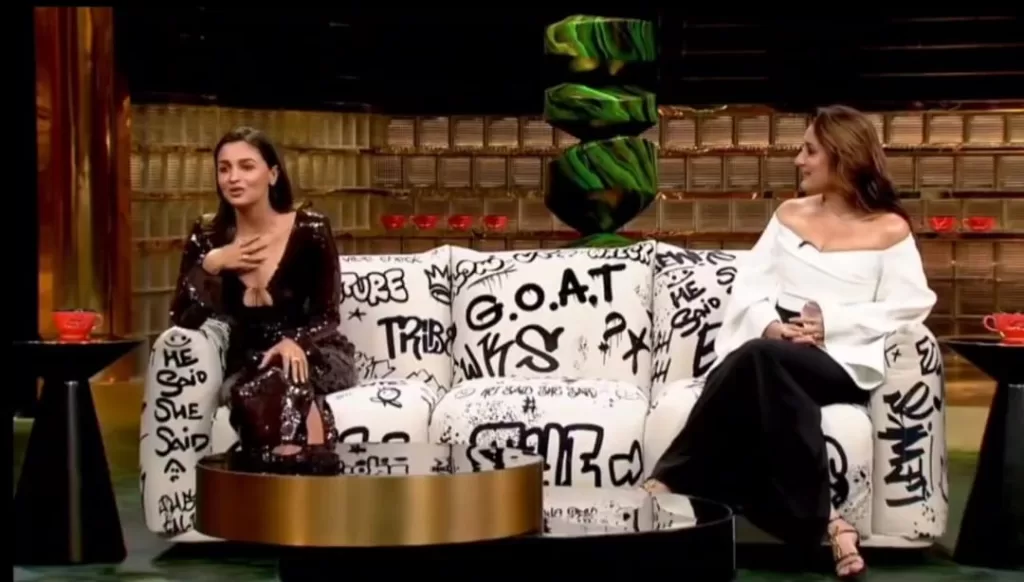 Alia added, "Please not at all," after hearing Kareena's reply. No, how come [Deepika Padukone] would be [my rival]? My senior is Deepika Padukone. There's not any rivalry.

Entering the rapid-fire round, Kareena Kapoor consistently brought up Deepika Padukone. Following this, Karan Johar directed a question to Kareena, asking her to assess "the better Sanjay Leela Bhansali muse" among Deepika, Alia Bhatt, and Aishwarya Rai Bachchan. Upon Kareena posing a question, Alia swiftly implored her not to mention her name and to choose someone else instead.

"I still have a chance to work with him," Kareena said with a tinge of diva attitude. Thus, Both KJo and Alia found humor in her statement. Cheerfully, Karan Johar said, "Achha, agayi na line pe."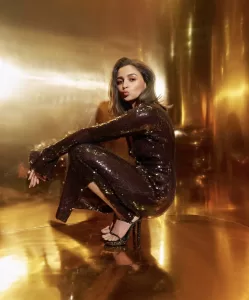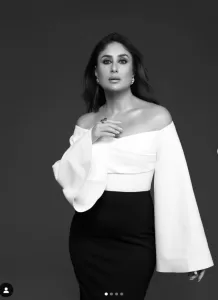 In the preceding episode, Sara Ali Khan and Ananya Panday revealed surprising information about one another. Furthermore, this season showcased appearances by Sunny Deol and Bobby Deol, along with Deepika Padukone and Ranveer Singh. Notably, the program is available to watch on Disney+ Hotstar.

Related News
KWK 8: Alia Bhatt Broke her Silence on Labelling 'Toxic' After Viral 'Wipe That Off' Lipstick Remark
Kareena Kapoor Hints Alia Bhatt To Plan For Second Child In Koffee With Karan 8
Alia Bhatt's Satin Rani Pink Kurta-Pant Set Will Inspire You To Take On A Less Fussy Option For Diwali Party!