Ms. Aarti Koya's Personal Journey And Professional Journey
Aarti Koya, the CEO of the brand EKAM, belongs to a Goa based family where she completed her schooling and Masters degree in Financial Services. Her father, a private contractor, and her mother, a housewife, worked hard to provide good education and ingrained a very strong work ethic in their children that helped Aarti and her brother to move ahead in their careers.
Aarti started her career in finance, in derivatives segment in the National Stock Exchange, but soon realized that she preferred working directly with companies. After switching over to private equity, she worked with a number of companies in the consumer sector in helping develop their growth strategy, building team management, and strengthening their financials. So, when the opportunity presented itself to lead EKAM in Sep 2019, she grabbed it as she could now use all her knowledge and experience to build a world-class brand herself.
Passionate about creating world-class brands that will be remembered and could be used by several generations of Indian families, Aarti believes in the capability of Indian companies that are building themselves to deliver world-class products at affordable prices for the Indian market and the world. She trusts EKAM to be one such brand.
A mother of 2 kids and a wife of a loving and supportive husband, she is very detail oriented and believes the same as a crucial attribute to be fit to perform any job but more so for a start-up when one could come across unexpected challenges along the way. Aarti counts her confidence and hard work as her biggest strengths and can be very impatient and demanding at certain times, which, she reckons, helps in getting things done fast but understands that the same could be tough on her team and family.
In her free time, Aarti likes to read and travel, which helps her open her mind to new experiences and learning, boosting self-development, and value-addition. At work, developing new products that will make customers happy excites her the most.
Before becoming the CEO of EKAM, she worked in private equity and has invested in several consumer brands globally, including a 5-year stint in Shanghai, where she realized that the future of consumer brands will depend on digital media and E-commerce.
About EKAM
EKAM's USP
Every mood, every space, and every special occasion in your life requires a unique fragrance that resonates with the essence of its surroundings. Studies have shown that fragrances work as powerful mood alleviators. Memories triggered by scents are also the most intense and speak directly to the heart. EKAM creates hand-crafted fragrances that suites each aspect and every requirement of your life. "We wish to be part of your life and make special memories together. EKAM brings distinctive fragrances for you that will make every special moment memorable forever.", says Aarti, the CEO of the brand EKAM. "And most importantly, we make fragrances that will make you feel exhilarated at every moment, every day."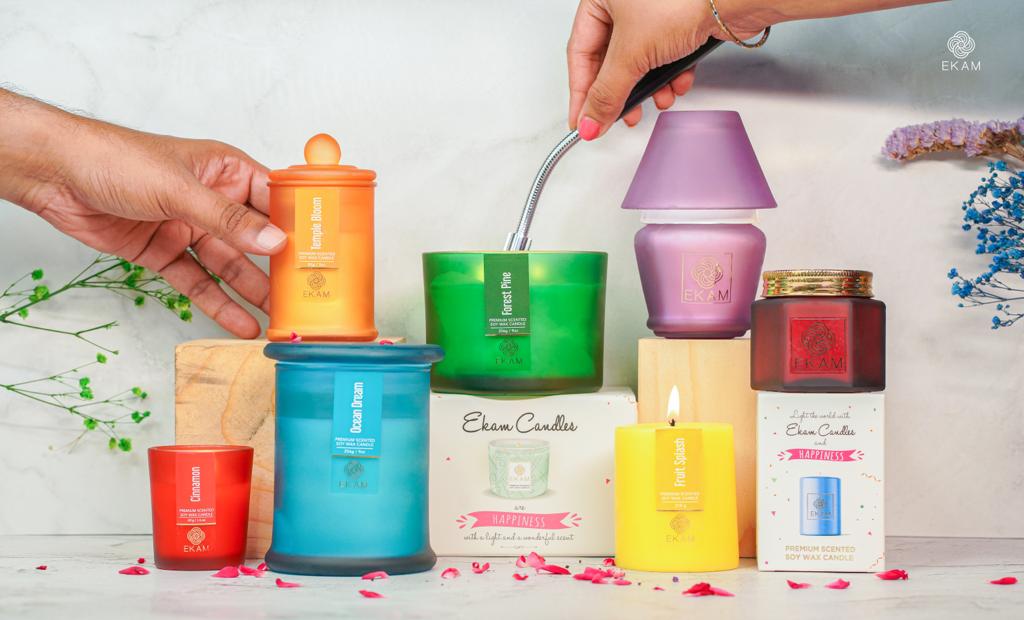 The brand, EKAM is a home and personal fragrance marketing name, founded by the
Aromee Brands Pvt Ltd.  Established in September 2019 with offices in Manipal, Bangalore, and Mangalore,  Aromee Brand Pvt Ltd. is sponsored by The Manipal Group led by Mr. Gautham Pai.
Affordable Trendiest Fragrances
Specially crafted in our refined laboratory, made in state-of-the-art manufacturing facilities in India, EKAM brings to its customers the best-selling, trendiest, and best-selling international fragrances in the world. Using globally sourced ingredients and adhering to the highest international quality standards, the fragrances are crafted to suit Indian tastes and preferences, at an affordable price.
The home fragrance product range including candles, fragrance and essential oils, vaporizers, sprays, and sachets is priced between INR 99 to INR 800. EKAM's Personal fragrance product portfolio includes body mists, perfume sprays, and Eau de Parfums with a price range varying from INR 350 to INR 1,500.
Aarti talks about the existing gap in the market regarding accessibility to good-quality products. She says,  "The Indian customer has been lacking access to international quality fragrances in personal and home fragrances. Most of the international brands available in the market offer very limited choices and are priced very expensive, which makes them out of budget for many young millennial customers."
EKAM plans to launch the best quality latest and innovative fragrances in both home fragrances and personal fragrances every month to bridge this gap. "Our customers can choose from a wide variety of fragrances and blends that will suit every mood and occasion. We have also introduced an aromatherapy range for mental wellness.", Aarti says.
International quality
Speaking about the quality of the products Aarti accentuates that the brand pride is vested upon the made-in-India international quality products and ingredients that are sourced globally from the top suppliers. "We procure the best ingredients from the best sources. For example, our lead-free wicks are imported from Germany, our fragrances are sourced from leading fragrance houses internationally, and our manufacturing facilities in India adhere to International Quality Standards (e.g. American Society for Testing and Materials)."
National Reach and Product Delivery
As a D2C company, EKAM's fragrances and other products are delivered across the entire country with the help of our fulfillment and shipment partners. "All the items are also available in retail stores in all metro cities and we are planning to expand our retail network further.", Aarti adds.
"Customers can also find the products on the website ekamonline.com and order from our full range of products. EKAM is also available on e-commerce platforms like Amazon, LBB, Meesho, Urban Ladder, Pepperfry, and First Cry.", 
EKAM's collections of – Aromatherapy, Perfumes, Candles and other products
Though you may recognize them best for their candles, the brand has an ever-growing repertoire of scented products ranging from perfumes to car diffusers to essential oils. At the core of all that they do is the ideal that the right fragrance can transform bad moods, take away stress, and help connect to self—care. This is something they want to offer to everyone, especially in this busy world where burnout is on the rise. Their very affordable price points which don't reflect on the quality and luxury experience their products offer is what sets them aside from their competitors. 
Tapping into aromatherapy- (i.e., using certain scents to invoke feelings of joy, calm, and well-being), the brand is known for its unique formulations and pre-made blends which engage customer's senses, making them feel much better and less tense, wherever they may find themselves.
Recently, they have launched their Perfume Sprays for women in 120 ml, 60 ml and 5 ml.  These perfume sprays inspired by international best-selling fragrances are available in trendy, cool packaging at very affordable price points. These perfume blends, created keeping in mind young millennial customers who are always on the go, lasts for up to 8 hours, are travel friendly and transition easily from day to evening.
EKAM also comes out with three selected candle fragrances every month. The fragrance follows a set theme – be it current trends, pop culture moments, etc., They are available exclusively during the month in which they are launched.
Light any of their best-selling candles or pick from a wide range of perfumes and other scented products like reed diffusers, humidifier-diffusers, scented sachets etc. and forget about the world outside. At the end of the day, they strive for you to #FeelGoodWithEKAM!
EKAM's stores 
We have only 2 retail store in 
Kempegowda International Airport , Bangalore

 

:

 The Quad by BLR, Kempegowda International Airport, Bangalore, Karnataka  
Sarath City Capital Mall, Hyderabad :

120, Sarath City Capital Mall, Gachibowli – Miyapur Road, Whitefield, Kondapur, Hyderabad, Telangana 
EKAM's expansion plans
Create, Build, and Preserve Memories
The CEO, Aarti aspires to grow EKAM to an INR 100 Cr brand in next 2-3 years while creating wonderful memories with esteemed customers, enriching many lives, and making many homes more comfortable and inviting with EKAM's products 
"We want to be part of the journey for every young Indian, we want to be with them on the first day of their job, on their first solo travel, feel their pride on their first car purchase, or the joy of finally owning their own home. We want to be there on their first date anniversary and be part of their wedding party, and that is why EKAM will continue to make products and fragrances for every moment, every space, and every occasion of our customer's lives, so we can create, build, and preserve happy memories together."