Parineeti Chopra, the Bollywood actress who recently tied the knot with Raghav Chadha, celebrated her first Karwa Chauth with glamour and luxury. The diva made headlines as she graced the occasion in a breathtaking red Anarkali set valued at Rs. 1.5 lakhs. Designed by renowned fashion maven Mrunalini Rao, Parineeti's outfit epitomizes opulence and elegance.
The Lavish Red Anarkali Set: A Princely Attire
Parineeti's ensemble for the evening was a testament to her impeccable style and the artistry of Mrunalini Rao. The Anarkali set was crafted from pure red silk adorned with vintage patterns that exuded regal charm. The intricate contrast zardozi hand embroidery made this outfit genuinely exceptional, elevating it into a work of art. The pants and dupatta featured a sleek lace border, adding an extra layer of sophistication to the ensemble.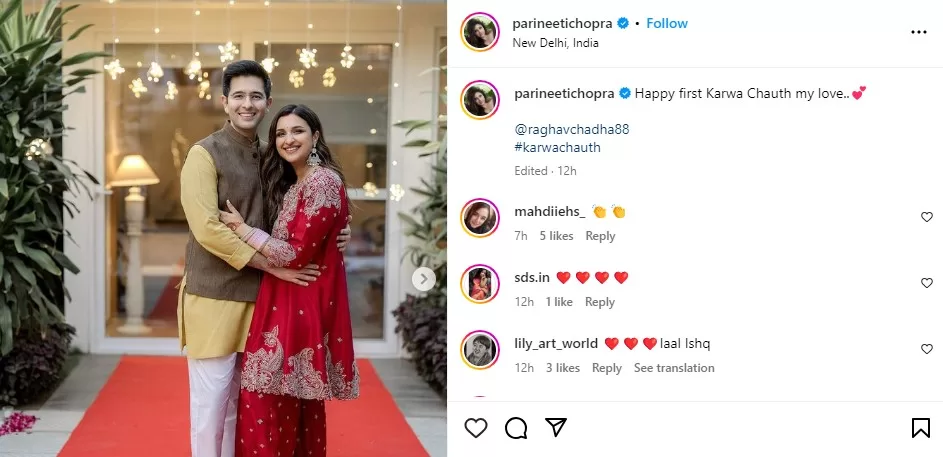 Effortless Minimal Makeup and Accessories: A Perfect Match
Parineeti opted for minimal makeup that accentuated her natural beauty to complement her lavish Anarkali. She adorned her eyes with kohl-rimmed perfection, while a subtle nude lipstick enhanced her radiant smile. A traditional red bindi graced her forehead, adding a touch of tradition to her modern look. Her choice of accessories was equally captivating – statement earrings that added a touch of sparkle and shimmery mules that exuded sophistication.
The Social Media Frenzy: Fans in Awe
Parineeti's Karwa Chauth celebration was a spectacle, and she shared a series of mesmerizing pictures on social media. Her fans couldn't help but compliment her, praising her breathtaking appearance. Some admirers, however, expressed astonishment at the price of her outfit.
Parineeti Chopra: A Style Icon and Trendsetter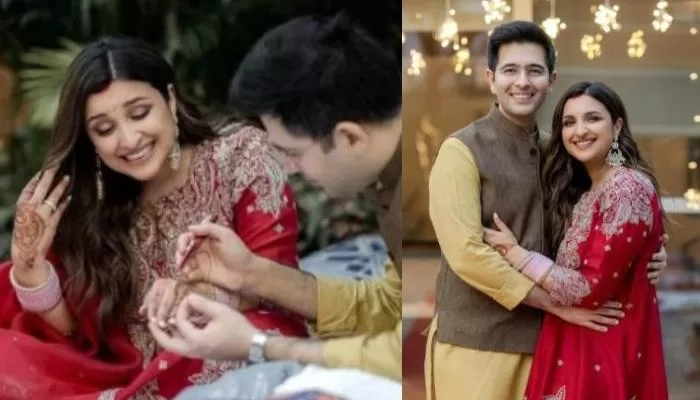 While the price of Parineeti's attire may seem extravagant to some, it's essential to consider her celebrity status and financial capacity. Parineeti is a talented actress and a renowned fashion icon whose sartorial choices are closely observed and often emulated by her followers. By opting for a Rs. 1.5 lakh Anarkali set for Karwa Chauth, she has undoubtedly set a trend for women seeking to celebrate the festival in grandeur and style.
A Fashion Breakdown: Parineeti's Karwa Chauth Look
Parineeti's stunning appearance on her first Karwa Chauth was a blend of luxury and tradition, and her choice of attire will influence the fashion preferences of many admirers who aim to celebrate the festival in a similar style. Her outfit was not merely clothing; it symbolized grace, sophistication, and the ability to inspire a trend-setting revolution in fashion.