Ranbir Kapoor Kneels In Front Of Alia Bhatt And Kisses Her During Varmala- Checkout!
After months of rumors about their relationship and impending wedding, Ranbir Kapoor and Alia Bhatt eventually sealed the knot on April 14 in the company of their closest friends and family members.
A modest group of close friends and family members at Ranbir's Vastu apartment in Mumbai were present when they exchanged vows. It should be noted that Alia and Ranbir dated for five years before deciding to take their relationship to the next level.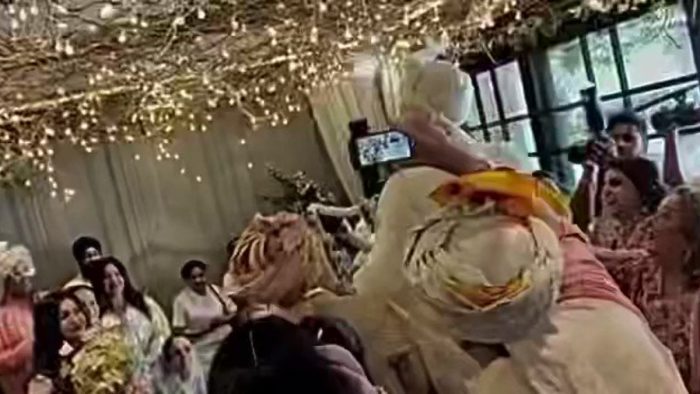 The celebrations for their wedding began on April 13. The bride, Alia, uploaded the photographs on social media, and the Internet hasn't stopped talking about them. It is impossible to avoid seeing their wedding images and videos on the Internet, and they are winning hearts with their first public appearance together as husband and wife.
Right now, a video from their varmala ceremony is making the rounds on social media, which is very beautiful. The bride and groom are surrounded by their loved ones as they complete the wedding rituals, as seen in the video. In the middle of Alia's varmala ritual, Ranbir got down on his knees and cried. Later, he confirmed his feelings for her with a sweet kiss. Check out the video here:
https://twitter.com/ilahi08/status/1514684026107281422
Thousands of Ranlia fans throughout the globe and friends from the Bollywood business have sent their compliments to the couple on their wedding day.
Neetu Kapoor welcomed Alia into the family, who also re-shared photographs from Ranbir and Alia's wedding on her Instagram account. She captioned the photographs with the words "My World" with the emojis "red heart" and "evil eye." The tweet received more than two lakh likes, with comments from celebrities and fans congratulating the newlyweds on their decision to marry.