Deepika Padukone – Ranveer Singh's iconic 'RamLeela' completes 10 years today. On the occasion, Ranveer Singh indulged in a generous photodump on Instagram. He shared some stunning BTS pictures of RamLeela yesterday.
How RamLeela Brought Ranveer and  Deepika Together
Ranveer Singh and Deepika Padukone starrer 'Goliyon ki rasleela…RamLeela' was released on Nov 15 2013. The actor shared some unseen pics on Instagram to celebrate the landmark of the iconic movie.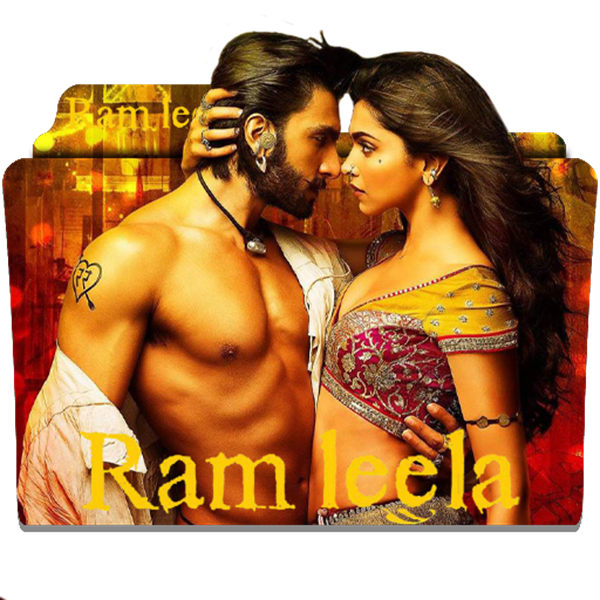 The movie is special for two reasons. It brought together Sanjay Leela Bhansali and Ranveer Singh for an ambitious project, yes. But on a more noteworthy note, it brought Bollywood's one of the most romantic couples on board – Ranveer Singh and Deepika Padukone.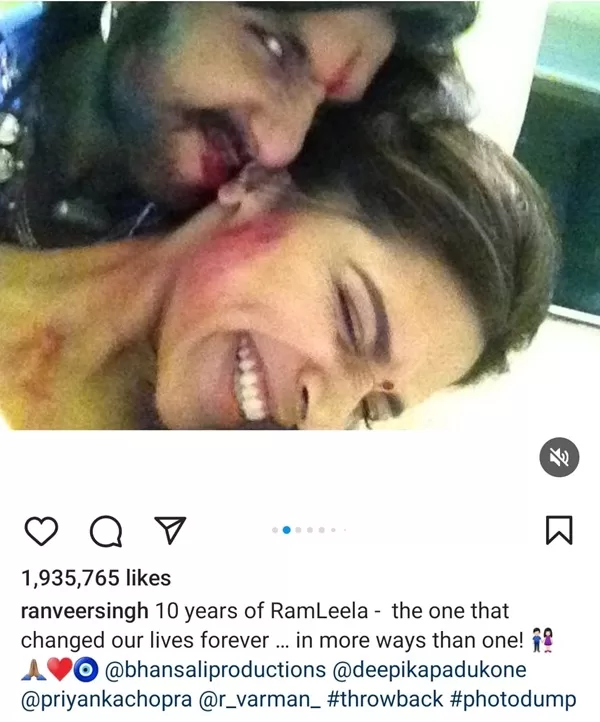 In behind-the-scenes pics shared by Ranveer Singh, one can see the sparkling, playful and easy chemistry between the two. Ranveer has managed to bottle 10 years of romance in his crisp and short caption:
'10 years of RamLeela – the one that changed our lives forever … in more ways than one!'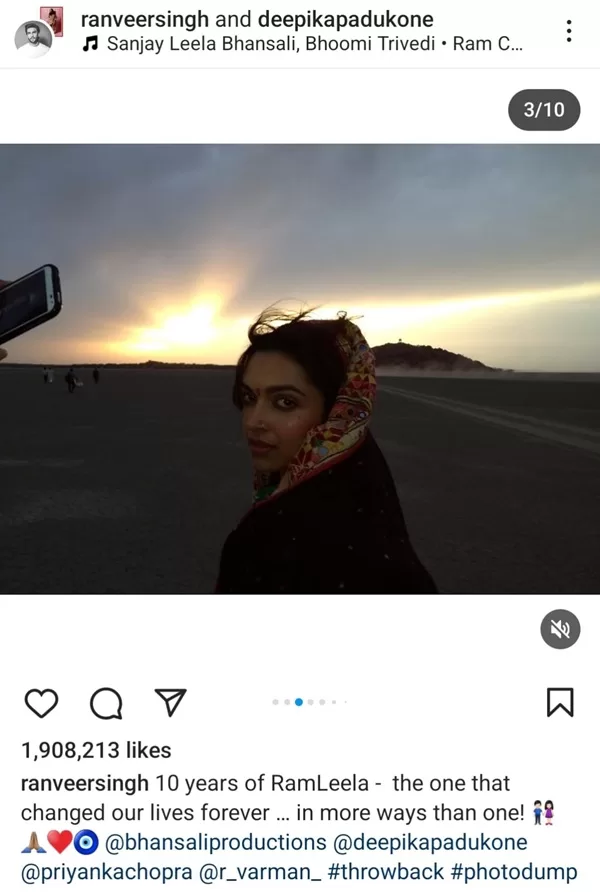 Karan Johar recently invited the charming couple on the pilot episode of Koffee with Karan 8. On the black and white plush 'manifestation couch', Ranveer certainly spilled some beans on never-heard-before moments while shooting RamLeela. One of them is when he was at Bhansali's seaside house for reading and Deepika walks in.
'… So these heavy doors open and the gush of wind comes from the sea. There, Deepika enters wearing a white chikankari, hair blowing due to the sea wind just like some sadgi ki moorat. I was like "Oh My God!"'
Ranveer went on. 'Everybody was watching how love was in the air! And I feel like it may have translated in the film also!' to which Karan gave an approving nod. 'It did! It seemed like the chemistry was real.'
Deepika Padukone and Ranveer Singh movies include Padmavati, Bajirao Mastani, 83, and more!
Deepika On Keeping the Spark Alive
However, it takes two to tango. In a recent interview with Vogue, Deepika confirmed the secret of their strong relationship.
'Spending time with my husband is very important. You have to make the time… I have to say both he and I make the effort. It cannot be one sided. We have to schedule it… It's not the quantum of time but the quality of that time we have together. We love it when it's just the two of us…'
The duo has been married for five years now. They are undoubtedly two of the busiest actors in B town. The comment came when she was asked how do they keep the spark alive.
Fans Took Instagram by Storm with Their Adorable Comments
Fans too couldn't resist doling out their love and admiration for the couple.
One said 'A love story within another' while the other took a comical hint. 'And I can imagine saying to your kids, AND THIS IS HOW I MET YOUR MOTHER. God bless'. Another said 'DEEPVEER' followed by several red heart emoticons.
Ranveer will be next seen in Singham Again paired against Deepika, Ajay Devgan, Akshay Kumar, Tiger Shroff, and Kareena Kapoor. He will also play Don in Farhan Akhtar's franchise. Deepika will be seen next in multiple projects viz. Kalki 2898 AD, Singham 3, Fighter, The Intern, SSMB29 and Brahmastra 2.