Shahid Kapoor is famous for portraying romantic roles in the Bollywood industry. Recently, with his wife, YouTuber and model Mira Rajput attended Anand Ahuja and Sonam Kapoor's party. At the party, former footballer David Beckham was invited as a main guest. The actor and his wife got a click with David.  Actor Sonam reacted to the same. However, Shahid Kapoor was brutally trolled by Instagram users.
David Beckham's Visit to India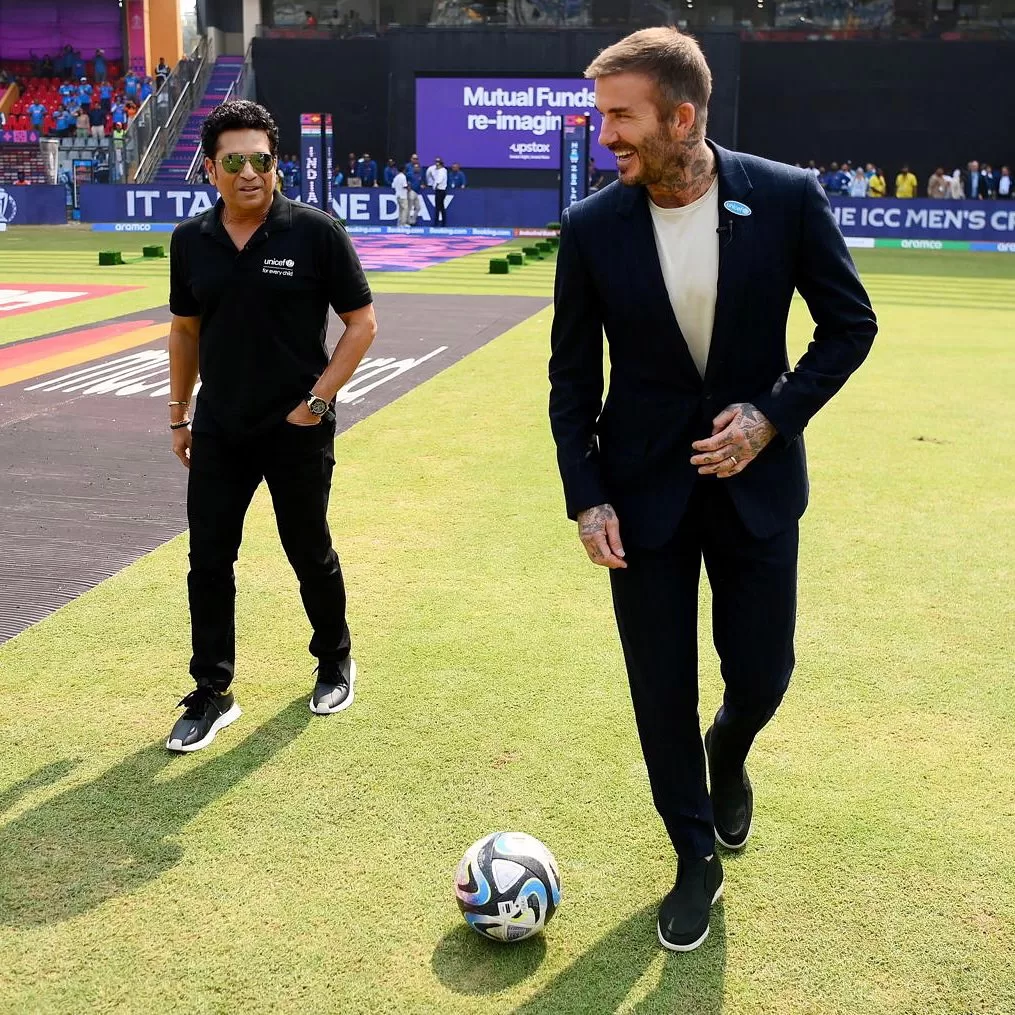 Legendary Sportsperson David Beckham was recently captured with celebs in Mumbai while enjoying the World Cup semi-final. The match was between India and New Zealand. Post the match, David attended Anand Ahuja and Sonam Kapoor's party.
Shahid and Mira Met their Teenage Crush – David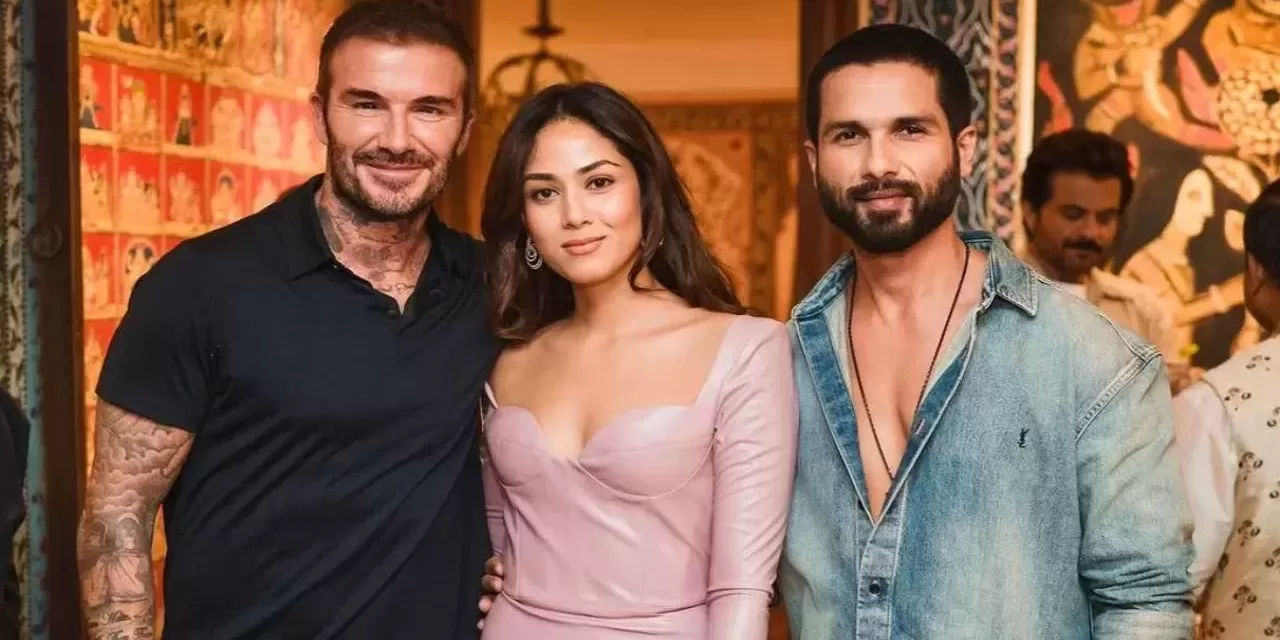 Actor Shahid Kapoor with his wife Mira Rajput met David Beckham at the party. The actor posted a picture of the trio – Shahid Kapoor, Mira Rajput, and the former footballer David Beckham. He posted on Instagram, under the caption, "When me and the wife both met our teenage crush @davidbeckham".
Shahid Kapoor Fiercely Trolled by Netizens
Actor Anil Kapoor's daughter Sonam Kapoor commented, "Hottest couple in the house", under the picture.  However, the netizens on Instagram didn't escape the couple. They brutally trolled Shahid Kapoor.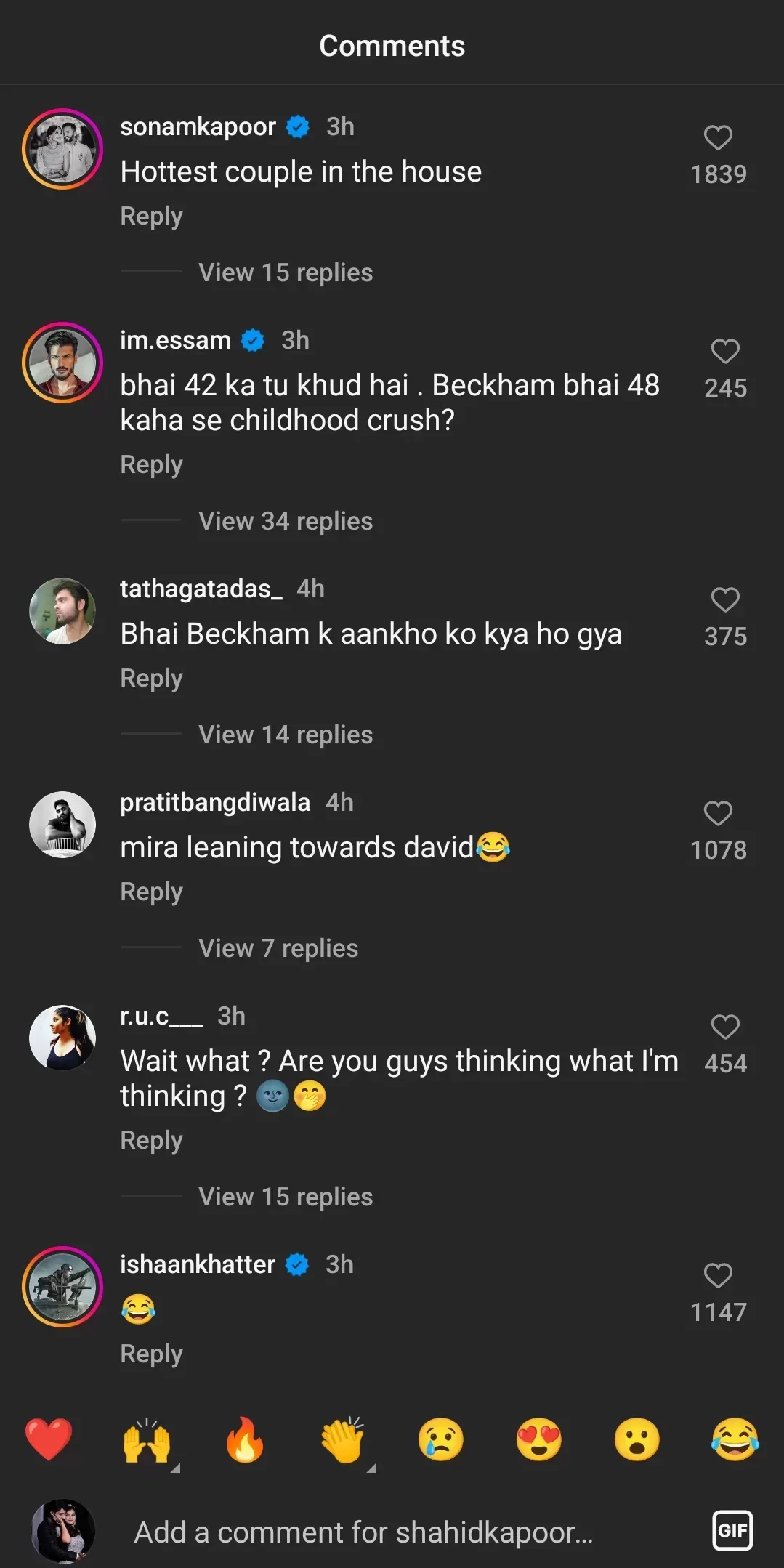 One of the Instagrammers wrote, "Bhai 42 ka tu khud hai. Beckham bhai 48 kaha se childhood crush?" (Brother, you are 42-year-old Beckham is 48-year-old, then how it can be a childhood crush?). Another comment read, "Mira leaning towards David (sic)".  Some other user took the comment section to write, "She looks more of his wife than yours". Someone other took the spotlight by commenting, "Hold her tight, that guy is magnet (sic)."
Furthermore, the trolling didn't end here. Further, the comment read, "It seems like you are the third wheel (sic)". However, in addition to this, a different user said, "Shahid Kapoor can be totally cropped off the pic". Moreover, another user wrote, "Ignore negativity like she ignored her husband (sic)."
Arjun Kapoor and Malaika Arora with David Beckham
Actor Arjun Kapoor shared a picture on Instagram of himself. He was striking a pose with Malaika Arora and David Beckham.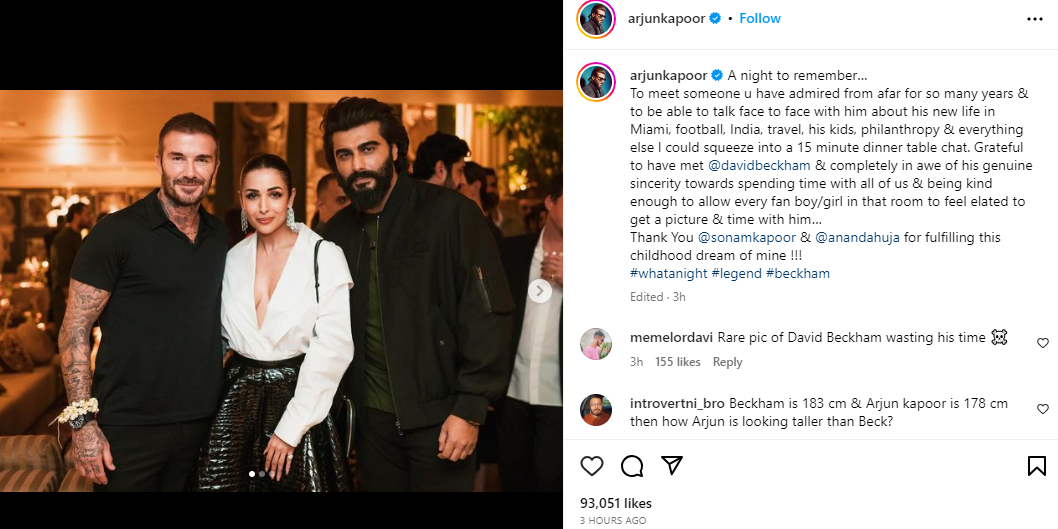 In the caption, the actor wrote, "A night to remember… To meet someone u have admired from afar for so many years & to be able to talk face to face with him about his new life in Miami, football, India, travel, his kids, philanthropy & everything else I could squeeze into a 15-minute dinner table chat. Grateful to have met @davidbeckham & completely in awe of his genuine sincerity towards spending time with all of us & being kind enough to allow every fan boy/girl in that room to feel elated to get a picture & time with him… Thank You @sonamkapoor & @anandahuja for fulfilling this childhood dream of mine!!! #whatanight #legend #beckham."
Other Bollywood Celebs with David Beckham
Many other celebs of Bollywood didn't miss the chance to capture a moment with the legendary footballer. In addition to Shahid Kapoor and Arjun Kapoor, some of them are Karishma Kapoor, Farhan Akhtar, Shanaya Kapoor, and others.