Varun Dhawan Debuted The First Look Of Bawaal In Kanpur; Riding A Royal Enfield Motorbike
The actors Varun Dhawan and Janhvi Kapoor have joined the cast of Bawaal, a love story directed by Nitesh Tiwari that will be released in theatres on April 7, 2023, according to a recent casting coup orchestrated by producer Sajid Nadiadwala.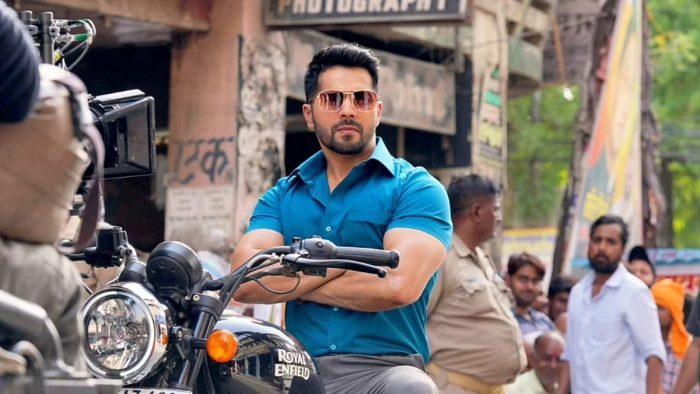 The fact that it will be the first time that the two actors will share screen space and that it will be directed by an acclaimed filmmaker such as Nitesh has piqued our interest even further.
The recent picture of Varun Dhawan from the sets of Bawaal has us even more excited about the project. He's riding a Royal Enfield and seems to be in fine condition in this shot of him taken on the streets of Kanpur, where the film is now being filmed.
The first glimpse of Varun Dhawan's Bawaal has been revealed
Varun Dhawan, dressed in a blue shirt and matching formal pants, rides his bike as the camera pans towards him in the film. A pair of statement black sunglasses add to his suave appearance in this viral video from the sets of Bawaal.
Following the teaser, the next film will have several action-packed moments with Varun riding his motorbike. With the release of the Coolie No. 1 actor's first look, you'll be even more excited about the film than you were before. Varun Dhawan's viral video and photo are as follows:
https://twitter.com/ManozKumarTalks/status/1515942457087000576
First look of #VarunDhawan in Nitesh Tiwari's #Bawaal… Currently filming in Kanpur! @Varun_dvn @NGEMovies pic.twitter.com/Hw6oWYHkX8

— TalkOfTheTown (@MoviesBuzz9) April 18, 2022
In addition to three Indian locations and five European countries, including the city of Paris, the mega-budget picture will be shot in the latter, which is a first for the business!
Bawaal, which will be published on April 7, 2023, is set to have on-screen chemistry between Janhvi Kapoor and Varun Dhawan and breathtaking landscapes, and a gripping plot.