Ridhi Dogra Reacts To Raqesh And Shamita's Growing Closeness; Says, She Is Happy For Raqesh.
Actress Ridhi Dogra is keeping an eye on Bigg Boss OTT this year as two of her friends, Raqesh Bapat and Nishant Bhatt are part of it. Her ex-husband Raqesh Bapat still shares a great rapport with her and her recent Tweet is an assurance that she also has no hard feelings for him. In the outside world, Ridhi is standing strong for her former husband Raqesh Bapat. Recently, when Kashmera Shah took a dig at Raqesh by speculating that the actor is on his way to becoming henpecked husband again due to his growing intimacy with housemate Shamita Shetty, Ridhi slammed her. She responded, "Again!? Excuse me. Kindly don't make loose comments. Peace out."
Now as per a recent report in ETimes TV, Ridhi has spoken about Raqesh and Shamita's bond on Bigg Boss. The Maryaada actress has also how Raqesh is performing on the show.
When Ridhi was told that Raqesh and Shamita have expressed their wish to know each other well in the outside world as well, she being all receptive to his ex-husband's newfound love said, "I am happy if Raqesh is happy. It's his personal space."
Speaking about his performance on the show, Ridhi quoted, "He is the kind of person that you are seeing on the show. If there are more than two people, it's a crowd for him. He doesn't like to scream and shout to say what he wants to, instead he talks to people that he is comfortable with and trusts."
Before entering the controversial house, Ridhi was one of those few people with whom Raqesh shared the news of his participation on the show. Recalling the same time Ridhi said, "When Raqesh told me he was doing the show. I was surprised because he is not the kind of person that we see on the show. But the audience got to see a different kind of a person on this show and I'm sure they are enjoying watching him"
Other than Raqesh, choreographer Nishant Bhat who is also a participant of Bigg Boss OTT is a friend of Ridhi. When asked about him, Ridhi added, "On the other hand, Nishant is playing well and he is also a friend of mine. I know he wanted to be part of this show and he is doing an excellent job. He is entertaining so well and I feel that I am watching my friends' show with Nishant, Raqesh, and earlier Ridhima being a part of it."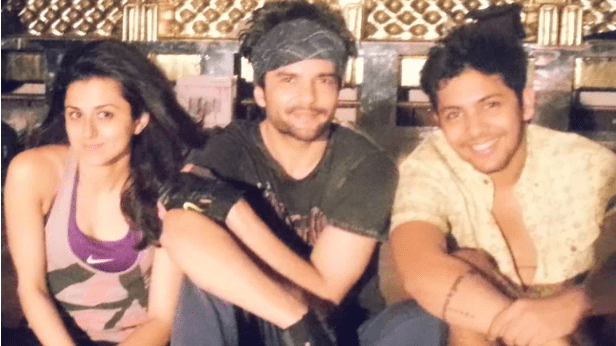 Recently, Ridhi took to Twitter to root for Raqesh and Nishant. Have a look at her tweet: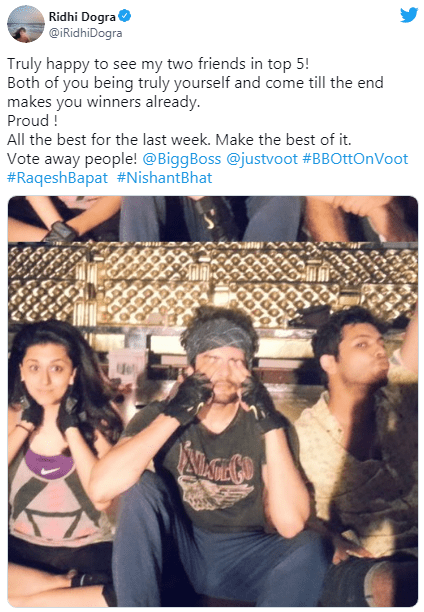 Ridhi and Raqesh fell in love with the sets of their show titled Maryaada…Lekin Kab Tak. The couple got married in 2011 and called it quits in 2020. The two parted ways amicably.