5 Styles Of Churidar Suits To Look Grand In A Wedding
Wedding season is around the corner, and as much as the bride and groom, those attending the function are equally excited and confused in deciding what to wear. With the changing trends, however, it just gets even more complicated and confusing to keep track. No matter the ever-changing trends, one thing that remains constant is the timeless classic Indian churidar suits.
Churidar suits have been around with us for a long time and will continue to stick around for many more years. There is nothing more elegant and graceful than a churidar suit. One can never get bored of this outfit as there are just too many churidar suit designs you can choose from in the market. This stunning yet equally beautiful attire is simple to wear, easy to carry and gives you a royal wedding-ready look exactly like what you were going for. 
Churidar is the attire for everybody; however, your preferences and priorities must be varied. It is all-in-one wear in which you won't only get beauty and style but also comfort. With this attire, you don't have to choose comfort over style because you simply get both out of this one.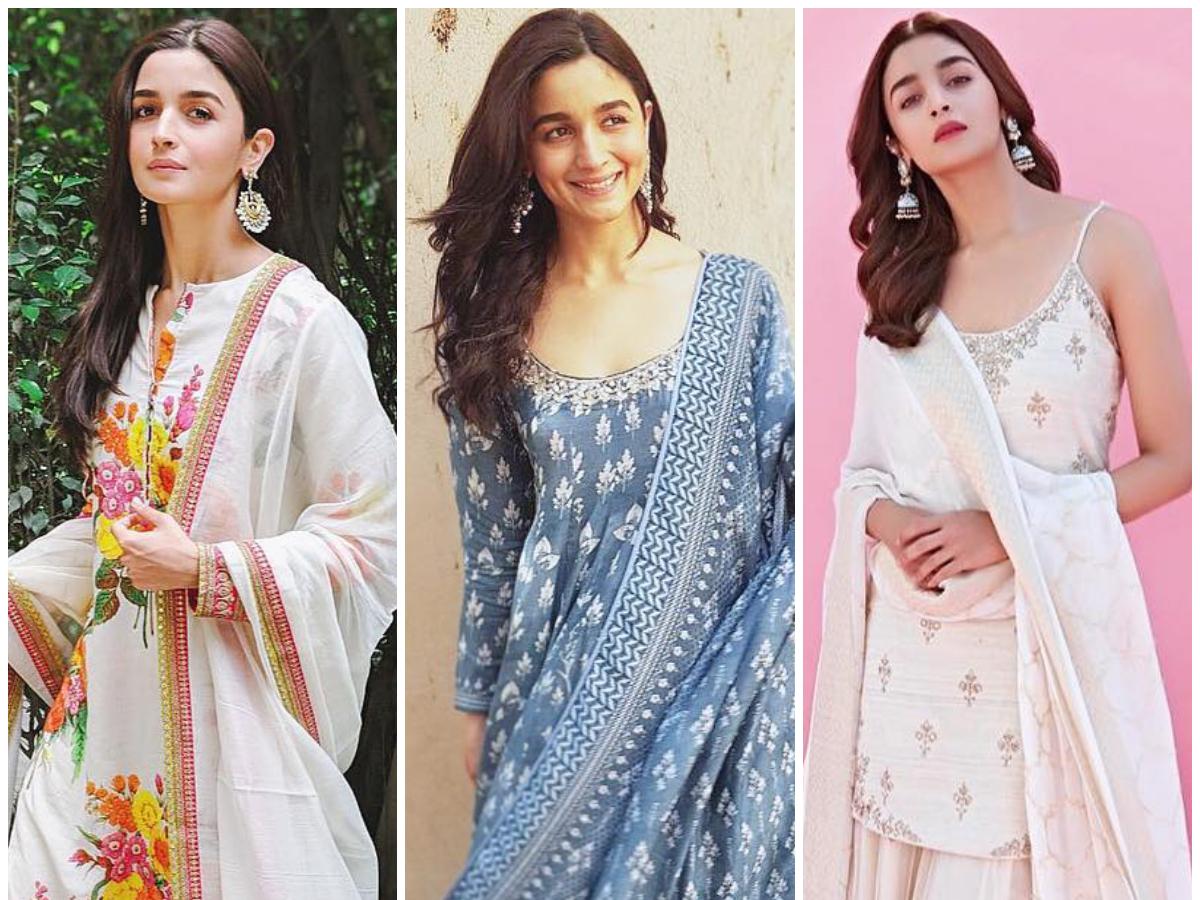 When in doubt, pick a churidar suit and simply own the look. Nothing can go wrong if you choose this attire because this is perfect for any important and auspicious wedding and blend just well with the grandiosity of the event.
A churidar suit is an attire that can equally be worn casually indoors and for a grand function, but you will look beautiful either way. All of this while being comfortable in your attire.
Five Gorgeous Styles Of Churidar Suits To Look Rocking In The Wedding
The major reason why churidar suits are so popular even after so many years is because of how you can use them anywhere and equally wear them everywhere with comfort. There is no betting that sarees are a great choice to wear for a wedding but let's face it, not everybody knows how to drape one. So we are only left with the easier and the better choice, the very beautiful and flowy churidar salwar suit.
Wear these, and you will never go wrong with your wedding clothing choice. This is the perfect attire you can wear confidently and slay the look, not having to compromise comfort at all. There are different styles of churidars suitable for various occasions. It might be a bit confusing as to which one to choose for a wedding, which is why we are here to ease your uncertainty.
We have curated a list of churidar suits that are a perfect fit to wear at a wedding. So let's look at the five amazing styles of the churidar that will make you look exquisite as ever!
Floral Printed Churidar Suit 
Floral prints in your churidar suit are attractive and elegant, especially for weddings. Wearing floral prints gives a very cheerful vibe making you look vibrant and graceful. Pair the look with cute, minimalistic accessories to complete the look, making you look adorable. Flaunt your beautiful feminine side with floral prints and add some glam to the occasion with your mere presence. 
Who doesn't love a long, flowy churidar with bright colours and stunning embroidery on it? Anarkali churidar suit is no ordinary churidar but a style statement. An Anarkali churidar is the perfect choice for a wedding as it shows off your exquisite look and refined style. The heavy embroidery will look splendid on you. Pair it with traditional metallic accessories, making the entire look flawless. Wear this one-of-a-kind churidar, and nothing will stop you from standing out of the crowd.
You might think black attire won't be the best choice for an auspicious occasion such as a wedding. The churidar suit is made of lovely and elegant georgette cloth with colourful floral embroidery. The detailed floral embroidery on the black georgette will be a dashing choice for a wedding while maintaining the traditional vibe of the occasion. Also, raise the splendour of the overall look with cute, white metallic accessories and show off your classy self!
Can there be a better choice than Sabyasachi? For a reason, it is a statement brand. You cannot go wrong wearing a Sabyasachi. Wearing a Sabyasachi churidar will make you look stunning and seamlessly stand out from the crowd. Add some minimal makeup and accessories and slay the look. This is the perfect attire if you want to glam everyone around you with your flawless look. 
Chiffon Designer Churidar Suit
If you are looking for a simple yet stylish attire for the wedding, then get ready to stun everyone with the classic chiffon churidar suit with dazzling embroidery. Pair it with an elegant dupatta and grace everyone by effortlessly being your beautiful self. Add some ethnic-looking accessories to the overall look; nothing can stop you from appearing marvellous.
Shop For The Designer Churidar Suit For A Wedding Online
Finding your perfect outfit for a wedding can be tricky, exhausting and time-consuming; nevertheless, it is important to buy one that suits the occasion perfectly. However, with traditional shopping, you will have only limited options to choose from. 
But an alternative would be online shopping. Online shopping is way better than traditional one. You are just one tap away from buying your perfect fit. Also, it will be quite easier to shop your outfit online as the choices are limitless, and you can find exactly the ones that you are looking for that suit your style. So shop for your churidar suit online and find the perfect churidar suit design you have been looking for. 
Take some inspiration from the list curated above and search for the style that resonates the most with you, find yourself the perfect churidar suit online and flaunt the magnificent self that you are for the grand wedding! 
So what are you waiting for? Order a churidar suit online and get ready to look glamorous for the wedding!