Amala Paul, a well-known personality in the South Indian cinema industry, has been enchanting hearts for many years with her exceptional acting abilities. Amala has long been a fan favorite, thanks to her varied appearances in Malayalam, Tamil, and Telugu films. Her personal life has also piqued the curiosity of many, as she just began a new chapter by marrying her longtime partner, Jagat Desai, in a beautiful wedding ceremony in Kochi on November 5, 2023. The stunning wedding became a dream come true, and it will remain etched in our memories for years to come.
A Lavender Dream: Amala's Wedding Attire
Her gorgeous wedding gown was one of the highlights of Amala Paul's wedding. She opted to wear a lavender-colored lehenga with elaborate decorations, making her appear like a fantasy princess.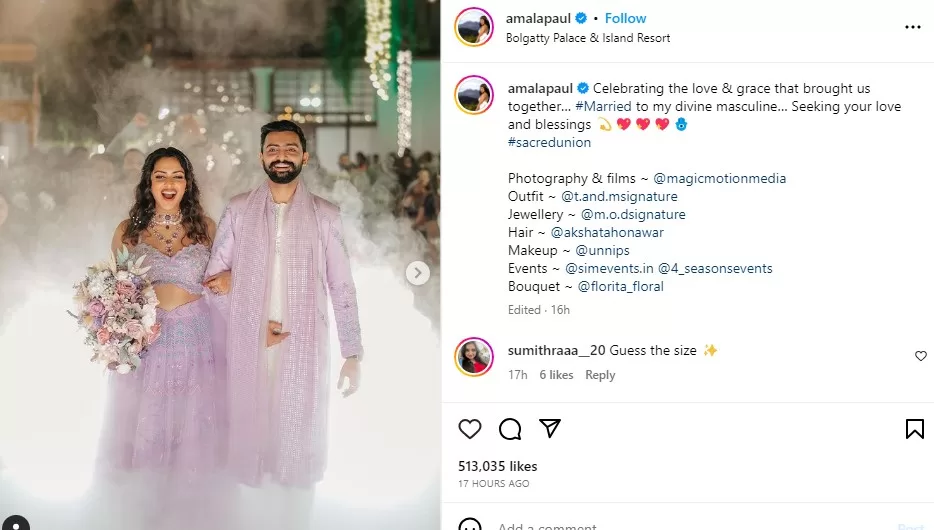 A similar choli with a plunging neckline and a transparent dupatta matched the lehenga superbly. Amala wore distinctive necklaces, including a choker embellished with emeralds and pearl beads for the day's wedding and layered necklaces adorned with violet gemstones for the nighttime celebration to provide an extra touch of elegance.
She completed her lovely bridal appearance with spectacular makeup, including flushed cheeks, winged eyeliner, glittering eyeshadow, nude lipstick, and an open haircut. Her handsome husband, Jagat Desai, paired with Amala by sporting a lavender-hued sherwani, presenting a harmonic and dazzling image of their love.
Love in the Air: Amala and Jagat's Wedding Moments
Amala Paul and Jagat Desai rushed to Instagram after their wedding to post photos from their big day. Their joint post included a sequence of gorgeous images that captured the spirit of their love journey. The photos captured the couples' intimate friendship, from casual snaps with Jagat to sentimental moments.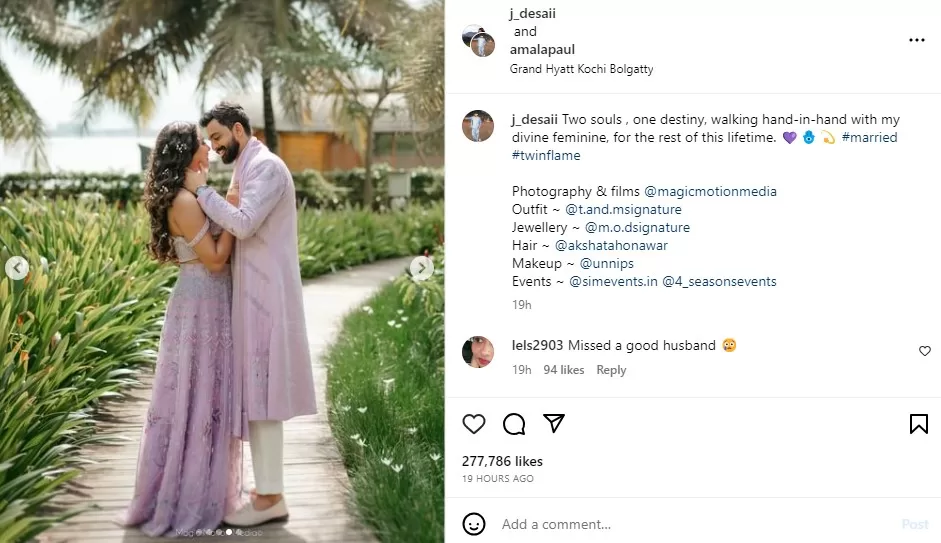 A Proposal to Remember
Amala's road to marriage happiness with Jagat Desai began on October 26, 2023, her birthday. Jagat stunned her on that momentous day with a heartfelt proposal that left her speechless.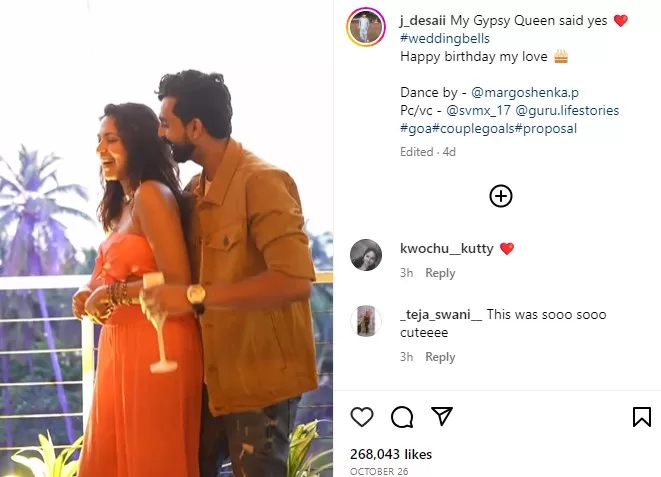 A New Beginning
The media widely publicized Amala Paul's earlier marriage to ace filmmaker AL Vijay. The pair married in Chennai in 2014 after falling in love while working on the film "Deiva Thirumagal." Unfortunately, their marriage had its difficulties, which led to their divorce in 2017. Despite the difficulties, Amala has found new love and happiness in Jagat Desai, and their romantic wedding marks the beginning of a new chapter in her life.