Karishma Kapoor reveals she initially turned down Dil Toh Pagal Hai: 'Every single heroine refused the film'
Actor Karishma Kapoor has revealed that she had initially rejected Dil Toh Pagal Hai as it required her to compete with Madhuri Dixit in dance. She also added that her mother, former actor Babita Kappor, had encouraged her to take up the role.
This weekend, Indian Idol 12 will host Bollywood diva Karishma Kapoor as a special guest. The episode will have the top six contestants performing on her popular hit songs. While interacting with them and host Aditya Narayan, Lolo, as she is fondly called, would also reveal some interesting facts about her career.
On the show, Karishma said about Dil Toh Pagal Hai, "Every single heroine refused the film. The role came to me….it was a dance film and that too to work with opposite Madhuri Dixit they said 'No how can we dance alongside Madhuri Dixit ji!' Initially, I too said no to it as it was a dance film and competition dance with Madhuri Dixit. I said, "This isn't happening'. Then finally, Yash ji and Adi( Yash Chopra and Aditya Chopra) narrated the story to me. My mother told me, 'You must take up the challenge. You are a big fan of Madhuri Dixit, you must do it. You work hard and you will shine."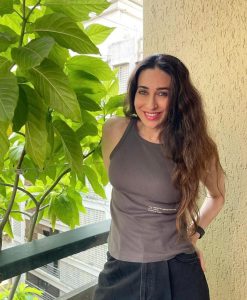 Calling it a 'special film', the actor added, "I must say that Shah Rukh Khan and Madhuri ji were so supportive in delivering great performance and making it happen."
The Zubeidaa actor also opened up about how Sunil Shetty is the biggest prankster that she has worked with. Sharing an incident from their shoot, the actor revealed, "We were shooting for a movie in Chennai, and I saw a man wearing a dhoti sitting at a distance. A lot of people flocked around, so I thought that he must be a senior artist from the South, Who I may not know. Later, before the shot, the same man was dabbing my face with a puff, and I was shocked. I immediately went to Sunil enquiring about him, and to my shock, he revealed that it was a prank! The person was actually his own make-up artist. It was a hilarious moment and we all started laughing!"
She also added, "The second time during an action sequence, there were two men with daggers coming towards each other. In no time, they started fighting. I was so scared that I asked for police to be called or summon someone from the unit to stop the fight. Just when I was literally in tears, Suneil again revealed that it was a prank! So yes, Suniel Shetty was the biggest prankster".
Recently, Karishma celebrated 30 years in the Hindi Film Industry. She hit the milestone on June 21, which was the release date of her debut feature Prem Qaidi. Earlier