Parineeti Chopra, Bollywood's newest bride, looked stunning in a Blush pink saree for her reception, and we are still swooning over it. Scroll down to see her appearance and take notes!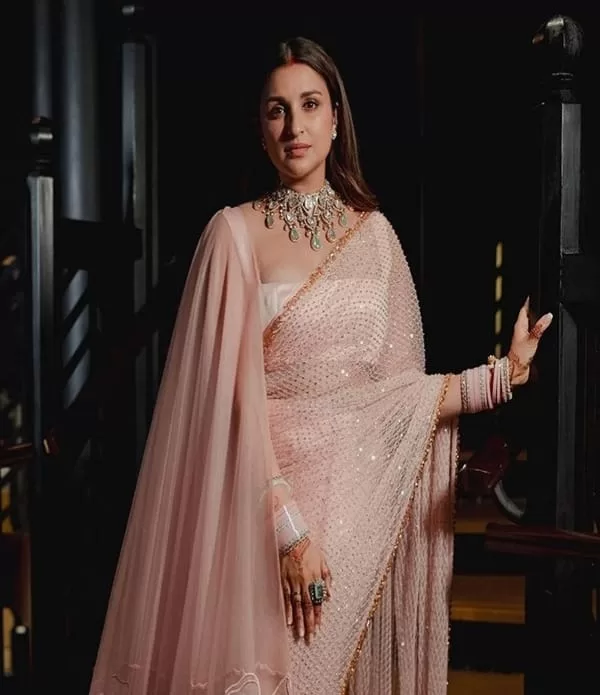 Parineeti Chopra married on September 24 in the picturesque city of Udaipur, Rajasthan. And, let me tell you, she is been a huge source of wedding inspiration for us ever since.
Parineeti's new looks have taken over the internet, leaving us speechless. She is killing every bridal look with elegance and flair, from her magnificent traditional attire to her flawless makeup. Parineeti looks stunning in either a majestic lehenga or an ethereal saree. Keep an eye on for further details about her captivating bridal trip!
Parineeti continues to astound us with her fashion choices, following her ethereal bridal appearance in a stunning Manish Malhotra suit. Parineeti proved us wrong with her stunning Haldi ensemble. Parineeti's exquisite fashion sense keeps us guessing.
Manish Malhotra revealed that Parineeti's wedding reception saree was supposed to be red, not the glimmering blush pink she ended up in after seeing her various bridal ensembles throughout the wedding festivities.
Decoding Parineeti's Cocktail Party Look
Parineeti Chopra has wowed us yet again with her post-wedding cocktail party look! She was dressed in a stunning powder pink saree that exuded elegance and glam. This saree is made of delicate net fabric and is embellished from top to bottom with rosette pink crystal sequins, making it shine like a star.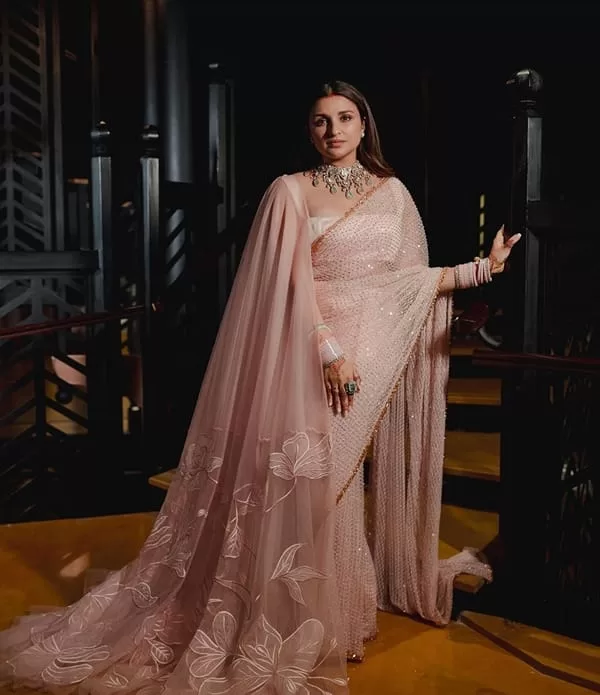 The actress looked stunning in a rosette blush saree with golden borders. It was accompanied by a stunning Manish Malhotra veil and a graceful tulle cape from the designer's Bridal Collection 2023.
Furthermore, the sleeveless bustier complements the saree and adds a modern touch to the traditional ensemble. But it was the distinctive square neckline that caught our eye, giving this ensemble a unique twist.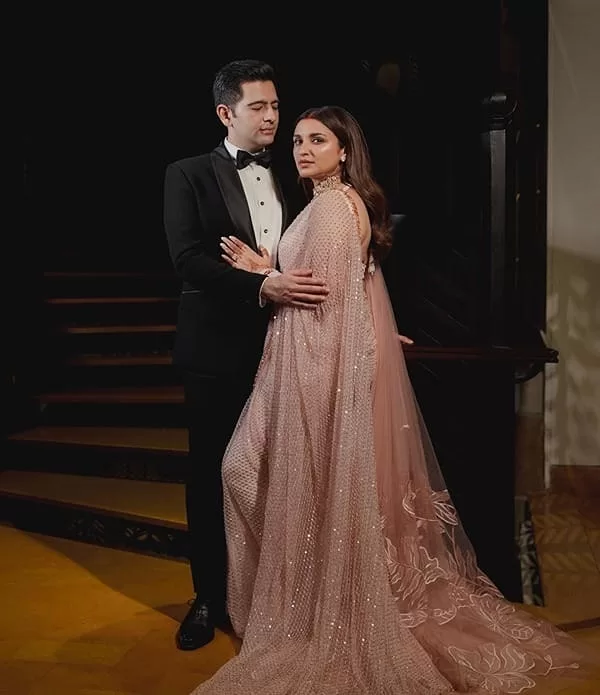 Not to mention the veil, which was adorned with light pink silk thread work flower embroidery. Parineeti's after-wedding look was flawless, leaving us speechless with her exquisite style and attention to detail. Veils have never looked better!
Accessories and makeup
Her hair, first and foremost, was charmingly simple, with a traditional centre partition that exuded refinement. Moving on to makeup, she went for a delicate glam look that accentuated her natural beauty. And do not forget the jewellery! Parineeti's accessories wowed us; delicate studs added a pop of colour, but her necklace stole the show with its uncut diamonds and rare emeralds in light colours.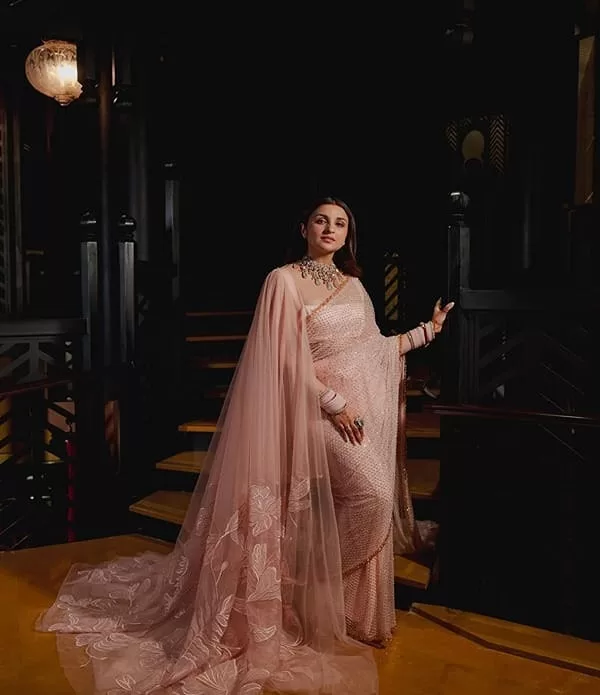 Parineeti also wore uncut diamond earrings and rings with emeralds and diamonds. Her pink chooda and sindoor, however, drew our attention, completing her ensemble with a classic yet fashionable touch. You have certainly raised the bar in terms of elegance and fashion.