Singer Rapper Yo Yo Honey Singh is in the news again and this time it is due to a complaint received by the Mumbai police from an event management company. The owner of an event management company has alleged Yo Yo Honey Singh and his team for kidnapping and assaulting him regarding cancellation of an event. No FIR has been filed yet. However, Yo Yo Honey Singh has denied these allegations and called them false and baseless.
The Official Statement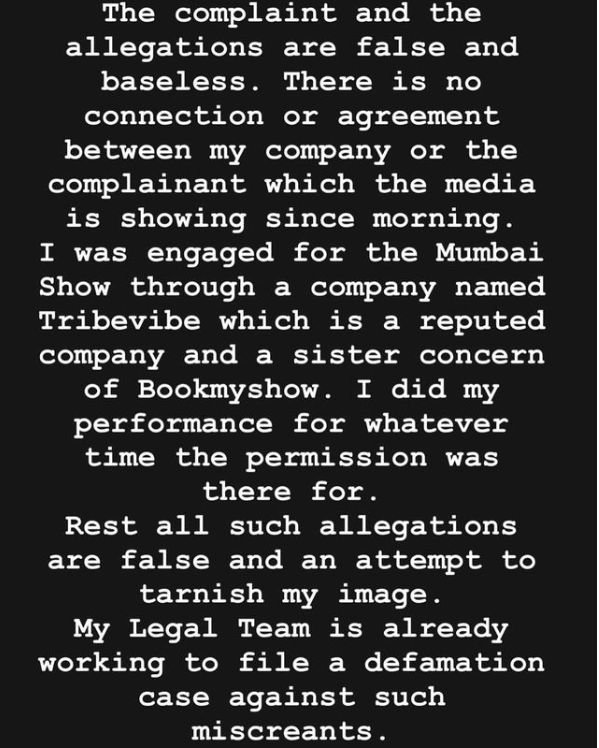 He even posted an official statement on his Instagram account which stated that , 'The complaint and the allegations are false and baseless. There is no connection or agreement between my company or the complainant which the media is showing since morning. I was engaged for the Mumbai show through a company named Tribevibe which is a reputed company and a sister concern of Bookmyshow. I did my performance for whatever time the permission was there for. Rest all such allegations are false and an attempt to tarnish my image. My legal team is already working to file a defamation case against such miscreants.'
His Previous Controversies
The 'Blue Eyes' singer is not new to controversies and allegations. He was accused by his ex wife Shalini Talwar of domestic violence in 2021. Yo Yo Honey Singh who also composed 'Lungi Dance' for Shah Rukh Khan's Chennai express was in an altercation with the star during a tour and had to leave it midway as per some reports.
Singh and his contemporary rapper Badshah's feud is also well known where Honey Singh said, "Have you driven a Rolls Royce? There is a difference between a Rolls – Royce and a Nano " in response to Badshah's growing popularity. Recently, there were reports of Yo Yo Honey Singh breaking up with Tina Thadani after dating for a year. They deleted their photos in which they were together and unfollowed each other on social media.
On his work front

Yo Yo Honey Singh released a new album titled Honey 3.0 which consists of the song Naagan. He has also posted about a mega show titled 'Honey 3.0' which would tour India starting New Delhi.  He has also composed a song (Let's dance Chotu Motu) for the movie Kisi Ka Bhai Kisi Ki Jaan. This song is being trolled for its lyrics including nursery rhymes.
Despite the controversies and trolling of his songs, the rapper continues to enjoy a massive fan following and a lot of support as is evident from his comment section. Once the official statement regarding false allegations were posted a huge surge of fans commented that they support him and it is a ploy to defame him.