Sheynnis Palacios, the first woman from Nicaragua to win Miss Universe, wore a dress with lots of crystals and beads to the event. Sheynnis Palacios of Nicaragua has been crowned as the winner of the 72nd Miss Universe contest. Watch the viral moments here.
Following a big event on November 19 at the Jose Adolfo Pineda Arena in San Salvador, El Salvador, Sheynnis Palacios of Nicaragua was named the winner of the Miss Universe 2023 title. Miss Universe 2022, R'Bonney Gabriel of the United States, crowned her on stage as the crowd cheered.
Sheynnis Palacios, who was recently named Miss Universe, is at the centre of history and progress. She represents the spirit of breaking down boundaries and giving women chances in the year 2023.
View this post on Instagram
Also watch this
MISS UNIVERSE 2023 IS @Sheynnispalacios_of !!!! 👑 🇳🇮@mouawad #72ndMISSUNIVERSE #MissUniverse2023 pic.twitter.com/cSHgnTKNL2

— Miss Universe (@MissUniverse) November 19, 2023
First Runner Up from Thailand and Second From Australia
Anntonia Porsild from Thailand was first runner up while, Moraya Wilson from Australia was the second runner up.
Up until the semifinals, Shweta was one of the front-runners. After that, the diva lost her spot in the top 10. Shweta Sharda, who was born in Chandigarh, was India's representative at Miss Universe 2023 this year. She made it to the last twenty. The first Miss Universe pageant from Pakistan also made her debut in Miss Universe pageant this year.
View this post on Instagram
90 Countries Participated
This year, ladies from 90 different countries and territories fought in the 72nd Miss Universe pageant. Along with American TV host Maria Menounos, the contest was hosted by American TV personality Jeannie Mai and Miss Universe 2012 Olivia Culpo.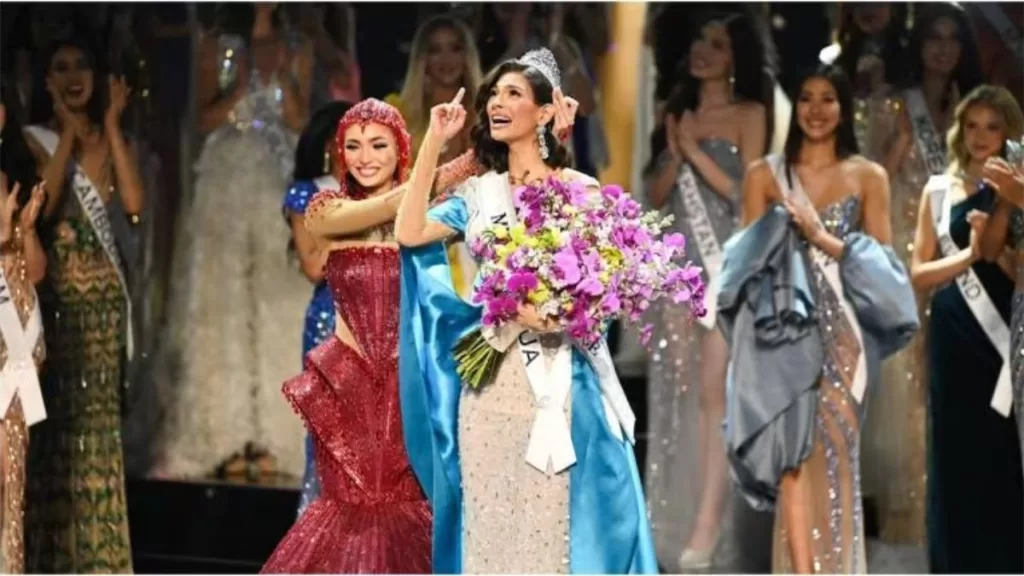 The 72nd Miss Universe pageant began at 6:30 AM IST on Sunday, November 19, with a lot of pomp and circumstance. Contestants from 90 countries were there to compete for the coveted title. Olivia Culpo, who was Miss Universe 2012, and TV personality Jeannie Mai co-hosted the beauty pageant with Maria Menounos. This was the first time that the show had a hosting team made up of only women.
Achievements Of
Sheynnis Palacios
Palacios was born in Nicaragua and has a degree in communication. She loves working behind the camera the most. She wants to do well as a director or editor as well. Even though Palacios faces problems in life, she stays upbeat. Because of her own struggles with anxiety, she started "Entiende tu mente" (Understand Your Mind), a project to make people more aware of mental health problems and stop making them seem shameful. Using her own experience with worry as a guide, she hopes that this project will help other people with their health.