In A Cryptic Post, Shilpa Shetty Admits Making A Mistake; Read On!
Shilpa Shetty and her husband Raj Kundra have been making headlines lately for numerous reasons. The arrest of Raj in the alleged pornography racket shook Shilpa to the core. Currently, the actress is going through a rough period of time. Time and again she is sharing cryptic posts, all of which seem to be related to Kundra's arrest.
After her husband's arrest, Shilpa has kept a low profile. For a while, she refrained from public outings and posting anything on her Instagram too. Shilpa finally came out in the forefront by making an appearance at a virtual meet 'We for India.' After that Shilpa resumed working as a judge on her dance reality show Super Dancer Chapter 4, from which she took a break for a while. Now from the last few days, Shilpa has become quite active on her social media handle and is sharing inspiring quotes on regular basis.
Recently, Shilpa Shetty took to Instagram to share an excerpt from a book note that talks about making mistakes and learning from them.
Taking to her Instagram story, Shilpa posted a cryptic note that reads, "Mistakes are part of the dues one pays for a full life – Sophia Loren. We can't make our lives interesting without making a few mistakes here and there. We hope that they won't be dangerous mistakes or mistakes that hurt other people. But there will be mistakes. We can see our mistakes as things we'd like to forget or as our most interesting, challenging, and stimulating experiences. Not because of the mistakes themselves but because of what we learned from them. I'm going to make mistakes, I will forgive myself and learn from them."
With this note, the actress added an animated sticker to her story that read, "I made a mistake but it's Ok."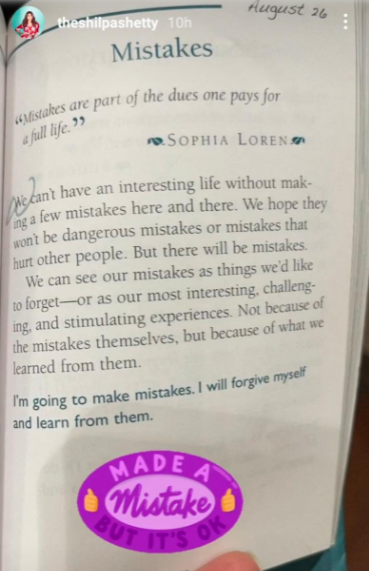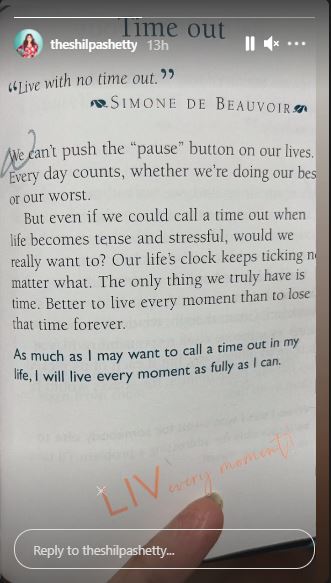 Just Yesterday, Shilpa took to her Instagram story to share a note along with a caption, "Liv every moment!"  The quote in the excerpt shared by Shilpa read, "We can't push the pause button on our lives. Every day counts, whether we're doing our best our worst. But Even if we could call a time out when life becomes tense stressful, would we really want to? Our life's clock keeps ticking no matter what. The only thing we truly have is time. Better to live every moment than to lose that time forever."
Shilpa has currently made herself involved in her work. She is seen as the judge of the popular show, Super Dancer Chapter 4. She was last seen in Priyadarshan's Hungama 2.